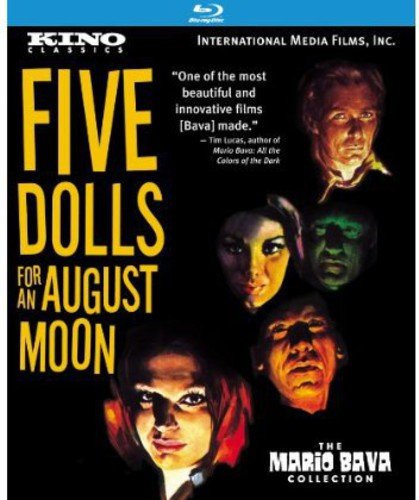 It is a weird week for releases. There is a ton of television coming out – both old and new plus several boxed sets of previously released seasons, but very little in the way of interesting films coming out. I've pondered in these pages numerous times before how they decide on what to release and when, and I'm doing it again.
Was it purposeful that we have so many television sets out this week and so few big movie releases? It makes perfect sense to release the previous seasons set just before the new season airs on television. Likewise, I understand releasing a complete boxed set not long after a show has ended. But why this week we've got both Northern Exposure and The Shield getting boxed up for reasons I can't quite figure. Plus, a whole bunch of other stuff. I guess we're coming into the big fall season so folks figure we've all got TV on the brain. Whatever the reason, there is a ton of stuff coming out for lovers of all things boob tube.
None of this has anything to do with my pick of the week, except to say that I often feel guilty picking a television show as my pick when I'm writing for a movie site. I usually let it slide as we also review television shows on a somewhat regular basis, and because television is these days often so cinematic. But the guilt, it remains. So this week, which is so full of television, I decided to go with a movie instead. One that I've not seen, nor actually heard of. One of whose director I know, but have never actually viewed a single film of his.
I don't imagine that Mario Bava is a household name, I can't see my mother ever having heard of him, but for horror fans he's considered one of the greats. He's kind of the godfather of Italian horror, which had its golden age in the 1970s and '80s. For some reason, though I am a fan of the horror genre in general and Italian horror in specific, I've never seen a single one of his films.
Ridiculous, I know, but it is what it is. Five Dolls for an August Moon is late-period Bava and not particularly well known or regarded. It is loosely based on Agatha Christie's story "Ten Little Indians" (which has been adapted numerous times, the most famous of which is probably And Then There Were None.) This will likely not be where I start with Bava, when I eventually do watch one of his films, but I love the fact that its getting a remastered Blu-ray release.
Lets be honest here, outside of a few genre fans this is not a film many have ever heard of, nor is it likely to burn its way up the best sellers list, but here we have it getting remastered and upgraded to high definition. Tell me that isn't a beautiful thing.
Also out this week that looks interesting:
The Lords of Salem: Though I've never cared for his music, and have only watched his Halloween remake I'm rather fascinated with Rob Zombie. Here's a guy who started out in the underground heavy metal scene then somehow managed to make a couple of hit songs in the '90s and has now transformed himself into a horror-movie director. It's a peculiar sort of ride and while I still don't imagine I'll ever become a big fan, I can't help but watch his career with fascination. The Lords of Salem is another slasher-style flick with a radio DJ being given a music gift the sounds of which trigger flashbacks to the town's violent past.
From Up on Poppy Hill: You can hardly go wrong with films from Studio Ghibli. This one was directed by Gorō Miyazaki, Hayao Miyazaki's son. As such, the film didn't get quite the fanfare that Hayao's films usually do, but much like Pixar Studios, I'm always ready to give Ghibli movies a chance. Reviewed by Steve Geise.
Now You See Me: A star-studded popcorn flick about four magicians who use their tricks to rob banks and possibly more. Stars Jesse Eisenberg, Mark Ruffalo, Morgan Freeman, Woody Harrelson and Michael Caine. Reviewed by Todd Karella.
The Iceman: Michael Shannon stars as the notorious mafia hit man who was also a loving family man. It's good to see Wynona Ryder in new films (she plays his wife). Ray Liotta and David Schwimmer also have roles.
Sharknado: The oddly popular TV-movie gets a proper DVD release.
A Touch of Frost: Complete Series: I always think I'd like this show, but I've never watched it. It is one of many British detective imports that I have on my list of things to view one of these days. I suppose this complete collection would be the place to start. That's 15 seasons worth of shows with an added documentary.
Parks and Recreation: Season Five: This has turned into one of my favorite comedies. It's the perfect mix of outrageously silly and genuinely sweet.
The Office: Season Nine: I turned out of this show a season before Steve Carell left. I've not heard particularly good things about it since. Still, it was once a tremendously funny show and someday I'll probably finish it.
Scandal: The Complete Second Season: I hear good things about this one in a over-the-top soapy sort of way.
Spartacus: War of the Damned – The Complete Third Season: Another show that I've heard good things about but have yet to watch.
Blandings, Series 1: Based upon the books by PG Wodehouse. I'm a big fan of Wodehouse and the Blandings stories and am interested to see if they are able to pull it off.
Da Vinci's Demons:A new drama based upon the life of Leonardo Da Vinci. I'm intrigued.
The Vampire Diaries: The Complete Fourth Season: I told you there was a lot of TV coming out this week.
Northern Exposure: The Complete Series/The Shield: The Complete Series: Both of these are simply boxed sets of previously released seasonal sets. If you haven't bought them before these are priced to sell (especially The Shield which is on sale right now for $59.99 at Amazon.)