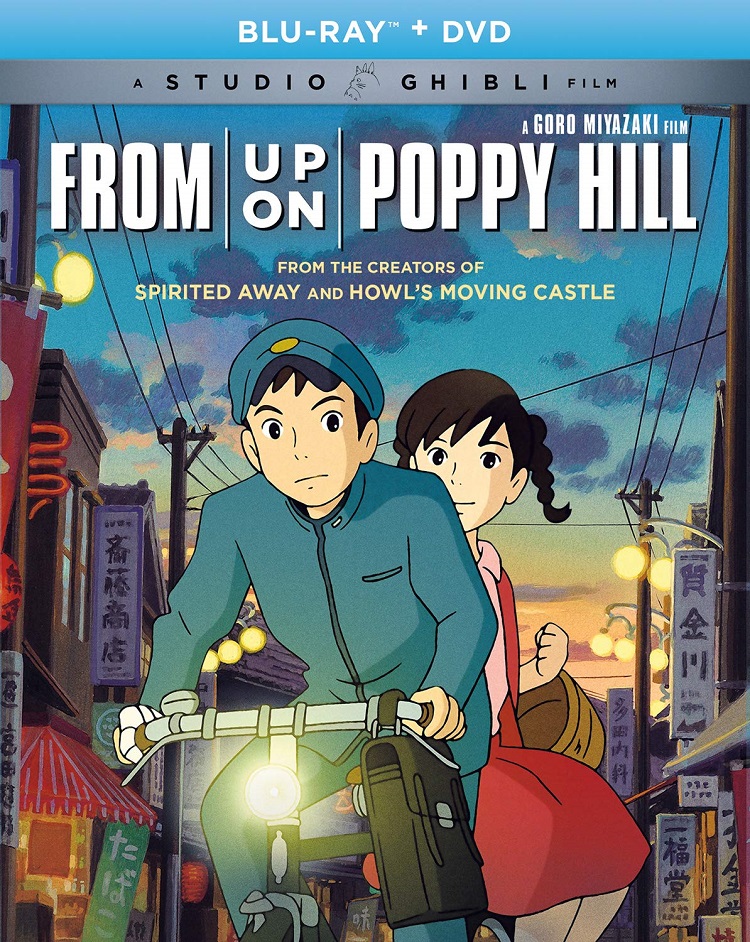 Goro Miyazaki is in a tough position. As the son of beloved living legend Hayao Miyazaki, and a budding anime director himself at his father's Studio Ghibli, he bears the weight of tremendous expectations and more than a fair share of doubt. After lackluster results on his first feature length directorial effort, Tales from Earthsea, the pressure and stakes increased significantly for this, his second attempt. Thankfully, the charming results prove that he learned from his initial missteps and is back on track to successfully continue his father's legacy.
In a departure for a Ghibli project, the film is fully grounded in reality with no magical elements. It's also based in a relatable history, namely Yokohama in 1963. That puts it far enough in the past that the world seems like a foreign place, but not so far as to alienate modern audiences. Two main plot threads are explored: the budding romance between two high school students named Umi and Shun, as well as their efforts to save a ramshackle building that houses their afterschool clubs. That building is in jeopardy due to the impending 1964 Tokyo Olympics, with its site serving as prime real estate for planned Olympic facilities. The romance is also in jeopardy once the kids discover a potentially calamitous secret about their common past.
The screenplay was written by Hayao Miyazaki, which may have given Goro an unfair advantage from the start, but also could have failed spectacularly in the hands of another director. That's due to the story's surprising lack of heft, with both plots resolved very easily and without much drama or surprise. The story originated as a manga set in the early '80s, but it's easy to see why the elder Miyazaki chose to rewind it to an earlier, more innocent time as he reaches his late life and romanticizes a bygone youthful era still filled with postwar promise and budding national pride in the 1964 Olympics. The end result, as artfully communicated by Goro, is more a love letter to the era than a dramatic narrative exploration, with considerable attention paid to simple everyday events such as family meal preparation and school club activities. You will feel what it was like to live in Yokohama at that time, with a fully developed and incredibly inviting world vividly brought to life. While the story may not be the most amazing, the film succeeds based solely on its charms, its simple pleasures transporting viewers to a place that is no less magical for its absence of Ghibli's standard fantasy elements.
The Blu-ray image quality is impeccable, with a flawless transfer that brilliantly conveys the intricate, lush backgrounds, fine line work, and warm spectrum of colors. Sound is your choice of either Japanese or English audio, either way offered in immersive 5.1. I normally avoid the English dub, but I gave this one a spin and can confirm that it is a faithful and worthy substitute for the original Japanese track, with no cringe-worthy moments and with reserved and measured performances by all. The US cast is deep and quite impressive, especially considering that most of the roles are very small, such as Ron Howard as the head of a high school club and Aubrey Plaza as a housemate of Umi's, both of whom probably don't even have ten lines in the whole film.
New U.S. Ghibli distributor GKIDS went all-out with bonus features on the Blu-ray, fully demonstrating their attention to the most demanding of fans. The most extensive feature is the option to watch the entire film in storyboard form, a fascinating look at the early creative work that went into the film. Other leisurely bonus features average around 20 minutes each, including a video travelogue of Yokohama, a press conference where the Miyazakis and crew introduce and discuss the title song, interviews and behind the scenes footage of the US vocal cast, and footage of comments by the Miyazakis immediately after the conclusion of the first internal screening at Studio Ghibli of the completed film. That feature in particular reveals Hayao Miyazaki's ongoing demand for perfection, as he offers some praise before complaining about scenes and backgrounds not being up to par, then introduces his son who offers brief sheepish promises to improve and thanks to his creative staff. The disc is rounded out with assorted Japanese and US trailers and teasers, along with a music video of the title song.