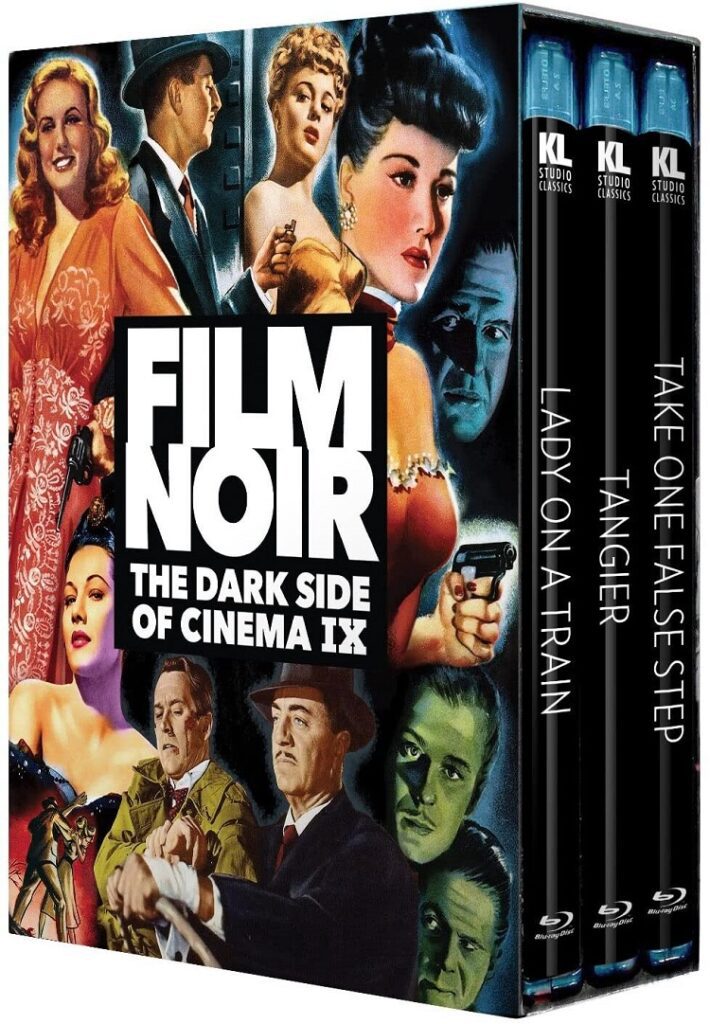 I've been waist-deep in horror movies for the last couple of weeks, it being October and all, but I'm already thinking about all the movies I'm going to watch for #Noirvember. Luckily for me (and everybody, really), Kino Lorber is releasing a three-film set of underseen film noirs from the 1940s. Me being me, I'm always trying to figure out some way for the films in these types of sets to be grouped together other than just being a random assortment of films they could gain the rights to. All three of these films have some light comedic moments, but only one of them (Lady on a Train, 1945) approaches anything like an actual comedy. All three do feature amateur sleuths investigating a crime so we'll settle for that.
Lady on a Train begins with Nikki Collins (Deanna Durbin) sitting on a train reading a murder mystery (the camera cleverly conceals the books as she narrates the story for a moment, tricking us into believing what she is reading is what is actually happening). As the train leaves the station, she witnesses a real-life murder through a window across the tracks.
She goes to the police but they figure her to be another hysterical woman reporting something she imagined on Christmas Eve. She then goes to the next best thing – a mystery writer, the mystery writer of the book she was just reading, Wayne Morgan (David Bruce).
He wants nothing to do with her, but inadvertently gives her the idea of going to the scene of the crime. When that doesn't work, she bugs him again, this time while he's at the movies, giving us some pretty comedic moments with her, in her big raincoat and gravity-defying pig-tails, disturbing everybody else at the theater. It is here that she realizes the murdered man was an important business tycoon and we realize the writer and the would-be sleuth will be falling in love before the credits roll. A visit to the dead man's mansion introduces us to his two sons, Jonathan (Ralph Bellamy) and Jack (Dan Duryea), and turns up another couple of clues.
Deanna Durbin was a child star turned teen idol with a golden voice. Lady on a Train was one of her first attempts to shed that image and do more serious work. Well, not that serious as this is very much a comedic take on the murder mystery tropes, but at least it was something bigger than what she'd been doing her whole life. Unfortunately, this film and the few others she did during this period were not successful and she retired from the spotlight just a few short years later.
That's a shame because she's terrific here. Her performance is effervescent and joyful. She's got great comic timing and wonderful star quality. The film never quite lives up to her performance. Oh, it is light on its step and fun enough. Bellamy and Duryea are always a pleasure to watch. David Bruce immediately has become a name I'll have to look out for. But the jokes don't always land, and the mystery never quite holds my complete attention.
So what we wind up with is a great lead performance, some very nice scenes, and a story that is perfectly fine, but not quite enough to make this a classic.
In the years surrounding World War II, Hollywood made a lot of pictures set in overseas locales filled with foreign intrigue, exotic women, espionage, and a little romance. Tangier (1946) is a low-budget Casablanca (1942) knock-off complete with a North African location, a cynical American lead, a stolen item that everybody is looking for, and even a closing scene involving a plane ride out of the country.
Maria Montez stars as Rita, a Spanish dancer who has been tracking a Nazi collaborator who tortured and killed her family. Robert Paige is Paul Kenson, a discredited American war correspondent looking for a story. He finds one when a man is murdered and a diamond goes missing. There is a colonel (Preston Forster) who is sweet on Rita and suspects Paul. Sabu makes a few appearances mostly to offer a little comic relief and sing some American songs. It is all very B-Movie, and it doesn't pretend to hide those Casablanca influences, but it is also pretty fun to watch.
The third film in the set is Take One False Step (1949), a murder mystery with William Powell. It is difficult to watch William Powell play detective and not think of his turn as Nick Charles in the Thin Man series of films. Here he isn't actually a detective, but rather an intellectual named Andrew Gentling who gets mixed up in a missing girl case.
The girl is Catherine Sykes (Shelley Winters) who was an old pal of Andrew's when they were both single and willing to have a little fun together back when the war was still going on. But the war is over now and Andrew is married, happily so. She's married too, but not so happily. When Andrew comes to Los Angeles on business, she looks him up and hopes for a night of fun together. He's having none of it, but later she tricks him into coming over, saying she's having a party. It is a party for two. She puts the moves on and he drives her around a bit. By night's end, she's drunk and he's dropped her off back at her home.
The next morning his scarf is found with her blood on it, but she's nowhere to be seen. Powell plays it straight with nary a wisecrack to be found. The police chief gets all the jokes which stem from the bizarreness of the case and his desire to get a good night's sleep. There are dark alleys and secret meetings. Break-ins and shootouts. There is a side story involving Andrew trying to talk a businessman into funding his university that seems completely out of place with the rest of the proceedings.
It mostly worked for me. There isn't a ton of tension even when he finds out that the dog that bit him (whilst attempting to break into a house that might hold some clues) has rabies. Oh, the film tries to make a big deal out of that and several other scenarios but it never makes anyone really sweat about it.
In the end, Take One False Step is a pleasant enough time at the movies, but it could have used a couple of steps in a different direction.
Kino Lorber has once again delivered some underappreciated film noirs for your collection. Each film has been given a new Blu-ray master, features a variety of classic movie trailers, and there are audio commentaries for Tangier (by Felicia Feaster) and Take One False Step (by Eddy Von Mueller).