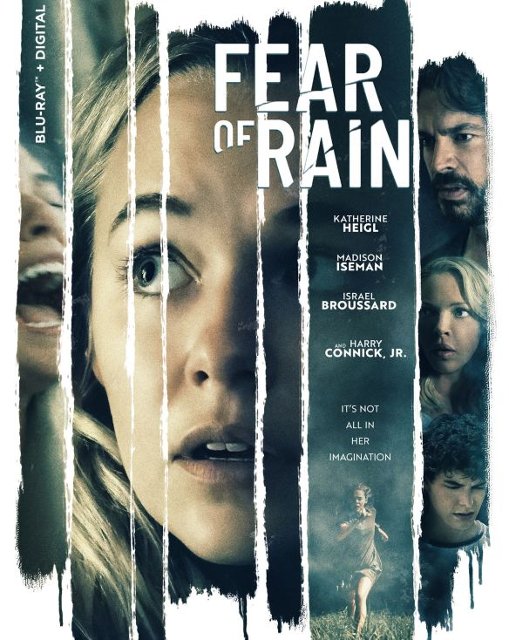 Cinema Sentries has teamed up with Lionsgate Home Entertainment to award one lucky reader a Fear of Rain Blu-ray Combo. It is currently available to own via purchase on Blu-ray, DVD, and digital.
For those wanting to learn more, read from the publicity notes below:
For teenager Rain Burroughs (Madison Iseman), a diagnosis with schizophrenia means that every day is a struggle as she tries to figure out which of the disturbing images, harrowing voices, and traumatic feelings she experiences are real and which are all in her mind. But when Rain insists against her parents' (Katherine Heigl and Harry Connick, Jr.) advice that the shadows and cries from her neighbor's attic are hiding a dark secret, she enlists help from Caleb (Israel Broussard), the charmingly awkward new boy at school – who himself may not be real. Written and directed by Castille Landon (After We Fell, After Ever Happy), Fear of Rain is a terrifying thriller that takes you inside Rain's mind as she confronts the frightening hallucinations of her imagination to determine whether there is real horror hiding right next door.
"I wanted to create an empathetic, layered, and beautiful character in Rain. Rain has a fractured mind, but she is a whole person," says Landon. The character of Rain is played by Madison Iseman, who "has a captivating way of playing a girl-next-door with an inner life," says Landon."There's something about the way she plays her characters that gives you the sense that there's more than she's letting on. For this thriller, where so much depends on what is in Rain's head, can't imagine the role any other way." "I've never seen a character like Rain, much less had the chance to play one before," says Iseman. "Playing her felt like a chance to make something unique and to get it right. There are so many facets to Rain that make her an exciting challenge to bring to life – this character is definitely one where not everything is revealed right away."
The contest is only open to residents of the continental U.S. Upon notification, recipients will need to provide their own valid address (within 48 hours of email notification); no P.O. Boxes. Failure to do so will forfeit prize and another winner will be randomly selected. Cinema Sentries does not enter into any contract or guarantee with prize participants or any visitors to our site. If you don't win, please consider buying through our Amazon link. It would be appreciated.
a Rafflecopter giveaway