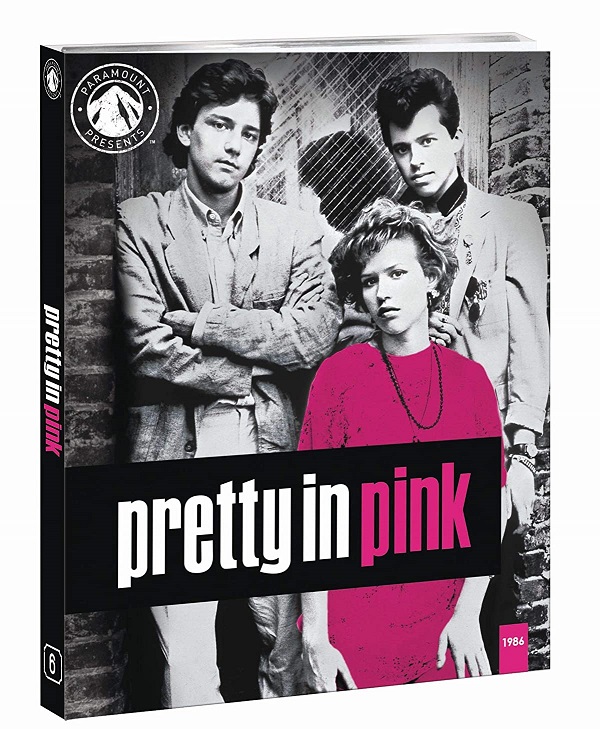 Pretty in Pink turns 35 this year. It was a peak '80s film – featuring teen romance, members of the "Brat Pack," evil yuppies, and a soundtrack voted one of the 25 best soundtracks of all time by Rolling Stone. Fun facts about the movie's soundtrack: the title song, which was already a hit by the Psychedelic Furs from their 1981 album Talk Talk Talk was re-recorded specifically for the film. Echo & the Bunnymen's "Bring On the Dancing Horses" was also recorded specifically for the film, as was Orchestral Manoeuvres in the Dark's "If You Leave," which was the big hit song from the movie, reaching #4 in May 1986 on Billboard's Hot 100 chart.
Pretty in Pink transcends its fairly conventional poor girl/rich boy Cinderella story with winning performances by a great cast led by Molly Ringwald as quirky boy-magnet Andie. She is an idealized version of that strange-dressing, awkward, but wicked-smart girl that you remember (or may have even been) in high school who is only appreciated by her closest friends – in this case the irrepressible Duckie (Jon Cryer), who she has been friends with since elementary school, and her coworker at the local music store, Iona (Annie Potts).
Andie: You know, it's so insane that someone you've never met, never talked to, can be your enemy.
Writer John Hughes wrote Pretty in Pink especially for Molly Ringwald and his teen sensation star reportedly had a say in casting, requesting Andrew McCarthy for the role of Blane, the "richie" boy that falls for the unconventional Andie. The great casting doesn't stop there. Harry Dean Stanton plays Andie's depressed, out-of-work dad. James Spader plays a sleek, villanous pal of Blane's who harbors a secret crush on Andie. Movie buffs will spot Andrew "Dice" Clay, Dweezil Zappa, Kristy Swanson, Gina Gershon and, Margaret Colin in supporting roles.
Molly Ringwald has spoken in interviews about how the film's original ending was changed regarding the central love triangle. No matter whether you fall into the Duckie or Blane camp, director Howard Deutch (in his directorial debut) manages to capture Hughes's teen-speak and the young actors' high-pitched emotions with care.
Marilyn Vance is credited as the creator of the pink prom confection than Andie wears at the end of the film. It is, honestly, a completely crazy dress, one never seen before, during, or after the '80s, but in its own way has become an iconic film costume. Most of Andie's outfits are equally over-the-top. To get a truer idea of "dressing '80s," Duckie is a far better example. Witness his thrift shop treasure outfit, down to the shoes, when he lip synchs to Otis Redding's "Try a Little Tenderness," trying to get Andie's attention (to no avail) in the record shop.
Although Deutsch is the director, Pretty in Pink is vintage John Hughes, whose classic teen films like The Breakfast Club and Sixteen Candles always centered on the class wars in the (very white) suburbs. His Duckie is funny and charming, but he never stops talking long enough to realize that he actually has nothing in common with Andie. She loves him – like a brother. Consolation prize – he is the most interesting and memorable character in the film, with most of the best lines.
Andie: You know you're talking like that just because I'm going out with Blane.

Duckie: His name is Blane? Oh! That's a major appliance, that's not a name!
Hit soundtrack, '80s nostalgia, and ideal casting aside, does the cult classic hold up after 35 years? Yes. Pretty in Pink is still a lot of fun to watch. You may not to want to cut up a couple of prom dresses a la Andie to demonstrate your creativity and fierce individuality, but you will still find OMD's "If You Leave" swoonily perfect for the movie's inevitable romantic conclusion.
To celebrate Pretty in Pink's 35th anniversary, Paramount is releasing the film as part of the new John Hughes 5-Movie Blu-ray Collection on February 23rd. The film is also available separately on Blu-ray as part of the Paramount Presents line, on DVD, and Digital.