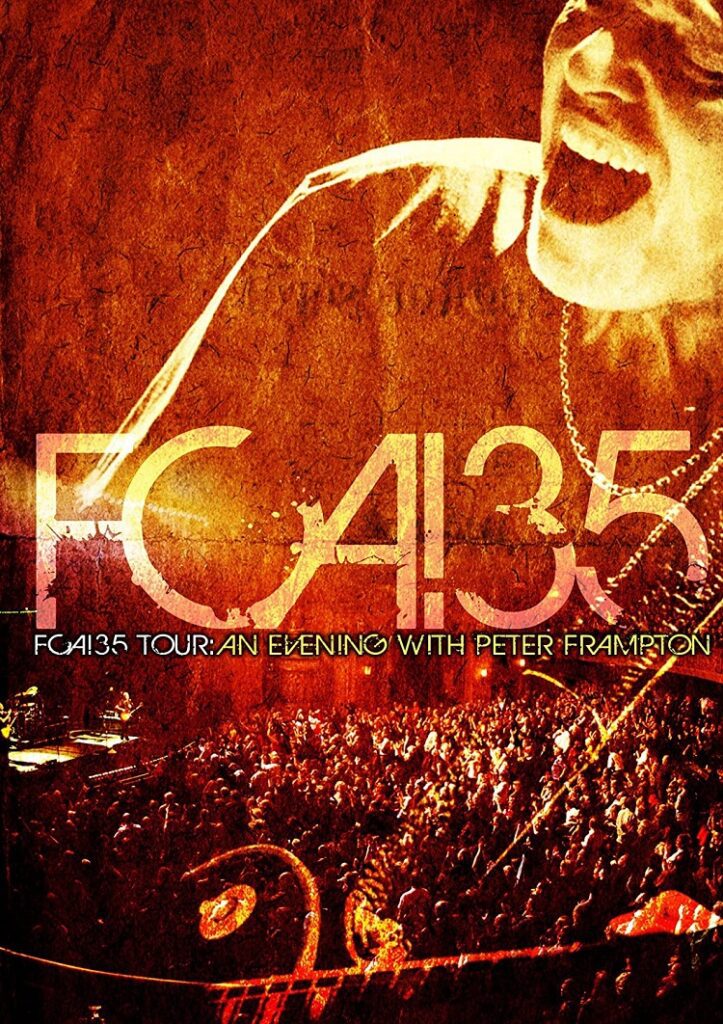 The 1970s were a time of bloated excess, disco, and the live album. Bands from Cheap Trick to Kiss were catapulted to stardom thanks to their respective live releases, but the biggest live album might have come from Ex-Humble Pie guitarist, Peter Frampton. Like the aforementioned bands, Frampton built his reputation on tight live shows, but hadn't sold tons of albums until he released a live album himself. Frampton Comes Alive! changed all that, turning Frampton into a household name.
Thirty-five years later, Frampton is still going strong. To commemorate the anniversary of his most famous release, Frampton played the album in its entirety during his concerts. The shows were filmed and are now available as FCA! 35 Tour: An Evening With Peter Frampton.
The concert was filmed in two locations — Milwaukee's Pabst Theater and New York's Beacon Theater — and consisted of two parts. The opening portion of the show is the FCA! material, while the second set covers more recent fare.
The riff-oriented "Something's Happening" opens the performance, with Frampton in strong voice. He has lost none of his guitar chops to time, as the lyrical solo here demonstrates. "Doobie Wah" is an up-tempo track with a wah-infused guitar intro. The track blends funk and fusion and features some blistering lead work from Frampton.
"Show Me The Way" is one of Frampton's "Big Three" and the song gets an enthusiastic response from the crowd, particularly when he breaks out his trademark talk box. The band feeds off the crowd's energy, giving a spirited reading of the track. Frampton moves to acoustic guitar on a fine version of "Baby I Love Your Way" that showcases his vocals.
The first set closes with a nearly 20-minute version of "Do You Feel Like We Do" that has the song's familiar chorus in huge letters on the screen. Keyboardist Rob Arthur delivers a spirited organ solo and the guitar interplay between Frampton and Adam Lester is top notch.
Frampton switches to a Gibson SG for "Asleep At The Wheel," which opens the second set. The song, which comes from his most recent solo release, Thank You Mr. Churchill, is a mid-tempo, crunching rocker with an exotic feel and a moody synth intro and is strong way to open the second set. Soundgarden's "Black Hole Sun" is presented here as an instrumental, with Frampton replicating the song's vocals on a heavily distorted Les Paul.
Frampton's son Julian takes lead vocals on a sizzling version of "I Don't Need No Doctor," a Ray Charles song Frampton had success covering in the Humble Pie days. Peter Frampton and keyboardist Arthur trade vocals on the song's bridge, making for a fun version of this hard-charging rocker.
The DVD includes a bonus feature about Frampton's reunion with the Les Paul he used throughout the 1970s. The guitar, which was thought to be lost, passed through many hands in South America before a collector returned it to its rightful owner. Sound options on the DVD include DTS Digital Surround Sound, Dolby Digital Stereo and Dolby Surround 5.1
Frampton's career spans more than 40 years, and he continues to tour and make critically acclaimed records, winning a Grammy for best pop instrumental album for Fingerprints in 2007. That being said, he'll always be best remembered for Frampton Comes Alive! and FCA! 35 Tour: An Evening With Peter Frampton offers a fine tribute to the album that made him a star.