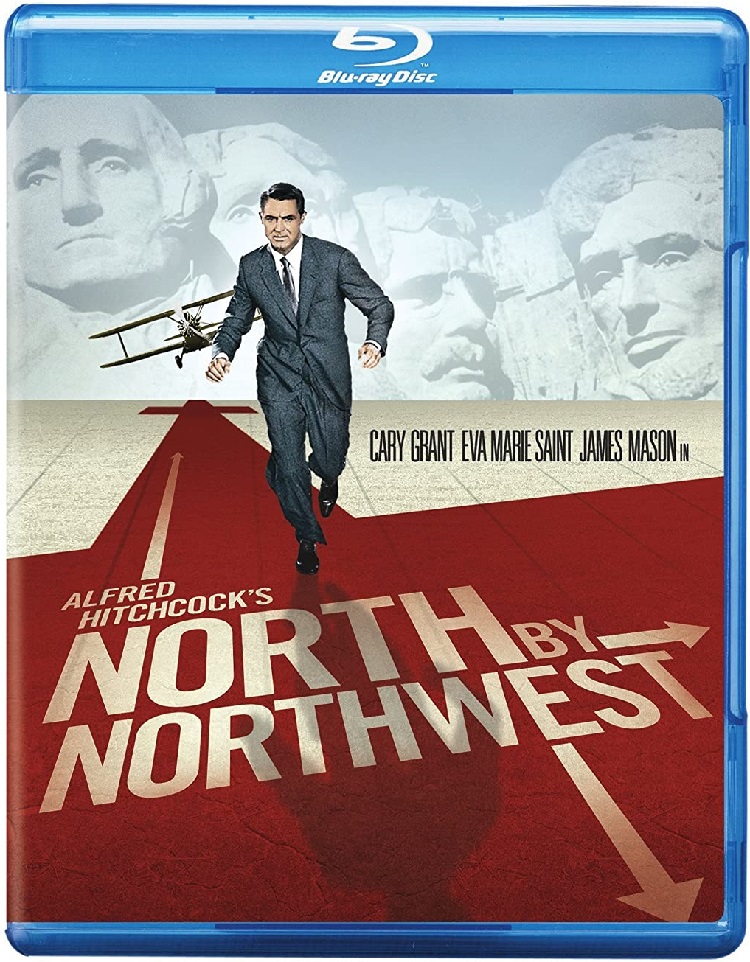 Fathom Events and TCM have the best timing. I'm spending the year watching all of the films of Alfred Hitchcock. Most people only ever get to enjoy these classics on their home screens or worse yet on an iPad or laptop screen. Movies like North By Northwest were filmed to be seen on the movie screen in the dark with a crowd. I've watched more than a handful of his films so far this year but watching them in theaters feels the way they were meant to be enjoyed. North By Northwest is the latest offering and it holds up exceptionally well.
"In the world of advertising, there's no such thing as a lie. There's only expedient exaggeration." – Roger Thornhill (Cary Grant)
I've been amazed at the depth of the plot twists and yet how easy it is to follow what is going on in Hitchcock films. On paper the plots of North By Northwest, The Man Who Knew Too Much, Vertigo, or Frenzy even are simple to describe in a sentence. At the same time, describing the details of the plot takes paragraph after paragraph. There aren't throwaway or wasted scenes. The characters are developed quickly and details are filled in as the plot moves inexorably forward. This movie is full of lies on top of lies to cover up other lies. The fact that Cary Grant is essentially filling the role of a character that's an elaborate lie lends all kinds of levels to the film. It's fun to just hop onboard and let the plot play out over the two hours.
"That's funny. That plane's dusting crops where there ain't no crops" – generic man at the rural bus stop
The most famous scene from this film is one of the top-five cinematic moments in all of the Hitchcock films. Cary Grant being chased by a crop duster across dusty roads and into dead cornfields is where this film plays best on the big screen. The scene has been broken down a hundred times and parodied at least as many. But from the moment the bus drops him off the tension starts to build. We are waiting to meet a stranger that we know won't be there but Grant doesn't. The soaring score has disappeared. It's just the dust and wind that fills our ears. Then the sound of plane in the distance as things are starting to unravel for Grant is something that can get lost on a home screen. The chase right through the explosion of the plane hitting the truck is so much better here. I saw little touches including the first initial panic on Grant's face that I haven't noticed before.
"Now you listen to me, I'm an advertising man, not a red herring. I've got a job, a secretary, a mother, two ex-wives, and several bartenders that depend upon me, and I don't intend to disappoint them all by getting myself 'slightly' killed." – Roger Thornhill
The old saying that Hitchcock just made the same movie over and over isn't too far from the truth. He has certain themes that he wears like a comfortable jacket. The innocent man pulled into circumstances beyond his control is here. The lovely blonde who is more than she appears is present. The leading man who's handsome and rich but is emasculated by stronger women is ramped up here in a way that will get more obvious in Vertigo and Psycho and Rear Window. Telling the audience that he's not a red herring is that little nod that makes the viewer smile. Despite the danger, we don't ever think that our lead character will be killed (that's what makes Psycho so groundbreaking). This movie enforces all the stereotypes of a classic Hitchcock film. And that makes it even more of a comfort.
The casting is superb and while it is completely owned by Cary Grant and Eva Marie Saint, there's a supporting cast including my favorite, James Mason, that make this a top draw for any film fan. I can't recommend seeing this on the big screen enough. Filmmakers today should sit for two hours and see how to create entertaining and interesting characters without losing the momentum of telling a story. And there's sexual chemistry that just won't quit. Perfect.