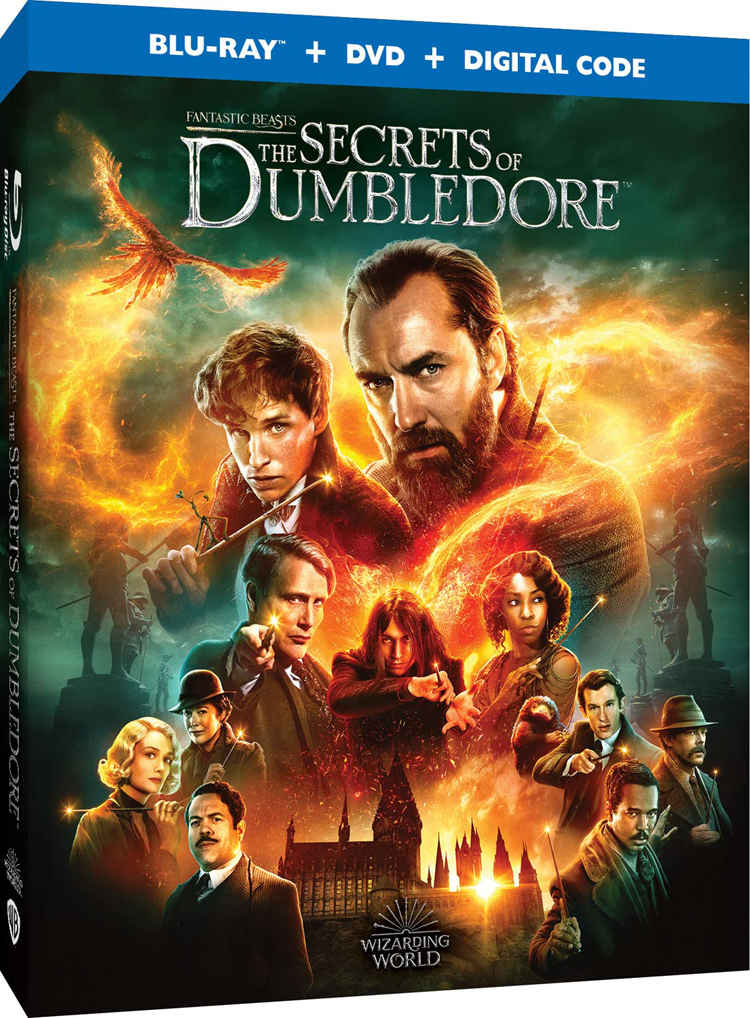 If David Yates and J.K. Rowling are serious about their plan to make the Fantastic Beasts series into five movies, they're going to need to pull some serious strings to make people still interested in caring. The initial film, Fantastic Beasts and Where to Find Them, at least had some charm to it despite paling in comparison to the Harry Potter series. But even then, it's always felt like the series has been less about bringing something inventive or intriguing to the table and more about attracting all the gullible fans willing to spend money on anything that has a connection to the boy wizard and Hogwarts.
The first film was fine in introducing us to new characters and bringing in that connection to the original series. Sure, there were some editing issues and maybe a little too much exposition, but seeing how it all ties in is fun. Plus the presence of Dan Fogler as Walter Kowalski, the baker turned fish-out-of-water who gets entangled in the magic, is always fun to watch. By the time the second film came out, Fantastic Beasts: The Crimes of Grindelwald, some of that interest in wanting to see the series continue started to wane. Johnny Depp was a solid fit as Gellert Grindelwald, the main villain of the story, and there's a great scene that shows people fearing another war hitting their hometown. It should be reminded that the Fantastic Beasts series takes place post-WWI and about a decade before WWII. So the emotional impact and looming fear that people have about another war is real and deeply felt.
If the film had kept more of the same tone of that scene, it would show that Yates and Rowling are bold in wanting to take the franchise in a much darker and more mature direction. But that scene comes near the end of The Crimes of Grindelwald. Everything before it felt empty and flat.
With The Secrets of Dumbledore, we get some answers to what was teased in the second film. But then the film leaves a lot more questions in the hopes that people are willing to return to the franchise for a fourth outing. At this point, even some of the most hardcore Harry Potter fans may cast an Obliviate spell on themselves to forget that this series even exists.
Picking up where The Crimes of Grindelwald left off, we first come upon Albus Dumbledore (Jude Law) and Gellert Grindelwald (this time played by Mads Mikkelsen) reminiscing about their friendship and how they were once lovers. That's not the lone secret of Dumbledore, nor should it come as a major surprise. Rowling revealed years prior that Dumbledore was, in fact, gay and even The Crimes of Grindelwald hinted there was something more between the two. So this conversation is more of a tender meeting between old friends and how they still share a pact with each other despite their differences.
Mikkelsen is now the third actor to play Grindelwald (if you count Colin Farrell's Percival Graves as the first but in disguise). And while Mikkelsen is usually a pretty solid choice for a villainous role (just look at what he did with Hannibal), one can easily tell that the mannerisms and quirks of Grindelwald were written with Depp in mind. Depp got temporarily #MeToo'd out of a career, hence why Mikkelsen stepped in to fill his shoes, but one can tell that – even for an actor of Mikkelsen's caliber – those shoes were hard to fill. Mikkelsen, surprisingly, doesn't come off anywhere near as menacing as when Depp portrayed the character. And when there are supposed to be moments that Grindelwald is supposed to be intimidating and chilling, it comes off more as a shrug.
The Secrets of Dumbledore focuses on the political ambitions of Grindelwald and how he wants to have complete control of the Wizarding World. It's easy to see that Mikkelsen's comb-over and the timeframe in which this series takes place are symbolic to that of Adolf Hitler's rise to power. Yates and crew make it no secret that's how they want audiences to interpret the character, and the obvious approach becomes a little too obvious in certain elements of the movie.
Of course, other franchise favorites (if you want to call them that) return here such as Newt Scamander (Eddie Redmayne), Credence Barebone (Ezra Miller, who is also most likely not going to return after this entry), and Jacob Kowalski (Dan Fogler). They are summoned by Dumbledore to help dismantle Grindelwald's political ambitions and the growing army he assembles, which includes Jacob's former lover Queenie (Alison Sudol). Dumbledore made a promise to Grindlewald to not directly intervene with his plan, but even the wise wizard knows that his former lover is up to no good.
While not as overstuffed or as dour as its predecessor, The Secrets of Dumbledore still just feels as pointless. You have some characters that are still fine to watch, such as Fogler's Jacob Kowalski and Law's iteration of Dumbledore. But they can only carry the film (and the franchise) for so long. Redmayne is still kind of plucky and quirky, but it's always been an issue to connect to him – especially when some supporting characters are more interesting than he is.
The film starts making obvious references to the Harry Potter franchise, with one scene having Dumbledore award house points, as a way to win fans over. But it all feels forced, as we slowly tread through this two-and-a-half-hour slog.
Fantastic Beasts: The Secrets of Dumbledore comes to Blu-ray from Warner Bros Home Entertainment with a fine transfer. The picture quality is on par with the film's theatrical release, for better or for worse. One of the upsides of a modern-day Blu-ray release is that it comes with a plethora of special features that last roughly five minutes, sometimes more, each. They are listed below.
The Dumbledore Family Tree
Dumbledore Through the Ages
Magical or Muggle
The Magic of Hogwarts
Even More Fantastic Beasts
Newt in the Wild
The German Ministry of Magic
A Dumbledore Duel
The Candidates' Dinner
Erkstag Jailbreak
Battle in Bhutan
Deleted Scenes
The Secrets of Cursed Child
I'm unsure how many hardcore Wizarding World fans will continue to stick with the Fantastic Beasts series after this latest entry. While a slight step up from its predecessor, it's still a chore to get through and doesn't leave much desire for another entry.