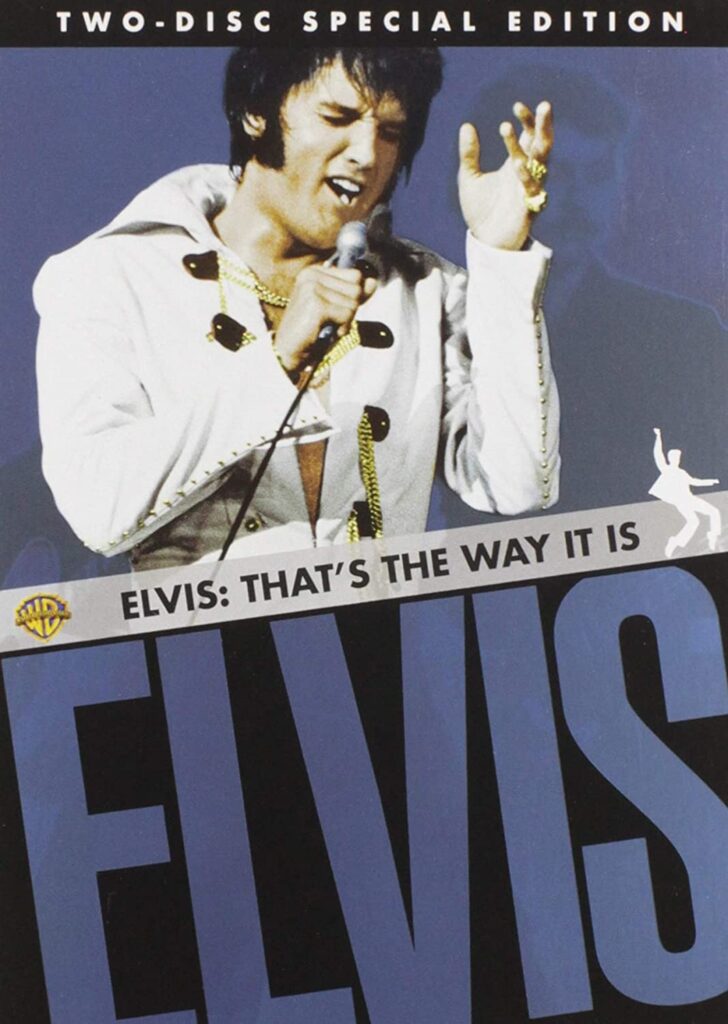 Elvis Presley was riding a major wave of success in 1970. Free of his movie obligations of the 1960s, Presley had delivered the '68 Comeback Special and subsequent return to live performances in 1969. He had also released his strongest album in years with From Elvis in Memphis and had what would be his last number-one single in the U.S. with "Suspicious Minds." It was good to be the King and the time was ripe for a documentary of this rebirth. Filmed over several shows in August 1970, Elvis: That's The Way It Is – Special Edition is a brilliant snapshot of this period.
The film starts with Presley and his band in rehearsals listening to recordings of their performances. Presley directs the band on how he wants the arrangements to sound and they run through hot versions of "That's All Right" and a medley of "Little Sister" and "Get Back" with Presley on guitar. Presley is in his physical and vocal peak and his focus is in sharp contrast with some of his distant film performances just a few short years earlier.

Presley then works on vocal arrangements with his backing singers. Presley was not a songwriter in the traditional sense, but he understood music and what he wanted to hear from his band at all times. After reading some telegrams, including a joking one from Tom Jones hoping he'd break both legs, Presley gets ready to take the stage.

Opening with "That's All Right," Presley whips the crowd into a frenzy with a run of classic 1950s hits including "I Got a Woman" and "Hound Dog" and he goes into the crowd during an extended "Love Me Tender."

It's not all nostalgia however as Presley delivers then recent hits "In the Ghetto" and "Just Pretend" and definitive versions of "Polk Salad Annie" and "Suspicious Minds." The King had regained his crown, singing as if his career depended on it in a relentless performance.

Part of the Elvis: 75th Anniversary DVD Collection, this is the one-disc version of this show. The two-disc special edition includes the original theatrical cut, which includes more fan interviews. This version focuses mostly on Elvis. The DVD also includes the featurette Patch it Up: The Restoration of Elvis: That's The Way It Is, career highlights and the theatrical trailer. This is a must-own for fans of Presley and an excellent reminder of why he was the King.