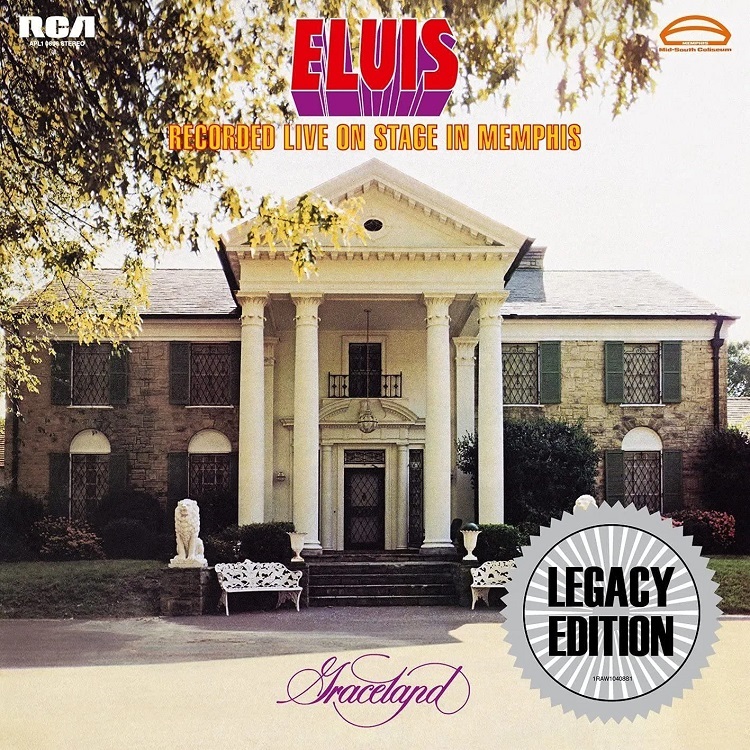 When Elvis Presley played a concert in Memphis, TN, in 1961, few, if any in the audience probably suspected it would be his last concert appearance in his adopted hometown for more than a decade — but it was. After a decade in Hollywood, Presley returned to the live stage in 1969, never to return to movie making, but it took five years for him to return to Memphis. The show was recorded and released in truncated form as Elvis Presley — Recorded Live on Stage in Memphis. Now, 40 years after the original performance, the full show, along with a warm-up show from Richmond, VA, are available as the latest entry in Sony's Legacy Edition series.
The Memphis show opens with an energetic "See See Rider" that finds Presley attacking the song and clearly trying to impress the home crowd. Presley is motivated and it shows throughout the show. Presley cracks jokes before a fun "I Got A Woman / Amen" that finds vocalist J.D. Sumner delivering his trademark low notes to end the song.
Presley showed he could still belt it out on a strong "Trying To Get To You" and he offers a bluesy take on James Taylor's "Steamroller Blues." He genuinely seems amused at the strong female response to his take on "Fever" and he nails the big note at the end of "An American Trilogy."
The original album is significant for producing Presley's third (and final) Grammy Award for his rendition of "How Great Thou Art." Where his original studio rendition was more reserved, here he offers a more up-tempo version, complete with a false ending. Presley introduces it as being one of his favorite gospel songs and it shows in his performance.
The Richmond show is recorded in mono, but sounds great and features a strong vocal performance from Presley. The show includes a playful "Suspicious Minds" and an excellent "I Can't Stop Loving You." The show is further proof that even in the mid-1970s, Presley could be as strong a live performer as any when he felt like it. Also included are bonus rehearsals for an August Las Vegas appearance including a bluesy "Down In The Alley" and a pretty "The First Time Ever I Saw Your Face" that showcases Presley and the band's fine harmonies. The rehearsals come from a tape source and, while not up to the same sonic quality as the two concerts, still sound good.
Both shows presented here have been released previously by the Presley boutique label, Follow That Dream (FTD); however, the Memphis show was drenched in reverb on the FTD version and has been remixed for this release. The result is a clean recording with nice separation of the instruments. Most importantly, both shows dispel the notion that Presley couldn't deliver live in 1974 as he is in fine voice for both performances and seems to be having a good time in general.
Recorded Live on Stage in Memphis Legacy Edition is a triumphant homecoming for the King of Rock and Roll. While perhaps not as potent as his 1969 or 1970 shows, the two shows included prove that Presley still had it in 1974. With the Memphis show being complete and the Richmond show included as a bonus, the Legacy Edition is an excellent value for Presley fans and a worthwhile addition to his live canon.