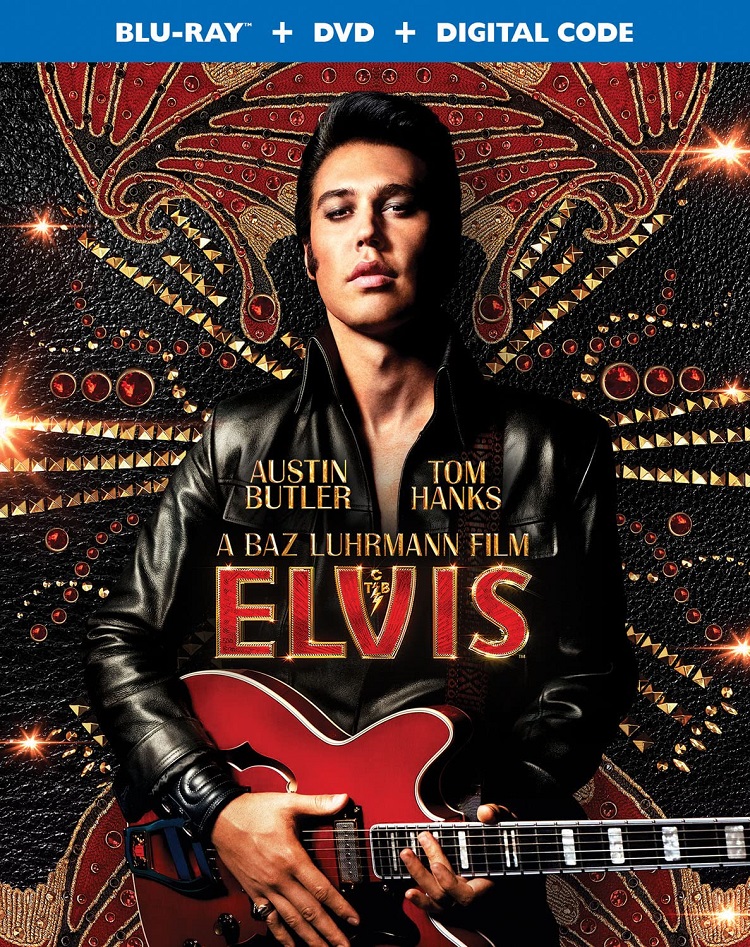 Director/co-writer Baz Luhrmann tells the story of Colonel Tom Parker (Tom Hanks, who makes an odd, slightly distracting vocal choice) telling the story of the partnership between himself and Elvis (Austin Butler, who delivers a star-making performance). Luhrmann's ornate, elaborate style is tailor made for celebrating and recreating Elvis, especially his latter Vegas period. Unfortunately, the story doesn't dig below the surface from what even the casual Elvis fan already knows. While the viewer's eyes and ears will be dazzled while watching, they won't be left with much else once the credits roll.
ELVIS opens with Parker's narration, introducing himself just as he is being rushed to a Vegas hospital in 1997. This is no deathbed confession, but a testimonial to the audience as Parker asserts that he made Elvis what he was. While his claim that Elvis wouldn't have made the same amount of money certainly has some merit due to the deals that he initiated, Parker repeatedly restrains Elvis during different stages of his career. In fact, Elvis may well have been even more successful if had he had made other choices.
Parker was an orphan who ran away to join a traveling carnival. Was there he learned to take people for all he could and leave them with a smile. In 1955, he managed country singer Hank Snow. They were looking for an act to bring in young people. When Parker first hears "That's All Right," a song that blends "Negro rhythms. But with a country flavor," a song some argue is the first rock and roll record, and learns that Elvis is white, he hears potential. After seeing Elvis transform from a nervous young man offstage into a performer so captivating it awakens the sexual desires of almost all the females in the room (Luhrmann shoots in a way so that notion can't be missed), Parker sees his future.
Parker becomes Elvis's manager and there's a constant push/pull between them. Parker tries to reign in Elvis, wanting him to be respectable and reach the broadest audience possible while Elvis is happy in his raw form. Parker has a point as civic leaders and business owners are displeased with the unadulterated Elvis and the effect it has on young people. Parker leads Elvis to the army, to the movies, and eventually Las Vegas. Elvis has different ideas about his career, which leads to clashes between the two, yet Elvis always gives in, although the film doesn't explore why. The financial security seems a factor and Elvis a loyalty to Parker, especially after Elvis's mother dies, but when he seriously attempts to break free, Elvis is given a literal bill for what that loyalty cost him. Elvis's extravagant tastes and his father's poor handling of his son's business affairs are also major factors in that cost.
Much like Oliver Stone did with Jim Morrison in The Doors, Luhrmann does a masterful job with Elvis in the musical scenes but mythologizes the man. No matter the stage in his career, Elvis is an impressive performer. Granted the original music provides a great starting point, but the way Luhrmann shoots, the way Matt Villa and Jonathan Redmond edit, and the way Butler acts should thrill viewers, whether superfan or just making his acquaintance, and send them seeking his music.
The film never explores who Elvis is, only offering a figure to idolize rather than one to identify with. Growing up in Tupelo, Mississippi and then Memphis, Tennessee, Elvis is influenced by African American music and culture. Luhrmann shows the myth of "Elvis" when he is reborn at a tent revival. Elvis covers their songs, making music more palatable for white audiences. Elvis is friendly with artists like B. B. King and is saddened by the assassination of Martin Luther King, yet makes no effort to use his influence to repay the debt he owes. Similarly, there's a reflection about the murder of Robert F. Kennedy, and it seems Elvis is of the same mindset as the younger generation, but Parker won't let him get political. This image contrasts with the real-world Elvis a few years later who wanted to work for President Nixon as an undercover drug agent, even though he was fueled by prescription drugs.
Another area in his life glossed over is with his wife Priscilla (Olivia DeJonge). While stationed in Germany, she comes into his life, a respite from the loss of his mother. However, there's no mention of her age when they meet (he was 25; she was 14), which would absolutely be frowned upon today.
Towards the end of ELVIS, Luhrmann cuts to real footage of Elvis's last performance, two months before his death. Intercut within that is a montage that includes Elvis speaking. There's a power in the artifice being stripped away to reveal the real man, but it makes me wish I had seen a documentary rather than a fictionalized version of events.
The video has been given a 1080p/MPEG-4 AVC encoded transfer displayed in its original aspect ratio of 2.39:1. Across the spectrum, colors appear in rich hues. Blacks are inky and whites shine, contributing to a strong contrast. The image delivers depth and sharp clarity.
The audio comes available in Dolby Atmos, which defaults to Dolby TrueHD 7.1, Dialogue is clear. The music fills the surrounds and one may want to turn up the volume during the musical performances to further immerse themselves. Ambient effects appear throughout the sound field.
The HD Special Features are:
Bigger Than Life: The Story of ELVIS (23 min) – Baz Luhrmann, Austin Butler, Tom Hanks, costume designer Catherine Martin and others talk about what it took to make the movie.
Rock 'N Roll Royalty: The Music and Artists Behind ELVIS (8 min) – Luhrmann, Butler, and others talk about Elvis and the musicians who worked on the film.
Fit for a King: The Style of ELVIS (8 min) – Martin, Butler, and others talk about Elvis's classic outfits and the film's costumes.
Viva Australia: Recreating Iconic Locations for ELVIS (7 min) – Luhrmann, Martin, and others discuss what it took to recreate locations such as Graceland mansion.
"Trouble" Lyric Video (2 min)
Musical Moments (46 min) – Skip around or watch all the musical sequences of ELVIS with a "Play All" option.
ELVIS is grand in style but short on substance. While the viewer's eyes and ears will be dazzled by the musical sequences and Butler's performance, they won't be left with much else once the credits roll. The Blu-ray does a marvelous job presenting that style in high definition.