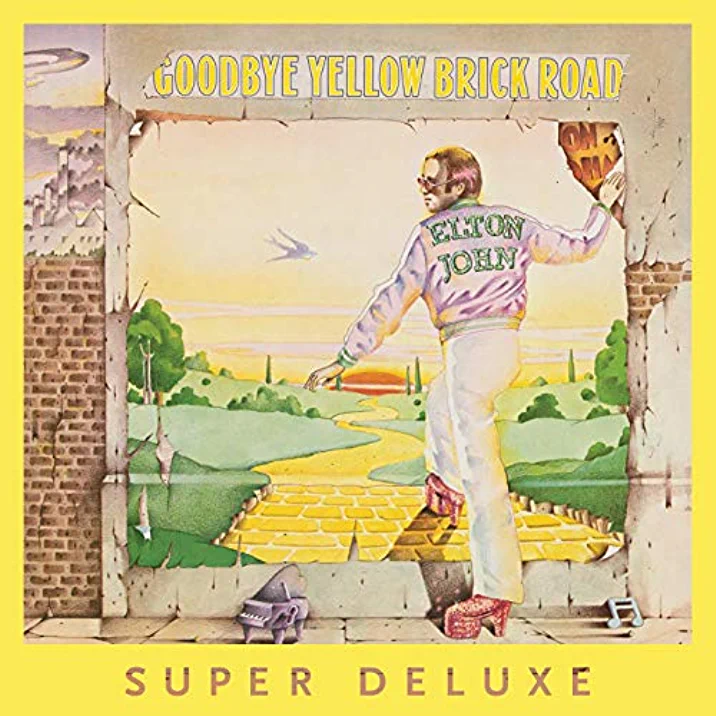 In Elton John's long and storied career, few, if any, of his albums have been as beloved as Goodbye Yellow Brick Road. Originally released in late 1973, the album spawned several hit singles that remain staples on classic-rock radio to this day. Now to celebrate its 40th anniversary, the album has received the Super Deluxe treatment, in a new box set with four CDs, an interview DVD, and a 100-page hardcover book with rare photos. This review focuses on the four CDs, as that was what was made available.
Disc one is the album proper, newly remastered in excellent sound. One is immediately taken aback at the diversity of the record. From the 11-minute epic, "Funeral For a Friend/Love Lies Bleeding," that touches on progressive rock to the power ballad "Candle In The Wind" to the tropical feel of "Jamaica Jerk-Off" to the hard rock of "Saturday Night's Alright For Fighting," John and his crack band prove they can handle virtually any musical style. The album is front-loaded, with four of John's best-loved songs leading off the collection and would be a greatest hits album for many other artists. For John, it was merely the second studio album he released in 1973 and a double album, no less.
While the big hits are fantastic songs and there are many of them, there is virtually no drop off in quality between them and the other album cuts. John delivers a strong vocal on the torch song "I've Seen That Movie Too" while "Sweet Painted Lady" harkens back to the pre-rock-and-roll era musically. "Dirty Little Girl" is a gritty rocker filled with distorted guitars and a vocal to match while "Your Sister Can't Twist (But She Can Rock 'N' Roll)" is a high-octane 1950s-style rocker. In short, it's an album worthy of all its accolades and deserving of its spot atop John's canon.
Disc two is an interesting hybrid of other artists covering John's songs as well as demos, singles and B-sides from John himself. Ed Sheeran's "Candle In The Wind" is an acoustic rendition drenched in harmony and fiddles while The Band Perry offers a country-flavored "Grey Seal," its signature keyboard riff played on banjos. The song appears twice more, once as a keyboard demo that is stark in comparison to its Goodbye Yellow Brick Road namesake as well as John's original 1970 version of the track. The highlight of the covers may be Imelda May's take on "Your Sister Can't Twist (But She Can Rock 'N' Roll)," that channels Sun Records possibly better than John's original. The Christmas release, "Step Into Christmas" along with its B-side "Ho! Ho! Ho! (Who'd be A Turkey At Christmas" is represented here, as well as the hit single, "Philadelphia Freedom."
Discs three and four are a concert from London's Hammersmith Odeon in 1973. The show features many new songs from Goodbye Yellow Brick Road, including a driving "Funeral For A Friend/Love Lies Bleeding" that bests the studio version and a playful "Bennie And The Jets" that shows off John's piano prowess. He and his band deliver a slightly more up-tempo "Daniel" than its studio counterpart and an energetic "Honky Cat." The show closes with a rousing rendition of "Saturday Night's Alright For Fighting" and shows that John and his band are equally adept on the live stage as they are in the studio.
Many albums seem to get the Super Deluxe treatment these days but Goodbye Yellow Brick Road is actually worthy of it. The remastered sound is excellent and dynamic without being overly loud, while the covers and demos disc provide an interesting insight into John's music. The album is the selling point, really, everything else is just a bonus, but they are an excellent bonus indeed. A must-own collection for any Elton John fan.