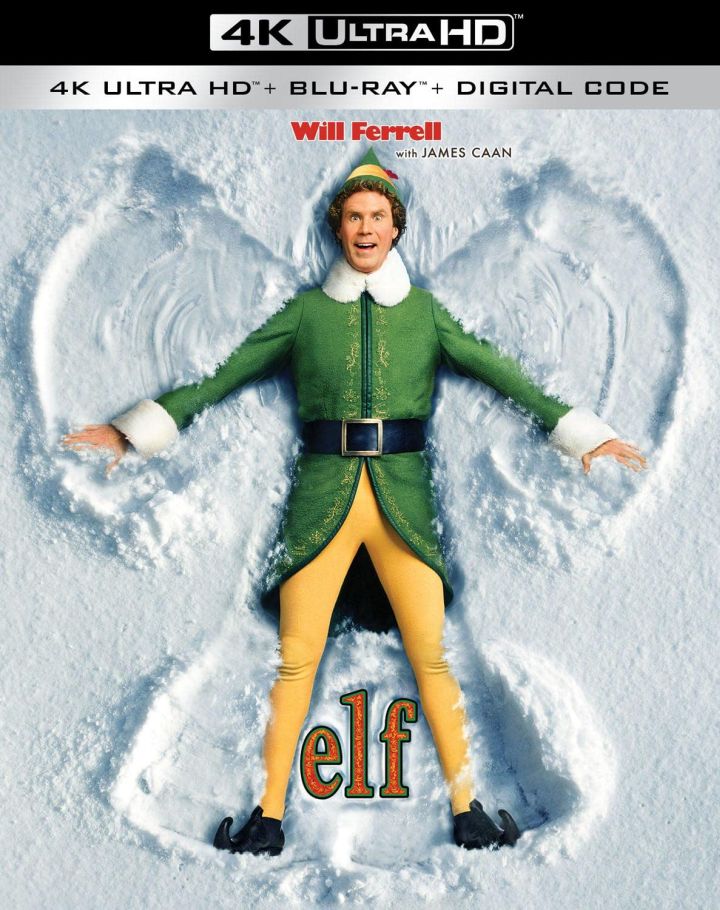 Elf is a strange premise, anchored on a strange performance. Will Ferrell plays the grown-up version of a baby from an orphanage who crawled into Santa's sack, and right into the North Pole's heart.
Buddy, as he's named because of the brand of diaper he was wearing, is immediately adopted by the elf Bob Newhart, who as always seems resigned, even when he volunteers. He raises Buddy up without ever telling him he's a human. A job requirement of a North Pole elf is good nature and optimism, so no one else has the heart to let him know, even when he's lousy at toy making and several feet taller than the rest of his peers.
Eventually, Buddy finds out the truth. He goes off to find his birth father. Of course, Santa knows who he is since he knows everything. But he warns Buddy, he's on the naughty list.
The bulk of the Elf is Buddy's fish-out-of-water antics in contemporary (circa 2003) New York City. He's a complete innocent, who knows there's a naughty list but can't quite countenance any actual naughtiness. I'm not a great fan of Will Ferrell's acting or comedic sensibilities, but he strikes the right notes with Buddy, so that when he sneaks into the girl's shower to sing along with Zooey Deschanel, it doesn't seem creepy. He couldn't imagine what would be wrong with the scenario.
Elf careens through comic scenarios with various levels of effectiveness, and it has an above average cast to sell the goofy and (as required by being a Christmas movie) rather sappy story. James Caan is Buddy's long-lost father, and he has a deep well of irascible reserve that is perfect for the role. Even when he eventually must give in to accepting Buddy (sorry, spoilers), he doesn't seem happy about it. Mary Steenburgen is his wife, and she truly sells her concern about this Elf-transplant, even if she's half convinced he should probably be in a mental asylum.
The plot of Elf is the same as all the Christmas movie plots. Everyone needs to learn about the Christmas spirit, and darned if there isn't some open-hearted naïf there to teach them. Buddy eventually gets dejected, but then there's a major crisis and, wouldn't you know it, he has to save Christmas. I wish the crisis didn't have a kind of low-rent action movie quality to it, but that's the breaks in modern filmmaking.
Elf was Jon Favreau's second film after Made, a little-seen gangster comedy. It was just a few years later that he unleashed the MCU on an unsuspecting public with Iron Man. Elf has a little of the same energy as Iron Man, where it is more committed to sticking to its bit than necessarily telling the smoothest of stories. The production design of the first part of the film in the North Pole is the most fun-looking aspect of the movie, well Will Ferrell literally looks like an animator storming through an old Rankin-Bass animation set. The 4K is a new transfer of the film, and it looks terrific, textured, and colorful.
Elf is considered a Christmas classic, and I could imagine if I'd seen it as a kid (which would have been chronologically impossible) it might have a special place in my heart. As it stands, it's a well-made, reasonably funny film. The third act Christmas Spirit crisis feels a little perfunctory, and a smoother, more layered story might have given it more resonance. But Elf is too good natured to dislike.
Elf has been released on 4K UHD by Warner Brothers. The release includes a 4K disc with a new transfer for 2022, and a standard Blu-ray disc, with a transfer identical to previous Blu-ray releases. Extras on the 4K disc include two commentaries: one by director Jon Favreau, and one by Will Ferrell.
The Blu-ray includes those commentaries, and a number of extras included on previous releases. First is a set of nine documentaries: "Tag Along with Will Ferrell" (7 min); "Film School for Kids" (21 min); "How They Made the North Pole" (12 min); "Lights, Camera, Puffin!" (7 min); "That's a Wrap…" (12 min); "Kids on Christmas" (7 min); "Deck the Halls" (11 min); "Santa Mania" (7 min); "Christmas in Tinseltown" (7 min); "Fact Track" and "Focus Points" Pop-up trivia and short featurette that appear during the film; Elf Karaoke (5 min); Deleted/Alternate Scenes (12 min) with optional director's commentary, and a trailer.