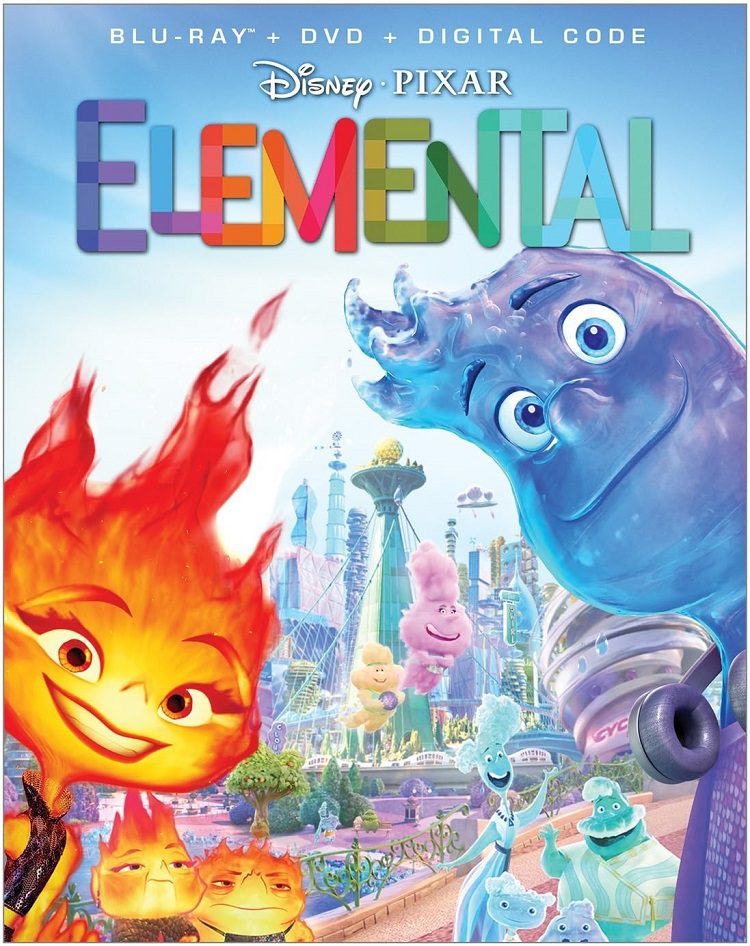 There was a time in my life when a new Pixar movie was a cause for celebration. They continually made fantastic, interesting, and wonderful films. Learning that a new one was coming out got me all kinds of excited. They got everyone excited, it seemed. There was a buzz when a new Pixar hit the cinemas. Now, nobody seems to notice. Elemental came and went and I hardly even knew it existed. I honestly didn't know it was even made by Pixar until after it had been in theaters for a few weeks. I thought it was some Dreamworks knockoff at first.
It doesn't help that it looks like a strange sequel to Inside Out. Not even a sequel, more like another film in the Inside Out Cinematic Universe. Or a cheap cash-in. It didn't distinguish itself from every other animated film out there, and that is unusual for Pixar.
Still, while Pixar's track record isn't as stellar as it once was, they still regularly put out good films and I'm ready to finally see this one.
Also, out this week that looks interesting:
My Bloody Valentine (1981) Collector's Edition (4K Shout Factory): I typically don't bother mentioning 4K releases because, well, frankly I'm not really all that interested in the format, but also because they typically are only upgrading the video and audio quality. Extras tend to be ported over from previous Blu-ray releases. But Shout Factory has done a really cool job with this release. They've done new 4K scans for the uncut version of the film, and included the uncut and original theatrical versions on regular Blu-ray. They've got audio commentaries and loads of interviews, plus posters, lobby cards, and other cool collectibles. That makes it well worth mentioning.
Moonage Daydream (Criterion Collection): Documentary about David Bowie that includes concert footage and interviews.
Dracula and Son (Severin Films): Christopher Lee played Dracula for the last time in this obscure French comedy. Here he takes his son to London where he becomes a film star and the son, ashamed of his roots, becomes a night watchman in Paris.
A Blade in the Dark (4K Vinegar Syndrome): Late-era Giallo from Lamberto Bava finds a horror movie composer living in a secluded estate only to find everyone around him getting sliced and diced. Comes in both an extended and theatrical cut with commentaries, interviews, and loads of other special features.
Story of a Cloistered Nun (Severin Films): 1970s era nunsploitation film about a woman sent to a nunnery by her family after falling for a man who was not the man she was supposed to marry only to constantly be harassed by the sexually repressed nuns.
Piccadilly (Kino Lorber): After growing tired of not being given decent roles in America, Anna May Wong headed to Europe where she made this silent film about a woman working in a London kitchen who is given the chance to become a star.
Pennyworth: The Third and Final Season (Warner Bros.): An original story of Batman's butler needn't be this good. It feels more like a 1960s spy thriller (albeit one with more than a few fanciful comic book villain flourishes) than a Batman story. I really enjoyed the first two seasons and am looking forward to catching up with the third.
Saratoga (Warner Archive): Clark Gable and Jean Harlow (in her last role before dying of kidney disease) star in this comedy about a horse breeder's daughter who is engaged to an upstanding millionaire, but is drawn to a brash bookie.
The Abomination (Visual Vengeance): This horror flick is about an old woman who coughs up what she believes to be a tumor. While asleep, the thing crawls inside of her son and reproduces inside him, then causes him to go on a killing spree to feed it. Sounds amazing.
Mayfair Witches: Season One: Alexandra Daddario stars in this Anne Rice adaptation about a neurosurgeon who discovers she is the heir to a family of witches.
La Bamba (Criterion Collection): Lou Diamond Phillips stars in this biopic of 1950s rocker Ritchie Valens. Read Joe Garcia's rave review.
Insidious: The Red Door: The fifth film in the Insidious Series. Patrick Wilson returns as star and he also directed it. I've only seen the first film in this series, and while I liked it, it felt a little too much like The Conjuring for me to want to catch any sequels.
Loki: The Complete First Season: With the ongoing strikes in Hollywood, it has become increasingly clear to me that physical media is more important than ever. As much as I love the convenience of streaming services, the fact that they can, at a whim's notice, completely remove a series or movie from their service (and potentially all legal streaming services) is all the more reason to purchase physical copies. I, therefore, appreciate it when a streaming service such as Disney+ releases its digital-only series in a physical format.
House on Haunted Hill 3D: The legendary William Castle directed this wonderful haunted house movie starring Vincent Price back in 1959. Castle was known for creating in-theater gimmicks to get people to buy tickets. For this film, besides shooting it in 3-D he put a skeleton on wires and floated it across the audience during a crucial moment in the film. Sadly, this release does not include the skeleton but it has been returned to all its 3-D glory.