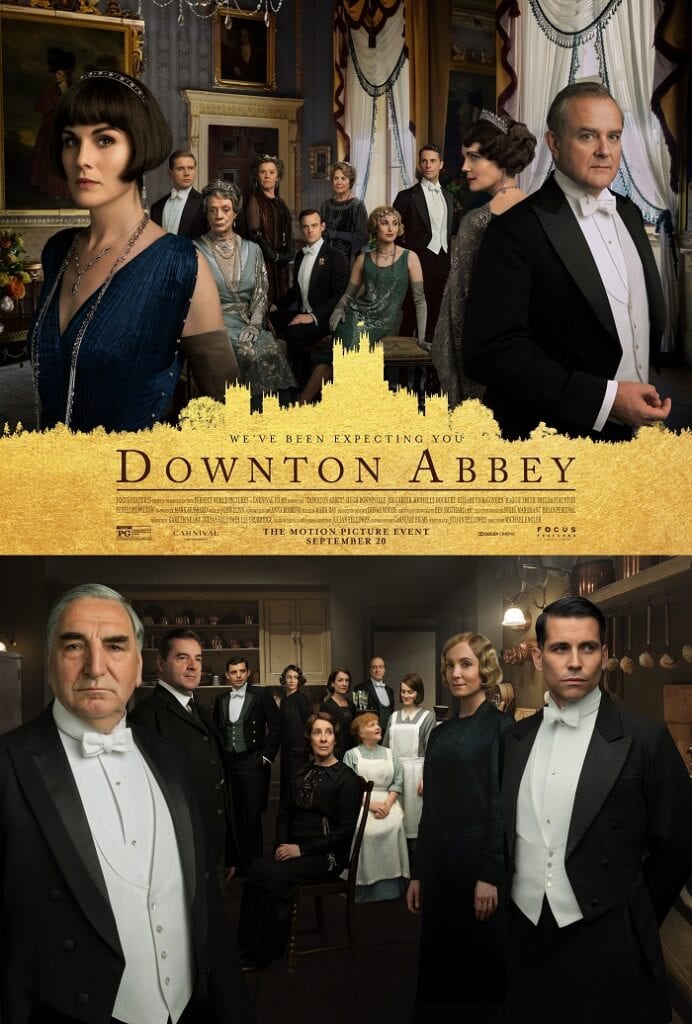 After ending in 2015, Downton Abbey, the hit trans-Atlantic TV series that ran for six seasons, returns with a theatrical film of the same name about the on-going exploits of the Crawley family and their servants. Although the last episode debuted four years ago, the story only jumps ahead a year to 1927 on the occasion of a Royal visit to Downton Abbey by King George V and Queen Mary. While it's delightful getting another chance to spend time with the beloved characters, brought to life by the talented cast, Julian Fellowes's screenplay is hit and miss, much like the writing in the series.
The Downton staff are very excited at the prospect of serving the King and Queen. Molesley (Kevin Doyle), now a teacher, even asks to return to service to take part in the privilege. Before final preparations are made, Barrow (Robert James-Collier) awaits the arrival of the Royal staff to hear their requests. Lady Mary (Michelle Dockery) sees this as shirking his responsibility, leading her to ask Carson (Jim Carter) to supervise the visit. While Barrow is proven right, it's a contrivance by Fellowes to bring back Carson. On the series, his retirement was due to his suffering palsy, which never occurs nor is ever mentioned. It also allows Burrows to venture off and have the most positive story his character ever had.
When the Royal staff arrives, they include a butler, maid, cook, and footmen who are expected to serve the King and Queen. The Downton crew is disappointed at being pushed aside. Anna (Joanne Froggatt) leads a revolt with antics one would find in a sitcom. It's fun, but just seems sillier than anything the show ever did.
Upstairs, Tom (Allen Leech) dominates as the focal point in a number of stories. He encounters the suspicious Major Chetwode (Stephen Campbell Moore) before the Royal arrival, offers martial advice to Princess Mary (Kate Phillips), and develops an attraction to Lady Maud Bagshaw's maid, Lucy Smith (Tuppence Middleton), who is the center of a controversy. Maud (Imelda Staunton) wants to leave her estate to Lucy, but her cousin Robert (Hugh Bonneville) is next in line to inherit it. That doesn't sit well with his mother, Violet (Maggie Smith).
There's a scene towards the end where Violet takes Mary aside to tell Mary she's not well and her time is coming to an end. It seemed like an odd time to do this yet was not surprising considering the Dowager's age. This passing of the torch came across as Smith's farewell to fans in case she can't make it to the next Downton project, whenever that is.
With only a two-hour run time, it was always going to be hard to get enough screen time for all the main characters. With most of the stories focused on new characters, it was even harder Maybe this was a way to help usher in new viewers to the Downton series, but this doesn't seem like the best entry point even though the film makes it easy for those to get up to speed on who's who and what's what. I just wanted more time with my old friends and some get short shrift.
Before concluding, I would be remiss in not drawing attention to the crew. The cinematography by Ben Smithard, new to team, made the magnificent sets and locations look even better than they do on TV. The costumes by Anna Mary Scott Robbins, who worked on the last two seasons, and her team were exquisite. Those involved with make up, hair, and props also deserve praise.