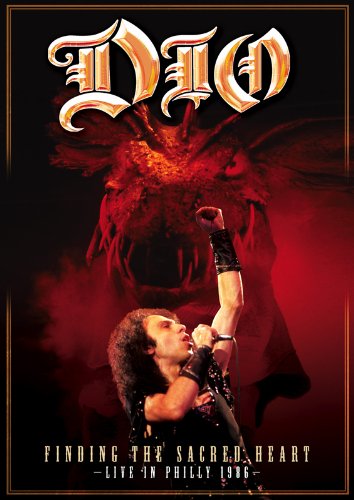 First released in 1986 on VHS as an edited concert video, the full performance of late rock icon Ronnie James Dio and band at the Philadelphia Spectrum in 1986 is now available on Blu-Ray and DVD from Eagle Rock Entertainment. Remastered for optimal sound quality and restored for cleaner, clearer visuals, Finding the Sacred Heart: Live in Philly 1986 captures Dio during the height of his popularity (and the hard rock/metal craze of the '80s). This review describes the contents of the Blu-ray edition.
Finding the Sacred Heart: Live in Philly 1986 is 100 minutes long and contains the Spectrum set, featuring some of the most recognizable Sabbath and Rainbow tunes from Dio's stint with those bands, as well as his solo music. Songs include "We Rock", "Hungry for Heaven" and, of course, "Heaven and Hell" and "Rainbow in the Dark." There are two power medleys: "Rock 'n' Roll Children / Long Live Rock 'n' Roll / Man on the Silver Mountain" and "The Last in Line / Children of the Sea /Holy Diver." The Blu-ray's performance highlight is the 12-minute rendition of "Sacred Heart," complete with a castle and the band's "mascot," fire-breathing dragon Dean, accompanying the band onstage. Dio's band for the Philly show featured Craig Goldy on guitar, Vinny Appice on drums, Jimmy Bain on bass, and Claude Schnell on keyboards.
Blu-ray extras are enough to keep any Dio or heavy metal fan occupied for a while. They include the "Rock 'n" Roll Children" music video, an interview with Dio and Craig Goldy, behind-the-scenes footage, and an eight-page, full-color booklet with liner notes that feature band members Appice, Goldy, and Jimmy Bain reminiscing about Ronnie and the '85-'86 tour.
An entertaining flashback to the golden days of hard rock/metal, Finding the Sacred Heart finds everyone's favorite pint-sized Italian metal dynamo in his prime, brimming with stage presence and in stellar voice.