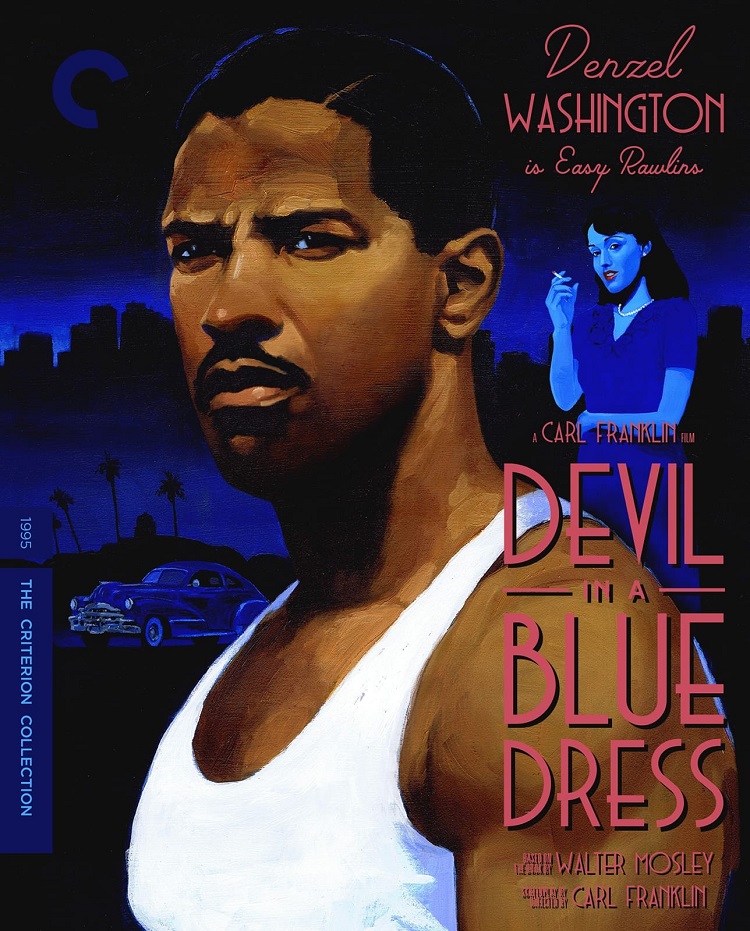 Based on Walter Mosley's 1990 novel of the same name, Carl Franklin's Devil in a Blue Dress is an engaging mystery that finds African American working stiff Ezekiel "Easy" Rawlins (Denzel Washington) caught up in post-WWII Los Angeles politics. It's more than a typical detective story as Easy deals with a society that sees him as a second-class citizen, making his job tougher than it would be for a Sam Spade or Philip Marlowe.
Set in 1948, Easy came out to Los Angeles from Houston after the war like many folks did. He is desparate for work to pay his mortgage. Easy is hired by Albright (Tom Sizemore), a man who does "favors" for people, to find Daphne Monet (Jennifer Beals), the fiancee of Tom Carter (Terry Kinney), a former mayoral candidate who dropped out of race against Matthew Terell (Maury Chaykin) after her disappearance. Easy is given the task as Daphne has a predilection for the company of Negroes.
Asking questions about people who don't want answers given about them draws attention towards Easy. Not just from crooks but the cops also after Easy's inquiries lead to bodies turning up dead. The case gets more complicated when Daphne finds Easy and asks for his help in retrieving a letter; however, the house where it's at also contains a murdered man, who is familiar to Easy.
As a novice detective, the most important lesson Easy learns is he can't trust anyone and he doesn't learn it easily. He calls for his Houston pal, Mouse (Don Cheadle, who stands out in every scene he's in), a "shoot first, who cares about questions?" guy who he can usually trust but has moments where he falls into the "with friends like these…" category.
In addition to crafting a well-written mystery, Franklin shows the highs and lows of the African American experience of the time, from recreating the nightclubs of Central Avenue to Easy getting accosted by a group of white young men for simply talking to their female friend. Imagine it's more prevalent in Mosley's novels, but there's enough here to make the story authentic and also fresh for the genre.
The video appears in the film's original aspect ratio 1.85:1. The liner notes reveal "this new digital transfer [approved by Franklin] was created in 4K resolution on a Scannity film scanner from the 35 mm original camera negative." The colors are saturated in strong hues, particularly rich are the earth tones. Blacks are inky, and whites are accurate. Depth, texture detail, and film grain are apparent. The image is clean. There's a touch of soft focus that evokes the look of the era.
Also from the liner notes, "The 5.1 surround soundtrack was remastered from the original six-track DME magnetic sources." Dialogue is clear. Slight ambiance can be heard in the surrounds as can Elmer Bernstein's score. The track is free of signs of age or wear.
The Director-Approved Special Features (HD) are:
Commentary by director Carl Franklin
Don Cheadle and Carl Franklin (37 min) – The pair who had previously worked together on Franklin's AFI thesis film, Punk, sit for a chat about working on the film. It includes portions from Don Cheadle Screen Test (13 min), which also includes Washington offscreen.
Attica Locke and Walter Mosley (25 min) – The two writers talk about the movie, the Easy Rawlins book series, and hard-boiled detective fiction.
Noir City Chicago (26 min) – A conversation between Franklin and film noir historian Eddie Muller recorded live on stage at the 2018 Noir City Film Festival.
Trailer
The real mystery is why Devil in a Blue Dress, a film with a very good story and populated with great performances, didn't connect with audiences in 1995. It's a shame Franklin, Washington, et. al. didn't get the opportunity to tell more Easy stories. This Criterion Collection release, which is also available in 4K Ultra HD, delivers a pleasing high-definition experience and extras to educate about the film.