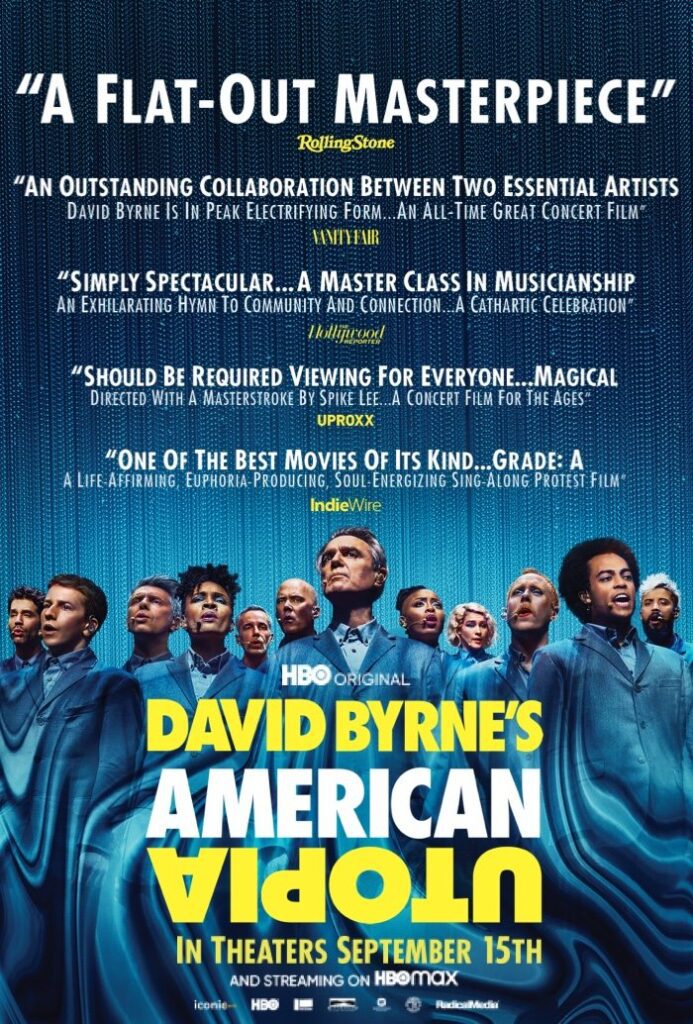 David Byrne is one of those typical outsider becoming insider American stories. He set out to make oddball music, and did so with the Talking Heads, but they unfortunately succeeded in becoming popular. His musical and performance instincts are rather anti-popular, arty and geeky, but in America there's almost always an audience.
And then he went and aged, and did what happens to a lot of out there artists: he became an institution. And when you're an institution, there's a good destination and a less good one, artistically speaking. The less good one is Vegas, where much money is made but the places you play are… all in Vegas. The good one is Broadway, where upper-middle class audiences will pay a lot of money to see a "show" that is actually a concert without pesky things like opening acts you don't care about or young people who can't afford it.
David Byrne's American Utopia grew from a tour from his 2018 solo album. It was really his third album length collaboration with Brian Eno, who produced many of the Talking Heads albums and who co-wrote most of the album's tracks. Byrne's tour was an extremely visually advanced and choreographed affair, and after it was completed in 2018, it was somewhat retooled and brought to the stage, eventually reaching Broadway.
This film is a version of that show, directed by Spike Lee, but also incorporating several Talking Heads songs and some covers. It has an interesting contrasting visual style, with stark, nearly monochromatic color scheme combined with constant choreography. The entire band, David Byrne included, wear identical gray suits and perform their music mobiley. Every instrument is unwired, so the band can move all around the stage.
This creates enormous choreographic possibilities, and the staging and filming take full advantage. Lee isn't particularly interested in giving an audience's eye view of the proceedings, so the camera is frequently positioned in places it would be impossible to see as an audience member. Directly above the dancers, or moving inside and out. The grey painted stage is surrounding by a curtain of chains which light up, or hide performers behind them. The effect is definitely beautiful.
As the show progresses, more and more of the band come out from behind the curtain and join in the dancing. And… This show has been nearly universally praised. As of this writing the Rotten Tomatoes score is at 98%. Some people who have seen the show live have called it the best show they've ever seen.
I'm not totally sold.
The performances by the band are unimpeachable. All the musicians play flawlessly while dancing around the stage, bringing verve and incredible energy to everything they do. The music is heavily percussive, matching Byrne's and the Talking Heads focus on repetition and rhythm. Byrne himself dances throughout the performance, sometimes matching the moves of his two backing dancers, which is impressive from a nearly 70-year-old man.
But I hated his backing dancers. It's a man and a woman (the man elaborately made up in a deeply distracting way) and their choreography was prancing and fluttery and, to me, really irritating. The rest of the band is all dressed in the same gray suits in a style that I think was supposed to be democratizing (we're all in this together) but to me was rather anonymizing.
I've seen large bands, on video and concert, and have readily gotten a sense of the individual members. King Crimson (my favorite band, which makes me very nerdy) has three stationary percussionists in their recent tours, all front and center, and I can readily identify their contributions to that band's mesmerizing sound.
Byrne, in his frequent stage patter, talks about the importance of viewing humanity and how the way they had set up the concert allows us to truly view the players. But if the entire band had been swapped out for other players every other song, with this elaborate choreography and identical gray suits, I wouldn't have noticed.
The banter was another point where the concert came to lose me. Talking Heads, and David Byrne in particular have always had a political bent, but I wouldn't describe them as partisan. They had songs about the reality of living in politics. Half of the interest of their music was the tension between irony and anxiety. Was David Byrne the narrator of the song, or making fun of the narrator, or afraid he was the narrator? These ambiguities contributed to the band's brainy reputation.
In American Utopia, David Byrne has a very specific point of view. And it's very typical and kind of boring. He spends a long time telling people that they should vote. He sings a protest song written by Janelle Monae (the performance of which is the one time Spike Lee's direction breaks from documenting the concert as it was performed, I think to the film's detriment.) In these moments, he's no longer telling people about thinking, he's flat out saying what he thinks, and subsequently what the audience should think. He has an absolute right to do so. Maybe it advances his social goals. I think it's a detriment to his art.
And David Byrne's a fine musical artist. Or can be. There's a couple of times here that his work here falls flat. I'm not talking about the songs (I don't like some of the American Utopia album songs, but "Everybody's Coming to My House", "Here", and "Every Day is a Miracle" are fine.) There's a couple of performances of great songs that left me kind of queasy. The anthem of suburban discomfort, "Once in a Lifetime", becomes a kind of stadium rock song in a show that is not really a rock show. And the entire concert closes out with "Road to Nowhere" being played like it was an ode to possibilities, not, as its lyrics portend, complete disaster.
Maybe David Byrne was making fun of his audience singing along with him to a song presaging their own destruction. Maybe he was being cynical, wandering through the audience, chanting "We're on the road to nowhere" like that was the place to be. Maybe it was just a hit and people were having fun. I don't know. David Byrne's American Utopia has several highlights, and uniformly great musicianship. But utopia in Greek means "No Place", and for me that is where this excellently produced and performed film ultimately ended.
David Byrne's American Utopia is currently streaming on HBO Max. It has been nominated by the Grammys for Best Music Film.