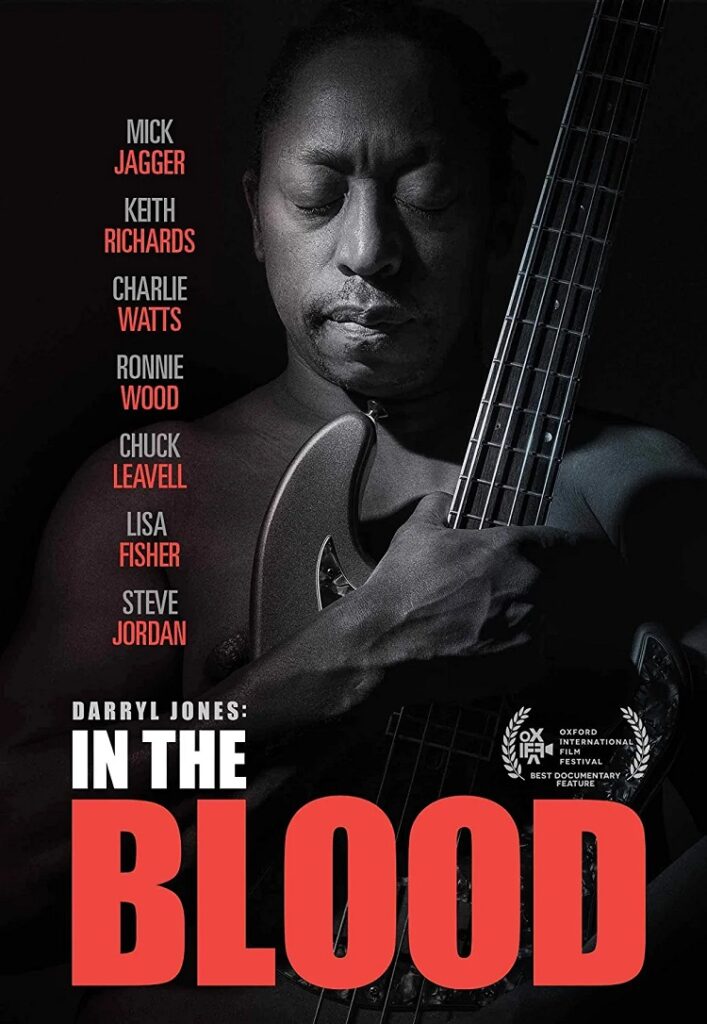 While not a well-known name, Darryl Jones is an integral component of the "Greatest Rock 'n' Roll Band in the World!" But you don't have to take my word for it as the Rolling Stones themselves (Mick Jagger, Keith Richards, the late Charlie Watts, and Ron Wood interviewed separately) sing his praises as do other musicians and associates in this well-deserved spotlight.
Jones has the distinction of being the longest serving bassist in the band's history, taking over for Bill Wyman who left the band after 31 years in 1993 and first appearing on Voodoo Lounge (1994). The Stones talk about how well the auditions went and how well Jones continues to fit within the band over the years, recording with them and on tour. Touring band members keyboardist Chuck Leavell and back-up singer Bernard Flower and Don Was, producer on all the studio albums Jones played on, also share their perspectives. Jones is given credit for playing Wyman's iconic bass lines while making them his own.
After focusing on his work with the Stones for the documentary's first 24 minutes, In the Blood goes back with Jones to his birthplace in Chicago. He takes the camera crew around to meaningful spots during his growing up and tells of his familial history. His parents were into jazz and modern music like James Brown and Curtis Mayfield. Jones became captivated by the bass and began to practice. As a teenager, he began to play with band in clubs and his first recording occurred when he was high school freshmen for blues artist Little Oscar.
His big break came at 21 when he got the phone call to join Miles Davis. Jones tells fascinating stories about learning how to play with Miles and his two tenures in his band. In between, Jones joined Sting's solo band after he left the Police thanks to Branford Marsalis getting him an audition. His resume is so impressive, the documentary doesn't cover all the notable artists with whom he has played. Surprisingly, he hasn't released music under his own name. He dreams of having his own band and as the documentary wraps, we see him working on the Darryl Jones Project.
Darryl Jones: In the Blood is a good addition to the genre of sideman documentaries. Rolling Stones fans will definitely want to check it out.