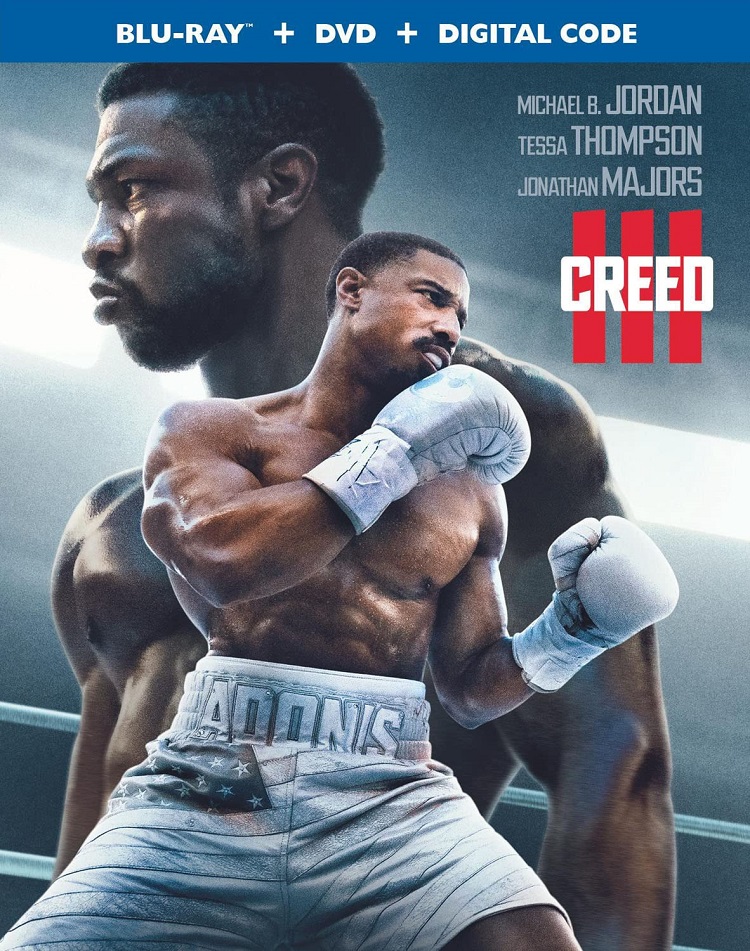 As stated when I reviewed the movie, "Michael B. Jordan does double duty for the first time, making his directorial debut on Creed III," a sequel that also sheds light on Adonis' history after Damian (Jonathan Majors), an old friend from a group home, comes into his life after an 18-year stint in jail. Damian is driven to take what Adonis has achieved because he was an up-and-coming boxer and feels Adonis' life is what he should have had.
My review reveals more of the plot and covers my criticisms of the movie. It concludes with: "Creed III is another entertaining title in the Rocky franchise. It doesn't reinvent the wheel or push any boundaries nor does it attempt to. Instead, it knows fans like the characters and the boxing action and comes through in those areas. Fans and those who like simple good-versus-bad stories should be happy with the results."
The Blu-ray has been given a 1080p/MPEG-4 AVC encoded transfer displayed in the original aspect ratio of 2.39:1. The image delivers strong hues, alongside inky blacks and bright whites. Fine texture detail can be seen in objects like buildings and clothing. When Felix enters the ring, the smoke and colored lights don't hamper the visuals. Some light sources, such as exterior light through window in the diner and the gym and interior lights in Adonis' trophy room, shine too bright and blow out detail.

The audio is available in Dolby Atmos, which defaults down to Dolby TrueHD 7.1. Dialogue is consistently clear. Composer Joseph Shirley's score plays in the surrounds, increasing in volume to match the emotion of a scene, but without rising to the level of distortion. Ambiance can be heard in the surrounds, most noticeably presenting the different reactions from the attendees watching the fights. The subwoofer delivers sufficient oomph, especially supporting the punches. Sounds are positioned and can move across channels.
The Special Features (in HD) are:
Michael B. Jordan: In the Ring / Behind the Camera (10 min) – The cast and crew sing the praises of Jordan as a director.
There's No Enemy Like the Past: Donnie and Dame (9 min) – Jordan and Majors offer a look at the characters and how they played them.
Deleted Scenes (4 min) – Available with a Play-All option, three brief scenes that were understandably cut as they offer little to the story. They are "Dame Steals Candy for Boy", "Amara School Hallway", and "Duke Talks to Adonis in Church".
Creed III is a crowd-pleaser and the Blu-ray's high-definition presentation is as well. Would have liked a deeper dive into the making of the movie, but I might be in the minority about that. Certainly among the decision makers at the studios. But fans of the Rocky/Creed franchise should be satisfied with this latest installment.