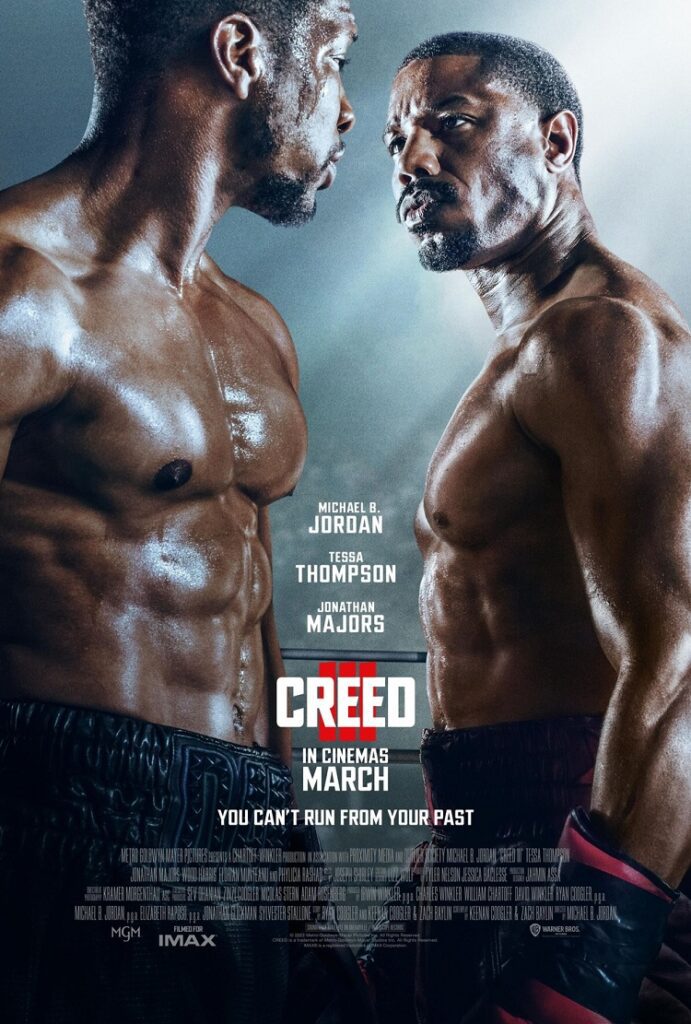 Michael B. Jordan does double duty for the first time, making his directorial debut on Creed III, the ninth movie in the Rocky franchise. Like the previous Creed movies, this takes from what has come before (like Rocky III) and delivers a familiar, crowd-pleasing time.
Adonis Creed has retired from boxing and moved into training and promotion. He has a big fight set for the champ, Felix "El Guerrero" Chavez (José Benavidez Jr.), versus Viktor Drago (Florian Munteanu). Into his life returns Damian (Jonathan Majors, in a wonderfully menacing performance), fresh from an 18-year stint in jail. The two had been in a group home together but one fateful night Damian come to Adonis's aid with a gun. When the cops pulled up, Adonis ran and Damian went away. They lost contact, due in part to his step mother Mary Anne (Phylicia Rashad) hiding Damian's letters but also because Adonis didn't make an effort.
Damian had been a Golden Glove winner. He sees Adonis's life as the one he should have had, and is going to get what he thinks he's due. Adonis allows Damian to train at the gym and spar with Felix. Damian wants a title shot, but Adonis tells him that's not how things work. But Damian has his own ideas. He creates an opening in the title fight. Apparently there's not another, more eligible contender available, so in a nod to his father Apollo taking on Rocky, Adonis books Damian versus Felix. Everyone but Damian (and anyone who has seen a Rocky movie) assumes the champ will have it easy. Damian wins, setting up what the audience has been anticipating: Adonis coming out of retirement to fight Damian.
The resolution is never in doubt, but it is surprising that the men, who both admittedly wronged each other, are good with one another so soon after the fight. Apparently, these old friends couldn't have talked their issues out and rectified them. They needed to beat on each other to accomplish a truce. This seems particularly odd as there is a subplot about Adonis's daughter fighting in school. Her mother Bianca (Tessa Thompson) understandably doesn't want their daughter Amara (Mila Davis-Kent) thinking violence is the answer to solving problems, yet the movie says it is. I was surprised to even see her at the fights. Her whole storyline could have been cut and it wouldn't have impacted the movie.
Jordan makes interesting visual choices. The final fight takes place in a packed Dodger Stadium, yet some moments it looks like the two men are in a darkened, empty stadium. Their opponent is all each is aware of as they are focused on knocking out and hurting the other.
It's a shame Rocky (Sylvester Stallone) doesn't make an appearance. Granted, he's referred to and Adonis needs to stand on his own at some point, but he was still missed as their relationship through the previous Creed movies is special. And surely the offscreen bickering by Stallone towards producer Irwin Walker didn't help matters. Maybe they need to step into a ring to solve their problems?
Creed III is another entertaining title in the Rocky franchise. It doesn't reinvent the wheel or push any boundaries nor does it attempt to. Instead, it knows fans like the characters and the boxing action and comes through in those areas. Fans and those who like simple good-versus-bad stories should be happy with the results.