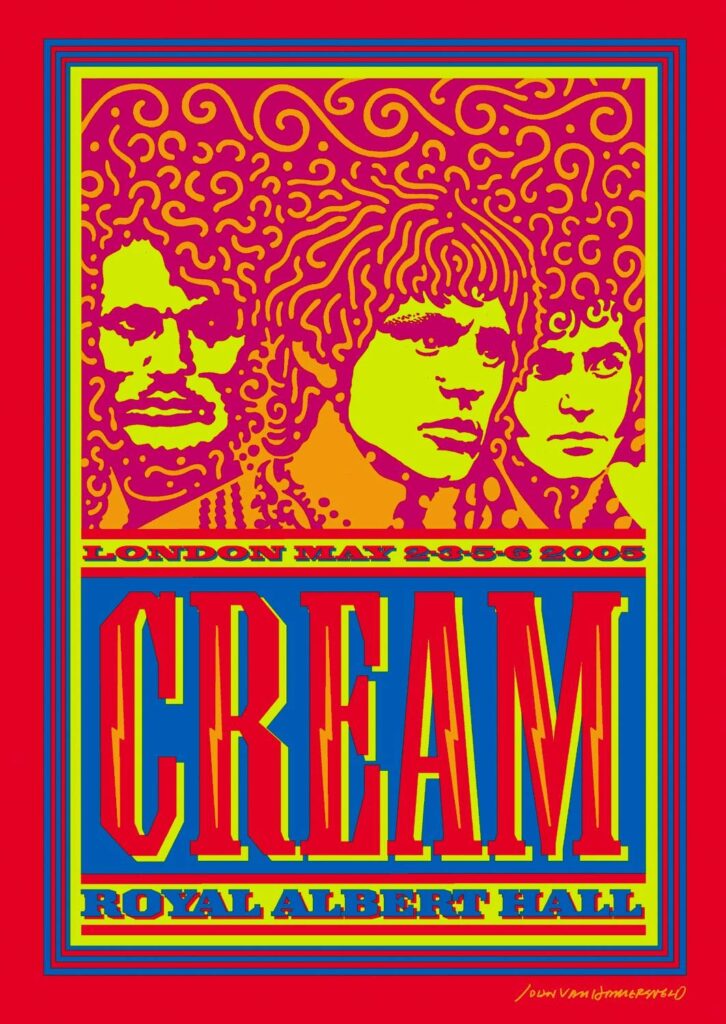 Cream is a legendary rock trio from the late '60s featuring bassist/vocalist Jack Bruce, guitarist/vocalist Eric Clapton, and drummer Ginger Baker. Though only active for a brief time, from their official debut at the Sixth Annual Windsor Jazz & Blues Festival on July 29 1966 to two final farewell concerts at the Royal Albert Hall on November 26, 1968, they made a major impact on the music world with their hard rockin' blend of blues and psychedelia that many have imitated and, to this day still, very few have duplicated.
In 1993, they were inducted into the Rock and Roll Hall of Fame, inexplicably two years after they were eligible, and performed three songs. It was the first time they had played together in 25 years. Twelve years later, they reunited at the request of Eric Clapton and played four nights (May 2, 3, 5, and 6), returning to the same stage of those final live shows. Those nights were recorded and have been compiled into this release, which is now available on Blu-ray.
They open with Skip James' "I'm So Glad," a phrase no doubt all in attendance were thinking about while sharing in this night of great music, especially because the band sounded very good, considering they were nearly 40 years removed from the men who created this iconic music. I know the phrase had extra meaning for me.
Although I normally prefer my concert recordings to be an entire night's experience rather than one cobbled together, in a rare occurrence like this I don't let my high-minded ideals get in the way of a good time. Still, there was a brief bit of editing oddness after Arthur Reynolds' "Outside Woman Blues" from 5/6. A snippet of Clapton from 5/2 finds him thanking the audience for coming and then he says it would be the last we'd be hearing from him, and then the video cuts back to 5/6 for "Pressed Rat and Warthog". I guess he was talking about direct banter with the crowd because he sang lead on "Badge," the song he co-wrote with George Harrison; T-Bone Walker's "Stormy Monday," which I don't think they ever recorded; and Robert Johnson's "Crossroads." Even odder is that segment is the only thing taken from the 5/2 concert, Bonus Material included.
Baker sang lead, more accurately he spoke the lyrics, on "Pressed Rat." It was the first time they ever played it live and the lyrics could be seen pasted in different locations for him to read. "Badge" had also never been played live before, coming out on Goodbye months after they broke up. McKinley Morganfield's "Rollin' and Tumblin'" finds the only change in the accompaniment as Bruce turns in his bass for a harmonica to punctuate the up-tempo blues number. The set closes out with an interesting choice as Baker delivers a monster drum solo on "Toad." I would have thought this would have been played earlier rather than singling out one member at the end of the night. Although the encore is only one song, it's one they had to play: their best-selling single "Sunshine of Your Love."
The video has been given a 1080i/AVC-MPEG-4 displayed at 1.78:1. The picture is very sharp. Rich-hued colors appear throughout. Textures have good detail and objects are well defined as close-ups on their finger work reveals. Many audience members can be seen from the light coming off the stage, including Queen's Brian May seen during "Crossroads."
The audio comes in the standard trio of choices from Eagle: DTS HD Master Audio 5.1, Dolby Digital 5.1, and LPCM Stereo. The DTS HD is my preference with its clean, dynamic sound. Equating their stage position, Bruce and his bass dominate the center and left channels and Clapton and his guitar dominate the center and right channels. Baker's vocal on "Pressed Rat" is localized in the center. The LFE works overtime as the bass is an equally important element to their music. During "Toad," Baker's bass drum stomps rattle the subwoofer. The audience cheers fill the surrounds between songs and the music echoes nicely throughout.
The Bonus Material is comprised of "Alternate Takes" (1080i, 24 min) and "Interviews"(1080i, 16 min). The alternates are taken from different night: "Sleepy Time Time" from 5/6, "We're Going Wrong" from 5/3, and "Sunshine Of Your Love" from 5/6. Not sure why these songs or why these nights have been chosen. Interviewed separately after these performances and before they played New York in October, they talk about working together then and now. Snippets of this material can be heard as the credits roll.
Cream fans will be so glad to get Live at Royal Albert Hall London 2005 into their collection. The only things it lacks are liner notes about the band and the event and a perfromance of my favorite song of theirs, "Tales of Brave Ulysses," which was added to the New York shows. It's a great concert disc showcasing their triumphant return, which may end up being their swan song as old tensions resurfaced once again, resulting in both Baker and Bruce stating in interviews never again.