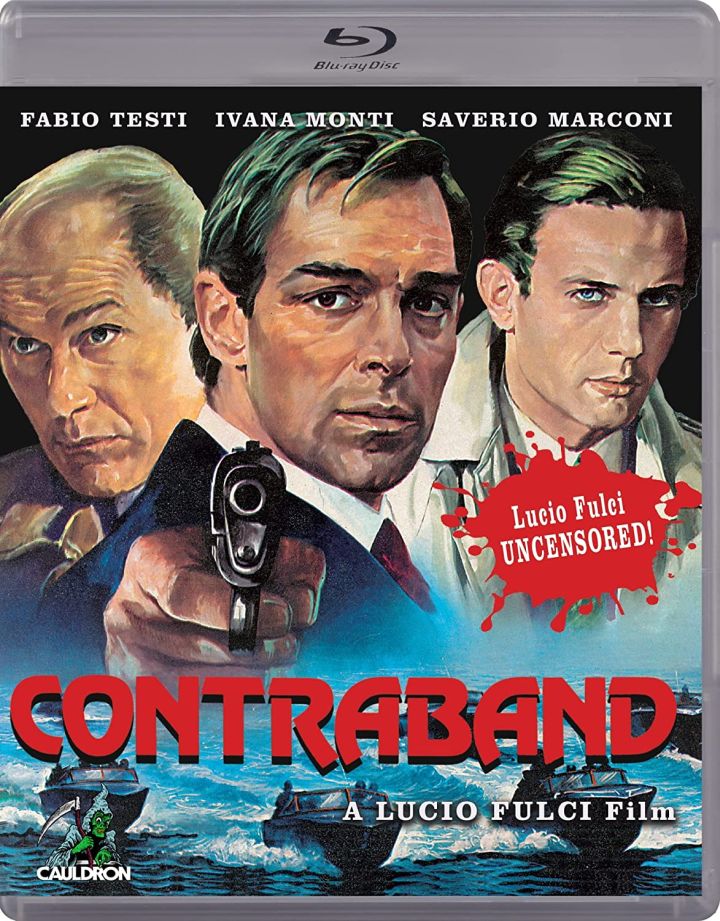 Contraband comes in like a cool stylish Italian crime thriller and goes out like a Lucio Fulci gore fest. Being directed by Lucio Fulci, this is an unsurprising development. Its story is pure mafia, its execution is exploding body parts, full frontal nudity, and comic relief leading to horrific violence.
We open with a stylish (if impractical) contraband pick-up. Several blue boats skirt out onto the water to a waiting ship, where they collect their stolen cigarettes. Everything seems fine, until a patrol boat approaches. The ships scatter. There's a chase. Then, improbably, the supply ship explodes! But fake bodies are found floating in the harbor. It makes little sense. It looks terrific. It's Lucio Fulci.
Our hero, such as he is, is Luca Ajello. He's dragged his family into this criminal enterprise thanks to his brother, Adele. Luca wants out, but when his brother is murdered in a fake police stop, Luca is all about revenge. He's sure one of the local mob bosses is the culprit, but he soon learns it's outsiders muscling in on the territory who are to blame. Luca's given an offer to join, but after a series of grisly murders, he finds he's on a one-man mission to protect Naples from foreign encroachment.
As a crime story, Contraband is odd. It has a bunch of local flavor, but so little explanation that the flavor gets lost in the telling. There's an interesting sequence of the distributors of the contraband being rousted, and all of them being just local peasants. But the nature of this distribution network was obscure, and rather random.
A Scorsese or a Coppola could have made this clear with a stylish montage and a voiceover. That's not where Fulci's interests lay. He likes wild scenes. If the scene does not connect to the next scene, who cares? At least you got a show. So, when Luca and his brother go to meet a mob boss who owns a disco, we get at least five minutes of disco dancing. Does it contribute to the plot? Who cares? The girls on the disco floor were flashing their breasts and parts beyond. It was a show.
And when the foreign gangsters make earnest their invasion, the wildly violent gore is the same part of the show. This is one of the goriest crime films I've ever seen, with exploding faces, disembowelments, and a woman getting tortured with a blowtorch to the face. It all has the visceral "train wreck you can't look away from" effect that Fulci brings to his horror films, with maybe a more plausible (but less satisfying) storyline.
As a crime story, it would be hard to call Contraband resonant, in the way superior films like The Godfather or Goodfellas are. But it's damned entertaining. Lucio Fulci's horror films tend to be constrained in location, so getting to expand his canvas reveals strengths one couldn't anticipate from The Beyond or The House by the Cemetery. The opening sequence with the boat chase demonstrates a flair for complicated action that isn't present in his grislier films. Contraband shows a director willing to go to the wall, taste be damned, for pure entertainment. And that Contraband absolutely is.
Contraband has been released by Cauldron films on Blu-ray. Special Features include a commentary by Bruce Holecheck, Troy Howarth, and Nathaniel Thompson. Video extras include several interviews: new ones with Giorgio Mariuzzo (13 min), Ivana Monti (22 min), Saverio Marconi (20 min), Sergio Salvati (18 min) and archival interviews: Fabrizio Jovine (6 min), Venantino Venantini (5 min), Cinematographer Sergio Salvati (6 min), Composer Fabio Frizzi (2 min). There are also trailers and an image gallery.