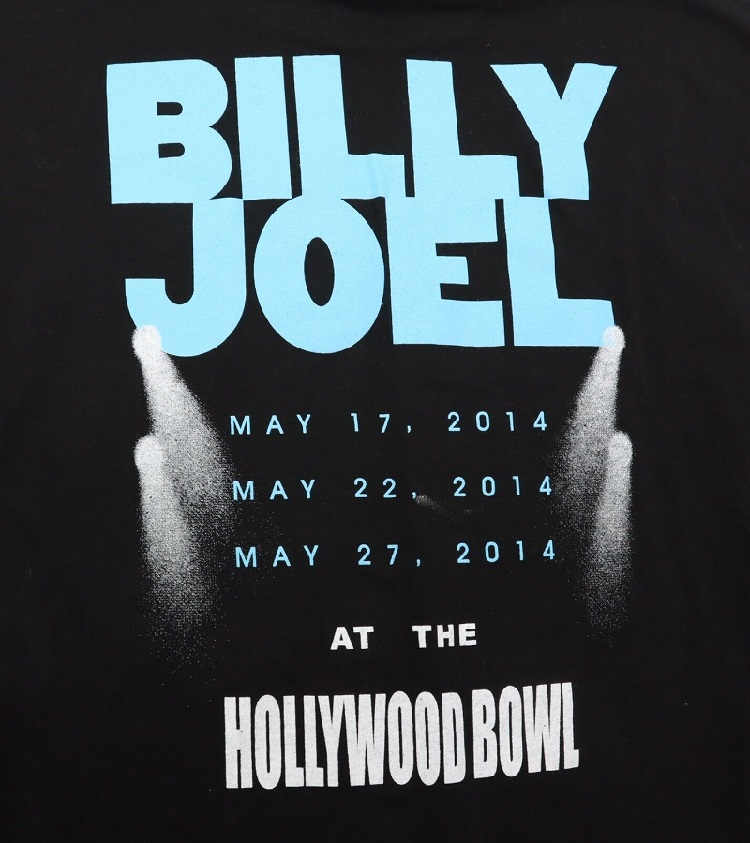 During the first of three concerts scheduled, Billy Joel made his Hollywood Bowl debut and played a set filled with greatest hits and deep cuts in front of "a pretty good crowd for a Saturday." Though I am much more familiar with the former, Joel revealed his gifts as storyteller and musician were even greater than I realized as songs new to me kept me captivated in my seat and didn't become opportunities to head off to the bathroom.
Right from the opening song, "Miami 2017 (Seen the Lights Go Out on Broadway," it was apparent what a talented backing band he had in the seven musicians who joined him. I was delighted when they next played "Pressure" as I didn't expect it though greatly wanted to hear it. Dave Rosenthal's keyboards provided its authentic '80s sound.
Joel proved to be a jovial host in between songs, taking a playful dig at Ted Nugent, blowing off a request for "Honesty," or making self-deprecating remarks about the inaccuracy of "The Ballad of Billy the Kid" lyrics. He also demonstrated through playing snippets of other artists' music why his own work covers so many genres. When discussing "Billy," he mentions his interest in scoring westerns, but no one would give him a chance in the '70s. As he told this story, he played the theme from The Magnificent Seven. Before his love song "She's Always a Woman," he revealed he wishes he wrote "Layla" and plays a bit of it. During "River of Dreams," the band segued into The Beach Boys' "Surfin' USA."
The set list went international with "Vienna" (a fielder's choice that the audience picked over "Summer Highland Falls") and "Zanzibar," the latter featured great horn leads by Carl Fischer. Then returned to California with a rare treat of a natural choice, "Say Goodbye to Hollywood," which Joel said they "haven't played this since the '80s."
While many in the crowd sang throughout the show, "She's Always a Woman" was the first that seemed to unite the entire audience in harmonizing with Joel. After closing out the main set with two epics, "Scenes from an Italian Restaurant" and "Piano Man," which was "about a gig I used to have down on Wilshire and Western," there was a very brief intermission before the four-song encore.
He took to the front of the stage with a microphone for a spirited "It's Still Rock 'n' Roll to Me." Although they weren't needed, I was surprised the show wasn't filled with guests. This changed when Maroon 5's Adam Levine and Elton John guitarist Davey Johnstone came out for "You May Be Right."
While I would have liked more since he played just under two hours, I was certainly satisfied in terms of song choices and performance by Joel and the band. My main disappointment in the show was the realization I should have seen him sooner. I highly recommend seeing him if he comes to your town.
Band:
Dave Rosenthal: Keyboards, Piano, Organ, Musical Director
Mark Rivera: Saxophones, Flute, Harmonica, Percussion, Vocals
Crystal Taliefero: Percussion, Saxophone, Harmonica, Vocals
Tommy Byrnes: Guitars, Vocals
Andy Cichon: Bass, Vocals
Chuck Burgi: Drums
Carl Fischer: Trumpet, Trombone, Saxophone
Mike Delguidice Vocals, Guitar
Main set: Miami 2017 (Seen the Lights Go Out on Broadway) / Pressure / Everybody Loves You Now / Vienna / Zanzibar / The Ballad of Billy the Kid / Where's the Orchestra? / Allentown / The Entertainer / Say Goodbye to Hollywood / New York State of Mind / Sometimes a Fantasy / Movin' Out (Anthony's Song) / She's Always a Woman / Don't Ask Me Why / River of Dreams > Surfin' USA > River of Dreams / Scenes from an Italian Restaurant / Piano Man
Encore: It's Still Rock 'n' Roll to Me / Big Shot / You May Be Right (with Adam Levine and Davey Johnstone) / Only the Good Die Young