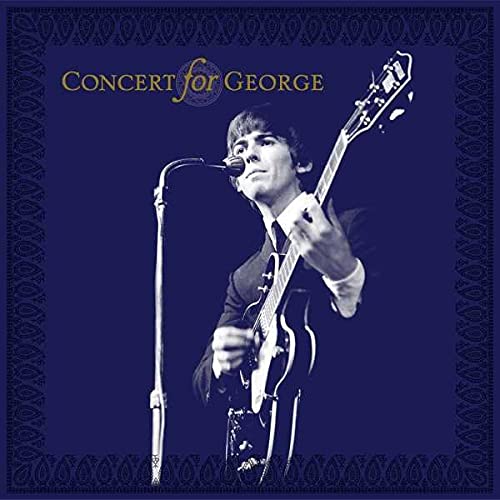 George Harrison's life and career may seem impossible to capture in just an hour and a half. Yet his friends and family managed to accomplished such a feat on November 29, 2002. Just a year after Harrison's untimely death, Eric Clapton organized a concert at London's Royal Albert Music Hall to celebrate his singer/songwriter friend's life. "What I wanted to do was…just share our love for George and his music with the people," says Clapton. Paul McCartney, Ringo Starr, and Jeff Lynne are among the numerous performers who turn in emotional renditions of Harrison's best known Beatles and solo compositions.
To mark Harrison's February 25 birthday, the resulting documentary Concert for George will be screened in select theaters during February and March. Upgraded to 5.1 stereo surround sound, the film is a must-see for hardcore fans and those who simply appreciate some of the greatest songs of the rock era.
Beautifully filmed, the documentary places viewers onstage with the performers, showing glimpses of Harrison's son Dhani grinning at family friends Tom Petty and Lynne. Referring to Starr as "Uncle Ringo," Dhani (who strongly resembles his father) positively beams when Starr bounds on stage to sing a melancholy yet powerful version of "Photograph." Petty sneers his way through a ferocious "Taxman," while British rock legend Joe Brown turns in a faithful rendition of "Here Comes the Sun."
Since the Concert for George was released, the music world has sadly lost three more performers: Petty, Ravi Shankar, and Billy Preston. Their passing adds extra weight to the film, further illustrating the fragility of life. While Shankar does not perform, he penned a tribute to Harrison entitled "Arpan" (an affectionate nickname for Harrison, whom Shankar describes as "like a son to me" in his introduction). Daughter Anoushka Shankar conducts the musicians and plays sitar on a sweeping rendition of "The Inner Light" (featuring a gently effective vocal by Lynne). Preston brings down the house with his gospel-inflected vocals on "Isn't It a Pity" and "My Sweet Lord"—both appropriate covers, as Preston recorded his cover of "Lord" in 1970 and remained close with Harrison throughout his life.
To capture Harrison's multifaceted personality, Monty Python members make an appearance to honor his zany sense of humor. Neil Innes, Terry Gilliam, Eric Idle, and Terry Jones begin with a rousing version of "Sit on My Face," mooning the audience at the end; Palin next leads a raucous singalong of "The Lumberjack Song" (watch for Tom Hanks as one of the Canadian Mounties). As the group exits, they chant part of the "Spam" song as they salute a portrait of Harrison hanging over the stage. The entire performance is a welcome moment of hilarity in an otherwise somber yet deeply moving evening.
When McCartney finally appears, the audience roars; however, he clearly wanted to be just one of the band members and not assume the spotlight. He turns in a charming "For You Blue" and plays the current tour standard ukulele version of "Something." Watching him and Clapton harmonize together on "While My Guitar Gently Weeps" makes for a beautiful moment, and hearing McCartney honor his friend on an earnest rendition of "All Things Must Pass" proves the ultimate tribute to his former bandmate and longtime friend.
At times the film interrupts the performances with backstage footage as well as interviews with various musicians. Hearing Petty's memories of writing "Handle with Care" with the Traveling Wilburys is fascinating, but should have placed before the segment so the song could be shown in full.
Despite that small criticism, the Concert for George is a first-class production in every sense of the word: gorgeous staging featuring rich colors, exquisite cinematography that takes viewers backstage and onstage (even showing angles from the back of the theater).  Even more importantly, the passionate performances by not only Harrison's friends, but some of the best musicians in the rock era, encapsulate Harrison's vast talent.  One of the most vivid images occurs toward the end, when Clapton finishes an extended guitar solo on "While My Guitar."  As the audience applauds, he turns to the other musicians with a look of exhaustion, as if his performance has emotionally drained him.  He clearly wanted to organize a fitting, lasting memorial to his friend, and the Concert for George accomplishes just that.