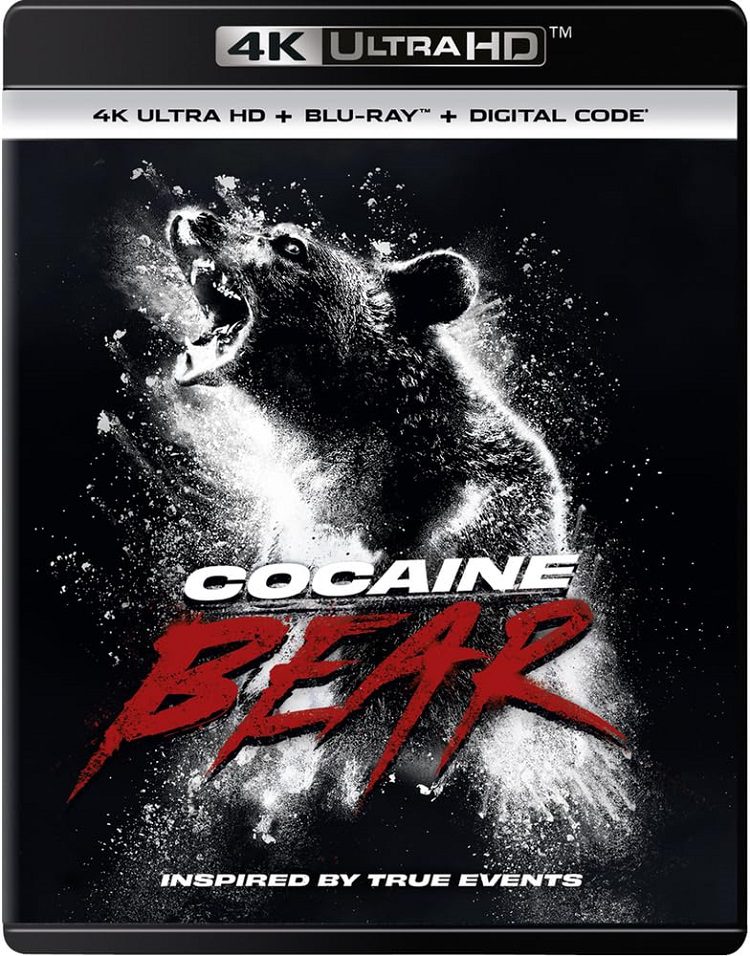 In 1985, a drug dealer dumped cocaine out of his Cessna and then fell from the plane to his death. Three months later, a black bear was found in the Chattahoochee National Forest dead from a cocaine overdose. This is the premise for Elizabeth Banks' Cocaine Bear written by James Warden. It is a comedic horror movie with a reputable cast including Keri Russell, O'Shea Jackson, Isiah Whitlock, Jr., and Ray Liotta in a great performance for one of his final appearances on screen.
For what should be a simple premise – there is a coked-up bear on the loose – the storyline is actually mildly convoluted. There are drug runners, DEA agents, thugs who like to stalk national park restrooms, hikers, ambulance drivers (who, of course, do not have police or fire backup) a mom looking for her daughter possibly lost in the woods, and a completely incomprehensible romance between Ranger Liz (Margot Martindale) and Peter (Jesse Tyler Ferguson). It is understood that the bear needs bodies, but it is a beautiful park on a perfect day; finding something to nosh on should not be one of the bear's problems.
The comedy works through most of the film with Ray Liotta (Syd) and Isiah Whitlock (Bob) giving the strongest comedic performances. The bear, too, is quite funny. The disc's video quality is so high that, unfortunately, the CGI bear often looks very CG.
The horror and gore are hit and miss. The first bit of gore is a human foot with a calf attached that looks exactly like the cheap props you can buy at your local Halloween superstore. In an incredibly missed opportunity, there is an early scene where a man falls from a plane onto the suburban concrete of somebody's driveway. It is the perfect spot for a gorefest; instead, it looks like the guy fell out of a chair and in need of a Band-Aid. Later, when the bear is more involved, the gore is exactly what you would expect: gross, over-the-top, and funny.
Bonus Materials:
Alternate Ending – Probably cut because it would need an alternate film to work.
Gag Reel – The only people who will be interested in these "gags" are the cast.
Deleted and Extended Scenes – The deleted scenes add nothing. The extended scenes are simply reminders of why they were cut down to size.
All Roads Lead to Cokey: The True Story of Cocaine Bear – The cast talks about how incredibly excited they were to participate in the movie. How funny it is. How gruesome it is. Everything one would expect from people who have a stake in the outcome.
Unbearable Bloodbath: Dissecting the Kills – Information from cast and crew as to how the various deaths were crafted, choreographed, and filmed.
Doing Lines – Cast members read from the script. It is nearly impossible to wrap one's head around why this bonus material exists.
Feature Commentary with Director/Producer Elizabeth Banks and Producer Max Handelman – Always enjoyable to hear artists discuss their craft. Banks and Handelman are funny and have many interesting stories about the making of the film.
The direction and editing are professional and help to move the story forward. Mark Mothersbaugh's score is a perfect fit for both comedy and horror. Cocaine Bear is in no way in the ranks of movies like An American Werewolf in London, but it is competently made and will be a joy for those who love self-aware B-movies.