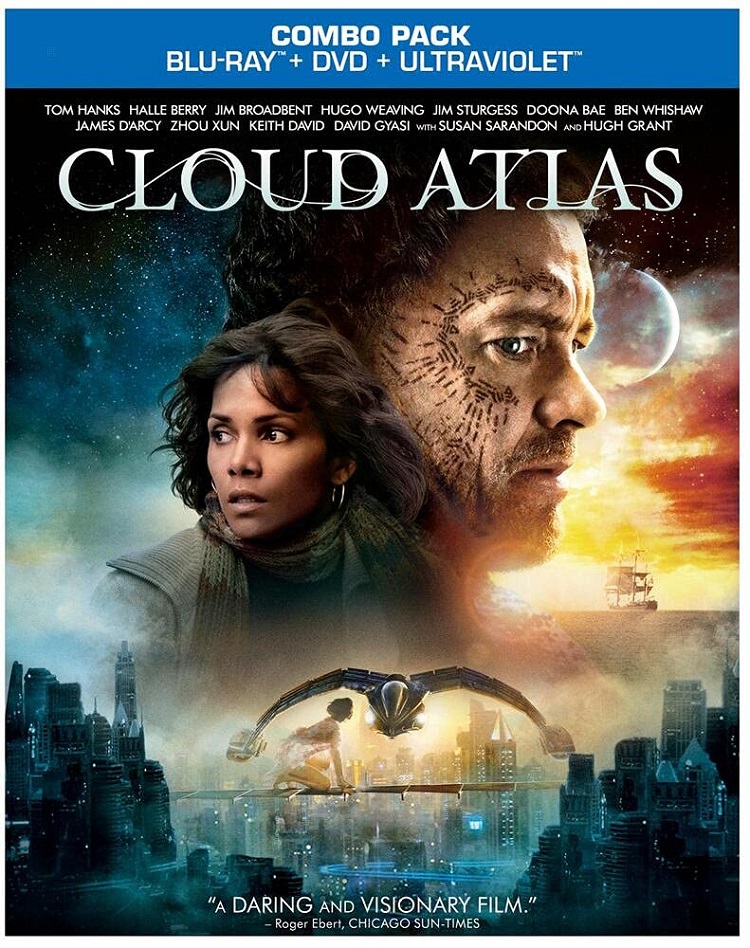 Sometimes you gotta go with your gut.
I tend to take this Pick of the Week thing a little too seriously. I spend entirely too much time debating which title I should bestow my little honor upon. I contemplate the type of film or TV show I want to highlight. I look over the extras and read reviews online. I ponder the reaction of picking one thing over another. Etc, etc, etc. I recognize that none of this really matters and yet each week I debate the merits of my choices like I was choosing which child is my favorite.
Often I've not seen the movies under consideration so I wind up going with reviews or extras or how badly I want to see something. In the case of this week's pick, the latter wins over the former. Cloud Atlas is based upon a much loved, but apparently difficult (I haven't read it either) book. The movie adapted by the Wachowskis starred Tom Hanks, Halle Berry, and got a lot of early buzz. Initial previews made the film look stunningly gorgeous and showed Hanks and the rest of the cast playing multiple characters in a variety of interesting looking make-up designs.
Alas, once the film came out, the critical reviews were mostly tepid and sometimes scathing. It seems the book just didn't translate well no matter how hard everybody tried. I let it slip from the theaters without attempting to see it, but now that it's out on Blu-ray and DVD I think I'm ready to give it a shot. I'm probably not going to like it, but it just looks too damned interesting to not at least try to like it. Extras are limited to half a dozen short features on the making of the film.
Also out this week that looks interesting:
3:10 to Yuma (Criterion Blu-ray) I've seen the more recent remake, but nearly everyone says the original is better. With Criterion on the case, I don't believe one could go wrong finding out.
Doctor Who: The Visitation: Not my favorite episode of the Classic Who stories, but it's still worth watching as I reveal in my review.
The Marx Brothers Silver Screen Collection: These movies (Duck Soup, Horse Feathers, Monkey Business and Animal Crackers) have been released to DVD before (and in another boxed set) but for twenty bucks (and Amazon currently has it marked down to $14) if you don't have them already, this is a nice time to buy.
Leonie: I'd not heard of this period piece before but with Emily Mortiner and Christina Hendricks in the cast I'm interested.
Jubal (Criterion Blu-ray): I've not heard of this one either, but with Criterion producing it and Ernest Borgnine, Rod Steiger, and Glenn Ford starring, I'm ready to learn more.
Crimewave: Written by the Coen Brothers and directed by Sam Raimi, this silly, often very funny crime caper isn't as good as it could have been, but it's definitely worth watching just to see some of that trio's earliest work.
Brave New World: A more modern (it was made in 1998) retelling of the classic novel starring Leonard Nimoy.
Dexter: The Seventh Season: I stopped watching Dexter after the first season, but I keep thinking that someday I'll get back to it.
Roseanne, That '70s Show, 3rd Rock From the Sun: All three of these classic comedies are getting the complete series boxed set treatment at reasonable prices.