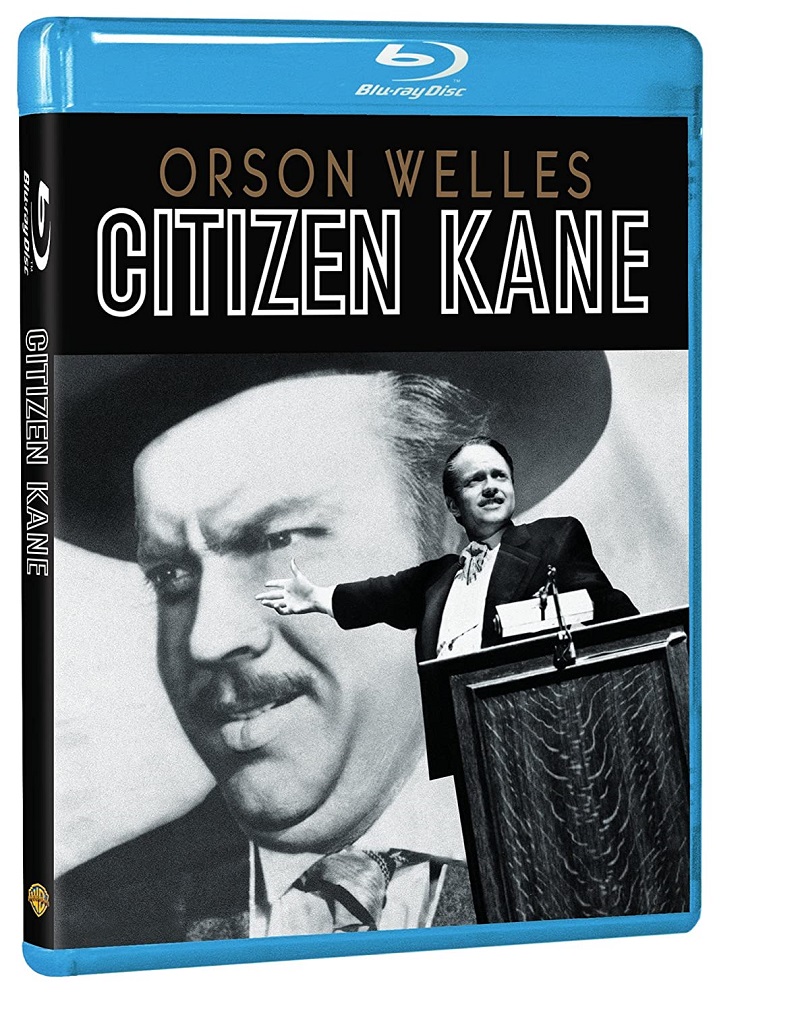 After a restored DCP master of Citizen Kane played at the 2016 AFI Fest, followed by an AFI Master Class, featuring Peter Bogdanovich and Orson Welles' daughter, Beatrice Welles, Warner Bros. Home Entertainment released a new Blu-ray and DVD to commemorate the film's 75th Anniversary. However, this release has not been struck from the new master, but instead is a reissue of the 70th Anniversary release.
Citizen Kane tells the story of Charles Foster Kane (Orson Welles), a newspaper tycoon who "helped to change the world" though his detractors declared him a yellow journalist. He became one of the wealthiest persons in the world when as a young boy a stroke a fate led to his eventual ownership of the sixth largest private fortune. Yet, as the film begins, the character dies. In a newsreel, Kane's life story is told, but it only showcases the key moments over his 70 years. It doesn't tell the story of who the man was. His last word spoken was "Rosebud," and that leads a reporter named Thompson (William Alland) to discover its meaning.
The story is told in a fragmented manner from different points of view. Thompson learns, as does the viewer, about Kane from the perspective of his second wife Susan Alexander (Dorothy Comingore); the unpublished memoirs of his guardian Walter Thatcher (George Coulouris); his associates at the New York Inquirer, Mr. Bernstein (Everett Sloane) and Jedediah Leland (Joseph Cotten); and Raymond (Paul Stewart), his butler at the Xanadu estate during his final years. Similar to one of the puzzles Susan was fond of, once all the pieces of Kane's life are put in place the picture of the man is revealed. His ego took him to great heights as he built a media empire. Yet, that same ego was also the source of his greatest failures: the collapse of both marriages, his run for governor, and the end of his empire. Thompson comes up unsuccessful in his quest to discover what Rosebud is because nobody had heard of it. But then even if he had found it, he never had a chance to understand it because Kane longed for what Rosebud represented, not the item itself.
Citizen Kane remains one of the medium's most visually compelling films, and cinematographer Gregg Toland was such an integral factor to its creation he had the rare distinction of sharing a title card with Welles. The film makes great use of shadow, diffused light, and deep focus. The positions of cameras are chosen with reason. The great opening, which transitions with dissolves moving closer and closer to the Kane's bedroom, reveals a lit window in the same spot in the frame, immediately reveals some serious thought went into the shooting of this film. Citizen Kane could have been silent and the story would have been just as clear because the scenes were lit and shot, as well as edited together by future director Robert Wise in such specific ways, the emotions of the moment are augmented visually.
For its 70th Anniversary, the film was given a 4K restoration.  The Blu-ray that followed received a 1080p/MPEG-4 AVC encoded transfer displayed at 1.37:1. The blacks are rich and inky with no sign of crush. The gray scale shows a number of shades. Shadow detail is outstanding, particularly evident during the shadow-filled projection room after the newsreel screening. And while the newsreel footage is intentionally scratched and damaged, the image is clean and blemish free with film grain still intact. Very fine details can be seen throughout, like sharp lines in different clothing patterns. Toland's use of deep focus contributes to visual depth within scenes. There are some spots of soft focus on occasion, likely due to the source. A film that looks this good deserves to look this good in high definition.
The DTS-HD Master Audio Mono delivers crisp, clear dialogue. Depth in the soundfield is apparent. In Thatcher's office, Kane sounds far away from the men in the foreground in a deep focus shot when he walks over to a window. Some of the rooms in Xanadu sound cavernous as voices echo. Bernard Herrmann's score balances well with the other elements.
All the extras are in standard definition and have been previously available, as nothing new has been added for the 75th Anniversary release.
Roger Ebert and Peter Bogdanovich deliver separate, informative commentary tracks that give great insight into the film's production, themes, and backstory. Ebert focuses on the visual aspects that add to the telling of the story.
"Opening: World Premiere of Citizen Kane" (1 min) is a very short segment from an RKO newsreel of the film's premiere in New York at the Palace Theater on May 1, 1941. There are "Interviews" (9 min) from the Turner Archival Project of Ruth Warrick, who played Kane's first wife Emile in her film debut, and editor Robert Wise. They offer all-too-brief remembrances of working on Kane.
"Production" (15 min) – "Storyboards," with occasional comparisons to a frame of the film, and "Call Sheets" are shown with video only. The "Still Photography" segment includes more commentary by Ebert about Welles' career. "Post Production" (5 min) is also broken down into video-only subsections. There are "Deleted Scenes" (which is really a deleted still from the brothel Georgie's Place and storyboards), artwork from the "Ad Campaign" of different releases, and excerpts from the "Press Book." "Opening Night" includes a still from NY premiere and the guest list for L.A. premiere with such names as Bob Hope, Abbott & Costello, and Ronald Reagan. There is also correspondence about film. Naturally, the "Theatrical Trailer" (4 min) is more intriguing than usual.
Citizen Kane is a film I never tire of watching because all the elements of the production are engaging. The experience grows richer with each viewing, and I see something new every time. Warner Brothers gave it a very fine upgrade to high definition with an outstanding picture for its 70th Anniversary. For those looking to own just the film itself, the 75th Anniversary is a great release.