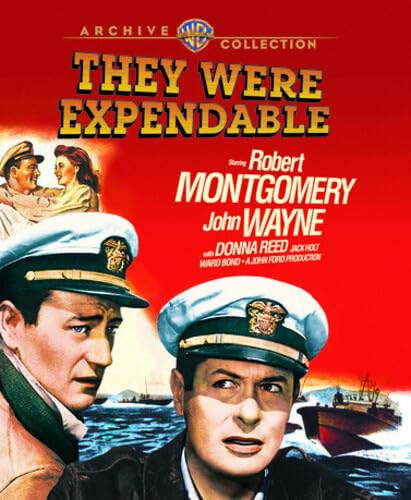 While both names carry around their own amount of (significant) weight, it's almost hard to imagine a John Ford movie without John "The Duke" Wayne ‒ and vice versa. Thankfully, the Warner Archive Collection has been gracious enough to help fans of both classic motion picture greats fill two voids in their High-Definition libraries with new Blu-ray releases of two of their best-known collaborations, They Were Expendable and She Wore a Yellow Ribbon. Both films showcase The Duke doing what he did best ‒ giving 'em hell ‒ but is in the first of these individually released titles, MGM's They Were Expendable from 1945, wherein Wayne actually takes second-billing to enlisted actor Robert Montgomery.
For this, his first war film, Ford brings us a dramatized depiction of the men who championed for the use of PT boats during World War II, specifically during the Battle of the Philippines and the evacuation of General Douglas MacArthur from "the jaws of death." Here, Robert Montgomery is the dedicated man in charge of several torpedo boats, who just wants a chance to prove how efficient his floating sentries are, despite the fact none of his superiors seem to take the concept very seriously. Meanwhile, John Wayne (who received a fair bit of abuse from Ford because of his exempt status) gives one of his better dramatic performances as Montgomery's best men, who is pretty irked over the neglect his outfit receives ‒ until he meets nurse Donna Reed, that is!
Full of commendable performances by all (and some well-staged battles filmed in the Florida Keys, too), the Oscar-nominated They Were Expendable also stars Jack Holt, Ward Bond, Leon Ames, and future B movie king Cameron Mitchell. Robert Barrat portrays "The General" (MacArthur) here, and future filmmaking legend Blake Edwards is one of the many uncredited extras (both of the aforementioned would star together in a minor little B movie the following year, Strangler of the Swamp). The Warner Archive's stellar new HD transfer presents the WWII classic with a DTS-HD MA Mono 2.0 soundtrack (with French and Spanish audio options available in Dolby Digital 2.0) and lonesome theatrical trailer accompanying.
She Wore a Yellow Ribbon also centers on war, albeit from another generation. Originally released in 1949 by RKO, this, the second of three pictures John Ford made about the United States Cavalry, is set shortly after the Battle of Little Big Horn (and if you don't know what that was, please go back to school). Taking the lead this time 'round, John Wayne ‒ sportin' a li'l grey and a 'stache, to boot ‒ is the seasoned Capt. Brittles. Despite that which his surname might imply, Brittles is such a hardened and devoted officer. In fact, though he himself is set to retire from the daily grind in a matter of days, he's more than willing ‒ eager, in fact ‒ to go on one last patrol before he has to start greeting people at whatever the late 1800s equivalent of Walmart was.
Alas, there's a catch: women ‒ most notably, actress Joanne Dru, whose appearance brings out the competitive behavior in two of Wayne's underlings, John Agar (another future member of B movie royalty) and Harry Carey, Jr. Also starring in this Technicolor Oscar-winner are Ben Johnson (who would also pop up in many B movies years later), a scene-stealing Victor McLaglen, and Captain Marvel himself, Tom Tyler. John Ford's hit receives a gorgeous HD presentation for this Warner Archive release, which features a DTS-HD MA Mono 2.0 soundtrack (as well as French and Spanish DD 2.0 options), a trailer, and some home movie footage from the John Ford archives, wherein you will actually see John Wayne smiling in a natural, relaxed state.
Believe me, it's an awe-inspiring image to behold. But then, so are these two classic war flicks, both of which come highly recommended.