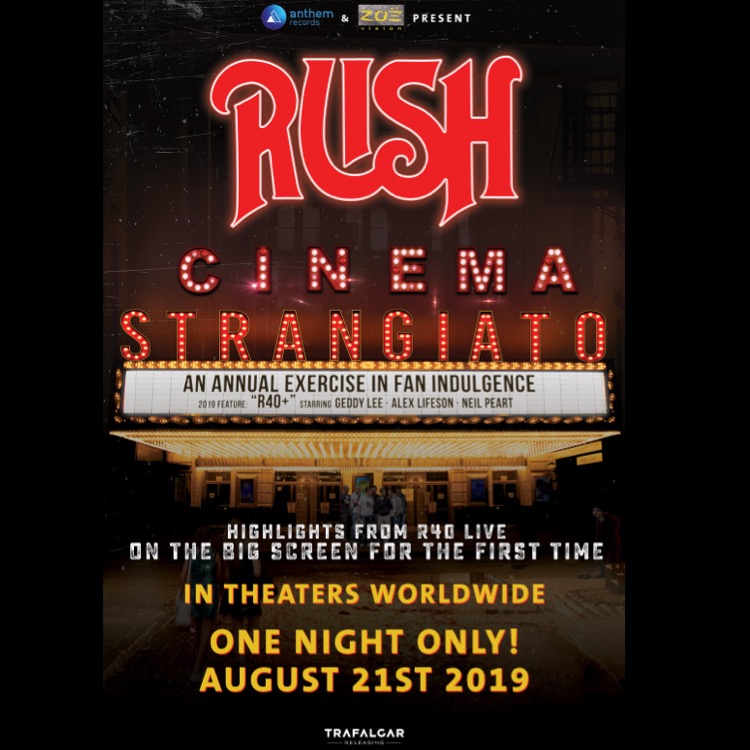 In 2014, Rush (guitarist Alex Lifeson, vocalist/bassist Geddy Lee, and druumer Neil Peart) released R40, a collector's box set that packed together recent concert videos, Rush In Rio, R30, Snakes & Arrows Live, Time Machine 2011: Live In Cleveland, and Clockwork Angels Tour, and according to their website, "a bonus disc of previously unseen and unreleased live material stretching from 1974 to 2013." In the summer of 2015, the band hit the road for the R40 Live Tour, which was hinted at as, but never confirmed until it was over, their farewell tour. R40 Live is the title for both the live album and concert film predominantly taken from the band's hometown performances in Toronto on June 17 & 19, 2015. The film is the main feature of RUSH: Cinema Strangiato 2019, which is playing at select cinemas across the globe on Wednesday, August 21. Tickets are available at www.CinemaStrangiato.com
RUSH: Cinema Strangiato 2019 opens with "Falling Down the Rabbit Hole," a 10-minute promotional short featuring Geddy Lee talking about what went into creating his Big Beautiful Book of Bass. Then, it rolls directly into R40 Live. The film opens with "Jacob's Ladder" edited together at different soundchecks along the tour, indoors and outside, 90 minutes before showtime. It was very nice to see California's Irvine Meadows included, a location I had seen them play several times, including this time, my final one and the penultimate show of the tour. The amphitheater as has since been razed for housing.
Then viewers get a close-up of the introductory video that played during the tour, allowing a better opportunity to see all the references inserted throughout. Starting with a few selections off their final album, Clockwork Angels, the setlist finds the men working backwards through their catalog. They played songs from 15 of their 19 studio albums on tour, which was cut to 13 in the film, losing material from the latter half of their career.
After "Distant Early Warning," violinist Jonathan Dicklage, who played on the Clockwork Angels tour, is interviewed. He was asked to play on "Losing It", which was only played five times on this tour, and was more than happy to join them in Newark, New Jersey. Fans were appreciative throughout and the band demonstrated great skill, but the loudest cheers at a song's opening notes were for Set One closer "Subdivisions."
During Set Two, interviews with Snakes & Arrows and Clockwork Angels producer Nick Raskulinecz, Taylor Hawkins, Tom Morello and his wife Denise Luiso, and Billy Corgan are interspersed. Moving back through time, the band blazes through classic rock classics from the early '80s such as "Tom Sawyer" and "The Spirit of Radio" and then delves into '70s prog with extended, intricate epics such as "Xanadu" and an abbreviated "2112" that omits parts III and IV. The instrumental "YYZ" is still thrilling to hear and see performed, and thankfully, the director allows the latter. Instead of the quick edits of modern videos, the camera shots, including an overhead above the drums, linger on the musicians playing their instruments.
During the concert, the stage crew subtlety assists the time transition by shrinking the band's equipment and stage dressing. When the encore begins, they are playing in front of a red curtain and their rigs are all smaller, including Peart's kit. When they get to "What You're Doing" from their debut, the curtains have been replaced by a picture of a high school gym and the amps sit on chairs.
The songs from their first three albums reveal their blues-rock beginnings, from the heavy rhythm section by Lee and Peart to Lifeson's guitar solos. After playing 'Working Man," their breakout hit, they closed the night with a few bars from "Garden Road," a song never released from their club days.
One wouldn't know from how well Rush played music from all eras of their career that this would be their swan song, but they went out delivering a top-notch performance, leaving fans wanting more.  There might not be any more but those wanting to see or relive this tour should enjoy hearing it through a theater's sound system.