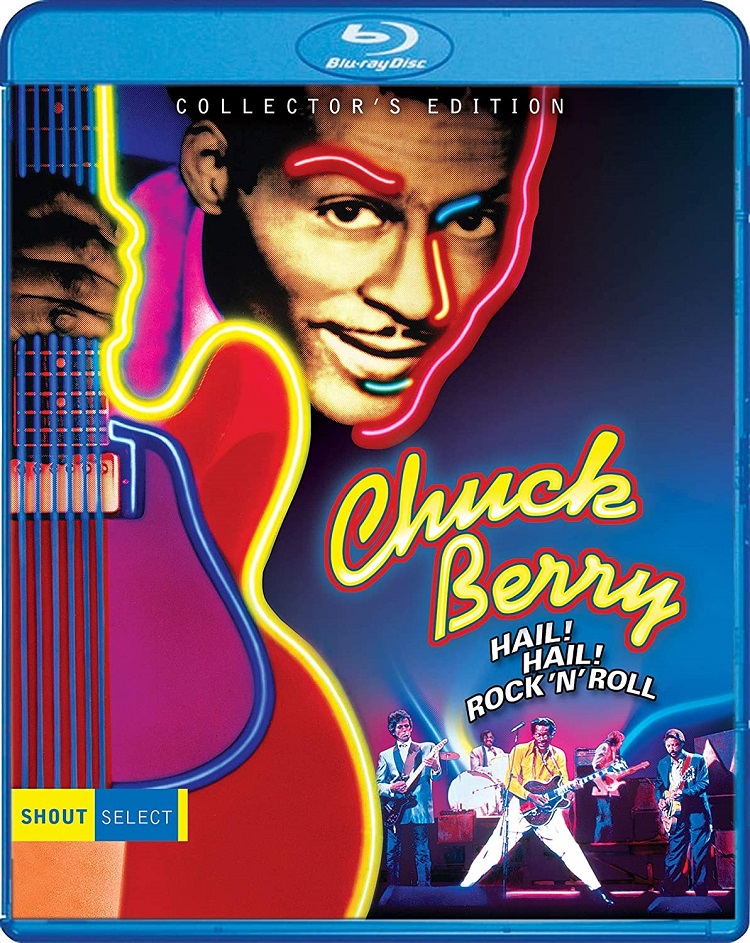 Chuck Berry Hail! Hail! Rock 'N' Roll pays tribute to the man many consider the King of Rock 'n' Roll, through testimonials from peers and famous fans, from a drunken Jerry Lee Lewis, who makes the claim for he and his mama, to John Lennon appearing through archival footage on The Michael Douglas Show. The film also documents the 60th birthday celebration concert held in his honor, which takes up the last half of the film. Unfortunately, it doesn't paint a complete picture of Berry's life as he cuts interviews short when touchy subjects are broached.
In 1986, Berry was doing 70 to 100 shows. Just he and his guitar did the traveling, and it was the responsibility of the promoter to provide a backing band. Bruce Springsteen and the E Street band opened up a show for Berry and Jerry Lee Lewis after their first album had been released and tells of backing Berry that night.
Married since 1948 to Themetta, Berry suggests using discretion while on the road, but doesn't comment any further. During her interview, she's cut off just after she is introduced when interviewer asks about something that happened five years after their marriage. Later, Berry ends an interview with his secretary when run-ins with the law is brought up.
The concert was held at a St Louis' Fox Theater where years ago as a young boy, he and his father were turned away from seeing A Tale of Two Cities because the theater wouldn't sell to black people. The racism he and other artists from his era, such as Little Richard and Bo Diddley who sit with Berry for a chat, is heartbreaking. Alan Freed and other gatekeepers in the music business stole from them and other musicians, receiving writing credits in exchange for bringing the music to the public.
Keith Richards of the Rolling Stones organized the concert and assembled a talented roster of musicians, such as Eric Clapton and Robert Cray. Most notable was piano player Johnnie Johnson, an important contributor to Berry's sound and success who hadn't received much credit until this film. At the time of the concert, he was working as a bus driver. Rehearsal footage shows Berry feisty when he catches someone messing with his amp. Richards talks about his mild frustration with Berry after rehearsing for days yet once on stage he looks to change things up and wing it.
Yet it's all worth it for the audience once the concert starts. Running through many of his big hits, Berry is such a commanding presence, you can't look away or you'll surely miss something. In addition to the guests mentioned above, Berry is joined by Linda Ronstadt for "Livin' in the USA," Julian Lennon for "Johnny B. Goode," and Etta James on "Rock 'n' Roll Music."
The video has been given a 1080p/MPEG-4 AVC encoded transfer displayed at aspect ratio of 1.85:1. The image is quite soft throughout, affecting depth and sharpness. Textures are apparent. Colors are strong, particularly reds as seen in Berry's Cadillac, which he drives on stage at the end of the show. Blacks are adequate. Grain is apparent and appears active against the background during Springsteen's interview.
The audio is available in DTS-HD Master Audio 5.1 and 2.0, with the concert sounding better during the former as the music comes at the viewer from all channels. Dialogue during interviews is always clear. During the concert, the vocals are never overpowered by the music.
A second disc contains all the special features, over 4.5 hours of material, all in SD from the DVD release. It's a marvelous collection sure to please fans of the film.
2006 DVD Introduction by Director Taylord Hackford (4 min) who clearly is enamored with his musical hero Chuck Berry regardless of how difficult Berry made the shoot such as holding the production by squeezing the producers for more money.
HH Rehearsals (54 min) – Includes an interview with drummer Steve Jordan. Rehearsals appear from three cameras squeezed into the frame.
The Reluctant Movie Star (66 min) – The making of the film with interviews by those making it.
Witnesses to History #1 (58 min) – As seen in the film, Chuck Berry, Little Richard, and Bo Diddley gathered for a great conversation about their careers and the business.
Witnesses to History #2 – The interview sessions conducted for the film feature Jerry Lee Lewis (32 min), Bo Diddley (32 min), Don and Phil Everly (33 min), Willie Dixon (22 min), and Roy Orbison (31 min). I don't remember Sun Records Sam Phillips (33 min) and Atlantic Records Ahmet Ertegun (31 min) making the cut.
Chuckisms (18 min) – A focus on Berry.
The Burnt Scrapbook (31 min) – Robbie Robertson went over to Berry's Hollywood home after the St. Louis Concert and looks through his memorabilia.
Theatrical Trailer (3 min)
Taylor Hackford's Final Words (2 min)
Hail, hail the makers of Chuck Berry Hail! Hail! Rock 'N' Roll, both the film and Blu-ray. It tells an important, albeit incomplete, story of an American music legend, and presents a wonderful concert that deserved to be preserved. The video is satisfying given its source and the audio puts the viewer at the concert. Thankfully, Shout Factory included all the extras for fans, which augments the experience of the film.