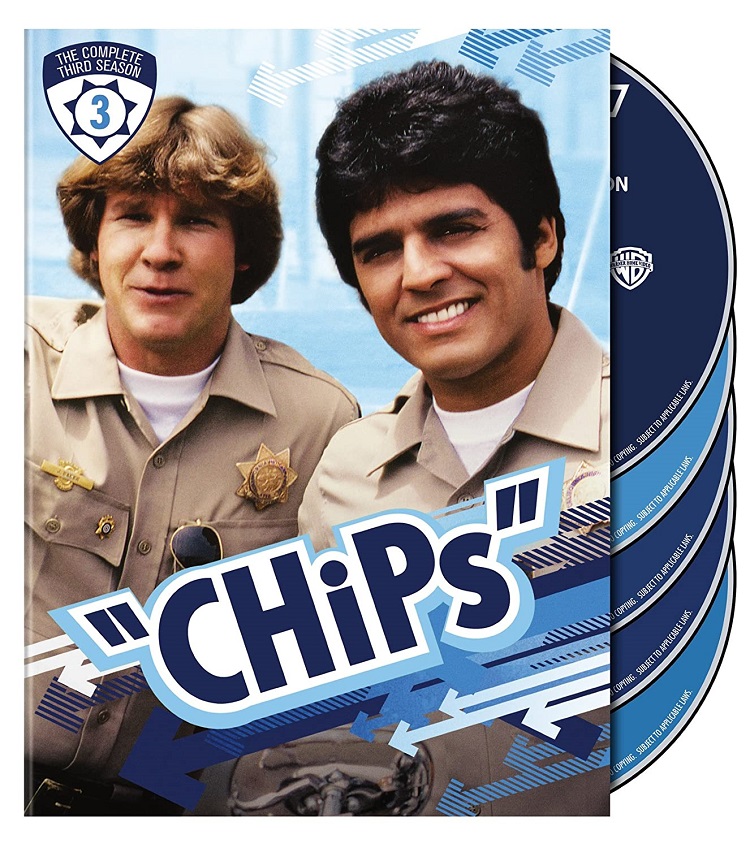 Were one to order nachos at a restaurant in the plainest, most simplistic form possible, they would most likely receive a pile of crispy tortilla eighths covered in a melted mass of dairy-gleaned and coagulated delight. "Cheesy chips," if you will. Similarly, were one to sit back and watch even one episode of a certain, lighthearted television series about the California Highway Patrol as made during the late '70s and early '80s, they might think something along the line of how cheesy CHiPs is. And yet, despite all of the bad acting, ridiculously lurid storylines, and a noticeable lack of good continuity and editing throughout, that's precisely one (or more, depending on how you're doing the math) of the reasons we still love these cheesy CHiPs.
It has been nearly seven full years since the last full season set of the iconic series hit the modern digital home video media from Warner Bros. During that time, fans of the series had nothing but a 2012 Warner Archive release of the just-as-silly 1998 TV reunion movie to tide them over; the fate of the actual, original show uncertain for, frankly, unknown reasons. I thought for sure the remaining four seasons would wind up as Warner Archive releases, but it just didn't pan out that way. In fact, prior to CHiPs: The Complete Third Season showing up in my mailbox a few days ago, I had completely forgotten that I had only half-expected to see either hide or hair of CHP officers Jon and Ponch in their original guilty-pleasure glory ever again.
For many, CHiPs reminds us of our innocent youth. Others are prompted to recall a time wherein things at least seemed more innocent than they do today. If nothing more, anyone who has had it up to the tallest person in the room's head with today's controversial actions of law enforcement officers near and far (thank you, Internet) will be able to enjoy CHiPs for its own innocence. Here, the cops are actually really nice people who truly have your safety and best interests at heart – as opposed to men who handcuff homeless men only to shoot them directly in front of a very shocked public. Frankly, which of the two would you rather come home to seeing on your monitor?
Furthermore, the 5-Disc DVD set of CHiPs: The Complete Third Season contains one of the greatest bad two-parter season premieres in television history. The aptly-titled "Roller Disco" takes us back to time most people who were there dare not admit to being a part of. Nearly everyone – from the main cast to the guest stars (and wait until I get to them!) – strap on a pair of skates, tube socks, and the most unflattering (but still strangely erotic) short shorts imaginable and get down with their bad-ass selves in this one. Well, except for teen heartthrob Leif Garrett, of course, who's too busy trying to pass himself off as a serious actor (this just two months before he crashed his car on his 18th birthday and left his best friend a paraplegic).
The less Leif, the better, however. Thankfully, "Roller Disco" is not at all as short as some of its costumes when it comes to its supporting cast. The actual story itself (and yes, I did cough when I wrote the word "story" out just now) features Bill Daily as Garrett's manager/producer, whose client – a spoiled pre-Beiber rock star bratling (Garrett) – feels is riding him too hard. The epic pairing of Larry Linville and Larry Storch find two losers on the road with a car modified to emit sparks at tailgaters, causing many accidents (including one with the bratling rocker). To top that, Helena Kallianiotes is a leader of a Santa Monica Boardwalk trio of thieves – with the other members being blaxploitation superstars Jim Brown and Fred Williamson.
Why, even Ed McMahon makes a cameo here – as himself! But that's just peanuts compared to the finale of the two-parter, which ends with the CHP's annual, star-studded charity event. In this case, naturally, it's roller disco themed, and a dazzling array of (mostly forgotten) B movie and television actors (including – to name only a few, mind you – Antonio Fargas, Vic Tayback, Dana Plato and Todd Bridges, Andrew Prine, Jo Ann Worley, George Peppard, Peter Lupus, Earl Holliman, Robert Mandan, and Tina Louise) pop up to boogie as Leif Garrett lip syncs to his own demi-hit "Give In". It's magnificently absurd and sublime all at once, and still sports a better lineup than your average Comedy Central Roast.
And that, kids, is just the tip of proverbial vintage television iceberg, with CHiPs: The Complete Third Season making the transition from 1979 to 1980 during its entire 24-episode run. Real-life topics of the day are well-documented, such as gas syphoning and the energy crisis, and several real-life events are worked into the series, such as a motorcycle accident Erik Estrada experienced which left him laid up in a hospital bed both on-camera and off before resuming work as a desk jockey. Additional CHP officers are introduced here (well, sort of; they just kinda show up) such as Michael Dorn (with a big '70s 'stache) and the stunning Randi Oakes, joining regular and semiregular co-stars Robert Pine, Brodie Greer, Paul Linke, and that studmuffin, Lou Wagner.
Meanwhile, the remainder of the season features guest appearances by the likes of Aldo Ray, Dee Wallace and Christopher Stone (together again), Billy Barty (as a very angry businessman), Ralph Meeker, Anne Ramsey, Andrew Robinson (as a good guy for a change, albeit one who is a devilish prankster), Bruce Glover, Brion James, Leon Isaac Kennedy, Gary Grubbs, Myron Healey, a still unknown Michelle Pfeiffer, Billy Green Bush, William Schallert, Don "Red" Berry, William Smith, Timothy Carey (oh, hell, yes), and Edd Byrnes. Dana Plato actually returns in the last half of the season as a supporting character, as does the legendary supercycle from the previous season. And the ridiculous feeling the supercycle leaves in its wake.
Warner Bros' 5-Disc, 24-Episode release of CHiPs: The Complete Third Season presents you with the most non-lethal car strippers, drug smugglers, lunatics, and unbelievable freeway pileups and explosions (this during a gas shortage and energy crisis) you can crank your klaxon at, and is presented in its unaltered 4:3 form with mono English audio. While there are no extra features included in this round around the greater Southern California highway system, the barebones release does feature optional subtitles in English (SDH), French, and – believe it or not – Japanese. I guess the Japanese really enjoy roller disco. I know I had a blast binging my way through CHiPs: The Complete Third Season. You just might, too.
Recommended. Because who doesn't love seeing two motorcycles that are clearly stationary on a flatbed being pulled along the highway while the people in the cars several feet below and behind them mock what's before them accordingly? Plus, there's the Andrew Prine and Robert Mandan gettin' funky on the roller disco dancefloor factor, kids. You can't go wrong there – no matter how wrong the actual subject matter is itself.