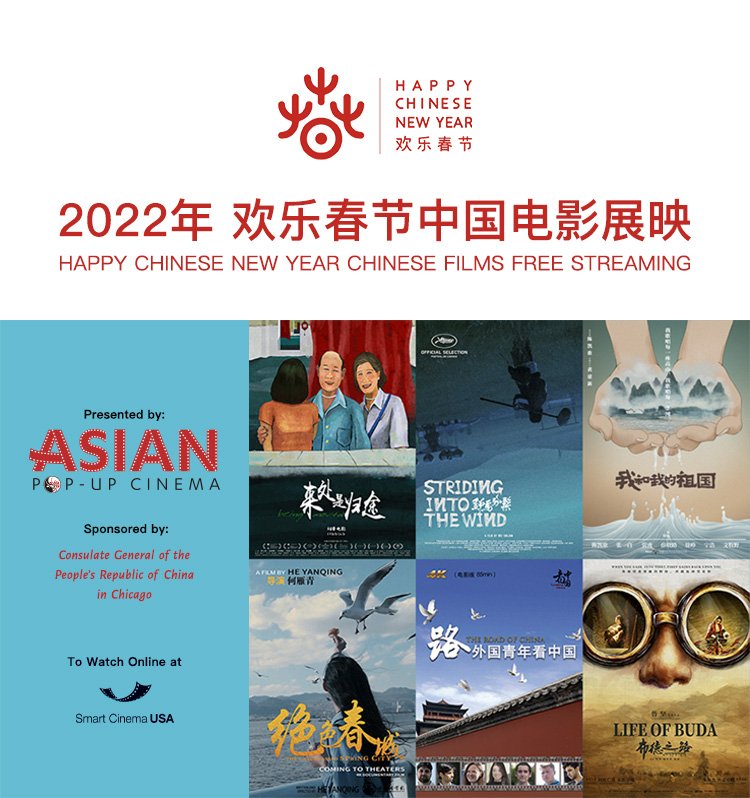 Celebrating Chinese New Year starting February 1, 2022, Asian Pop-Up Cinema will present a Happy Chinese New Year free streaming series for U.S. and Canadian viewers. The series streams February 1-15, and is sponsored by the Consulate General of the People's Republic of China in Chicago.
Films chosen by the festival's Founder and Executive Director, Sophia Wong Boccio include three North American premieres and three special encore films. Premiering are two exploratory documentaries, The Road of China, where international youth visit the country and present their observational shorts under an ongoing international cultural exchange program: Looking China Youth Film Project; a first-person perspective of a visitor of one of the renown central cities in the western region, Spring City; and Life of Buda, a feature-length drama based on true story about a grassland hero and the establishment of the Tibet Autonomous Region.
The three encore feature films include, Striding into the Wind, a contemporary view of a Chinese youth filmmaker, created by three time Cannes selections writer-director, Wei Shujun, is "a deliriously entertaining and wryly funny snapshot of contemporary youth in China" (The Upcoming.co.uk); Being Mortal, a young woman's struggle to watch her father as he grows old with Alzheimer's; and My People, My Country, seven short stories based on seven moments since the founding of the People's Republic of China.  
Movies will be streamed FREE powered by the Smart Cinema USA (smartcinemausa.com) Viewers can watch from anywhere in the U.S. and Canada starting February 1 through February 15 before they expire at midnight CST at bit.ly/3nKmDu3. All films will be in Mandarin or local dialects with English subtitles. More info: asianpopupcinema.org.
"Continuing with our tradition of celebrating the Chinese New Year with some Chinese films with significant cultural and historical aspects," said Sophia Wong Boccio, Founder & Executive Director, "we are happy to present three films that have never before exhibited in North America. This is also the first time we are making this Chinese New Year-themed program accessible by our Canadian friends too! Please enjoy!"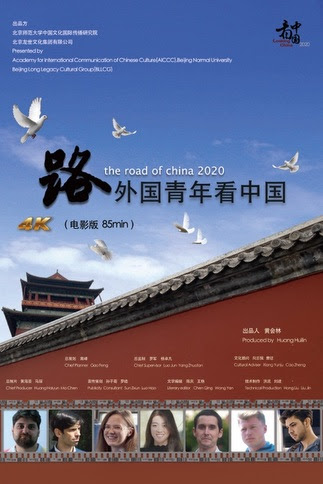 THE ROAD OF CHINA – North American Premiere 路,外国青年看中国 Directors: Sebastian Valcic, Joseph Dwyer, Corine Tiah, Protopopova Evgeniia, David Moreno, Fernando Augusto Pereira and Dmitry Konoplov Documentary | 2020 | 86 minutes "Looking China Youth Film Project" started on April 9, 2018 with 100 international youth from 35 countries specially invited to visit China's 11 provinces, municipalities and autonomous region, including Beijing, Guangdong, Chongqing, Hubei, Liaoning, Guizhou, Jiangsu, Qinghai, Hebei and Inner Mongolia. Each participant was expected to film a 10-minute documentary about China under the theme, "Ecology, Biology and Lifeology." Since then the project has been running continuously serving as a culture experience program sponsored by Huilin Foundation and hosted by the Academy for International Communication of Chinese Culture (AICCC). THE ROAD OF CHINA is the latest documentary composed of short films created by youths from Spain, Russia, Singapore, United States, Germany, Brazil and other countries when they visited China at the beginning of 2020.
STRIDING INTO THE WIND – Special Encore 野马分鬃 Director: Wei Shujun Feature | Drama | 2020 | 130 Minutes Cast: Zheng Ying Chen, Zhou You, Liu Yang Film school student Kun graduates into a real-world that moves too fast to care about his auteur aspirations and sound recording skills. Yearning for an escape away from Beijing's grinding survival races, he sets off for a film shoot in Inner Mongolia's lush grasslands, where amusing man-made spectacles and unforgettable lessons await him. With three Cannes official selections under his belt at the age of 30, writer-director Wei Shujun is an unstoppable force rising from the Chinese indie film scene. In the feature inspired by his real-life experience, he leisurely delivers sharp observations of the embarrassments surrounding film education and indie filmmaking in a money-oriented society with witty humor.
BEING MORTAL – Special Encore 来处是归途 Director: Liu Ze Feature | Drama | 2020 | 97 minutes Cast: Thang Xiaoran, Zhang Hongjing, Li Kunmian Xia Tian transfers her job back to her hometown in order to take care of her dad who gets Alzheimer's for over ten years. She thought it will be a comfort for her parents, but as the disease gets worse, the stress of life she gets to learn, and the only thing she can do is just wait……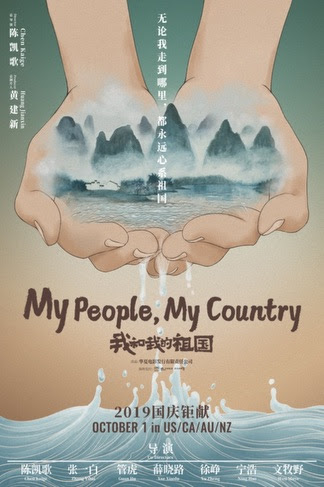 MY PEOPLE, MY COUNTRY – Special Encore 我和我的祖国 Directors: Chen Kaige, Zhang Yibai, Guan Hu, Xue Xiaolu, Xu Zheng, Ning Hao, Wen Muye Feature | Drama/History | 2019 | 155 minutes An anthology film consists of 7 short stories directed by several different directors, which are based on 7 moments since the founding of People's Republic of China. Films titles are namely: The Eve, Passing By, The Champion, Going Home, Hello Beijing, The Guiding Star, One for All
LIFE OF BUDA – North American Premiere 布德之路 Director: Lu Jian Feature | Drama | 2022 | 127 minutes Cast: Duobujie, Rinchen Ngawang The film is based on the true story of the grassland hero Buda. It shows the historical changes in Tibet's social development from before the peaceful liberation to the establishment of the Tibet Autonomous Region, and from reform and opening up to the new century.
SPRING CITY – North American Premiere 绝色春城 Director: He Yanqing Documentary | 2022 | 90 minutes Kunming enjoys the reputation of being called the "Spring City". It is the capital of Yunnan Province, a gateway city open to Southeast Asia and South Asia, a national historical and cultural city, an important tourism and Trade City in China, and one of the important central cities in the western region. SPRING CITY is a documentary film that comprehensively shows the urban style of Kunming. The director records what he sees in Kunming from the first-person perspective. He experiences Kunming as a tourist; Look at the beauty of Kunming as an outsider and feel every bit of life in Kunming.