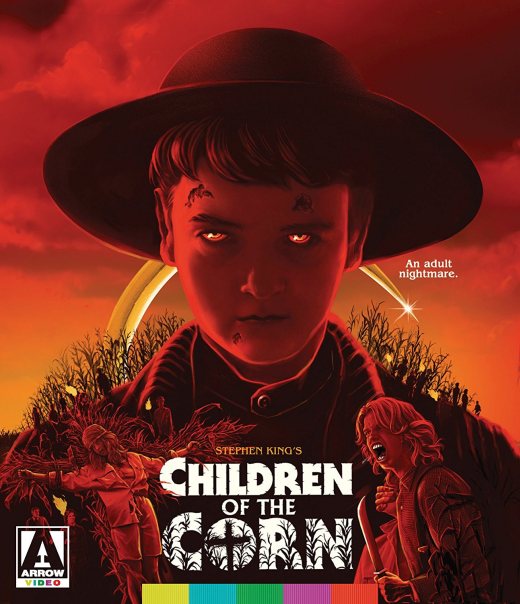 "Outlander!" still gives me goosebumps when I hear it called out and "He who walks behind the rows" kept me out of corn mazes for years. That iconic red poster with its raised sickle ready to strike always causes a pause. All thanks to 1984's Children of the Corn. It scared me then and creeps me out now for different reasons.
Burt (Peter Horton), just out of med school, and his girlfriend Vicky (Linda Hamilton) are driving across the country when forced to make an unscheduled stop in fictional Gatlin, Nebraska. After speaking briefly with the area's lone adult (R.G. Armstrong) just outside of town, the couple find themselves in the middle of what's been a near ghost town the past three years. Soon enough though, they are surrounded and under siege by a crazed cult of children acting on the word of a pint-sized holy man with a skewed vision of God's word. It's a day of horror and a town they will never forget. For a full plot summary, see our own Kent Conrad's excellent review.
Children of the Corn scared me silly as a kid, from Courtney Gains as Malachai yelling the iconic "Outlander!" line to John Franklin's odd-statured Isaac leering through a window before the massacre begins. The decaying Blue Man on that corn cross and what little we hear of his valiant effort to torch them all has always plagued my imagination. The whole "He who walks behind the rows" thing sent my young mind whirling for years with wonder as to who "He" is and how the hell he got there. Jonathan Elias's score is chill inducing as well; a truly creepy choir of kids creating a nightmare soundtrack with those soprano notes and chants.
First-time director Fritz Kiersch definitely took a page from Alfred Hitchcock's playbook while shooting this tragic tale of terror dubbed Stephen King's Children of the Corn. It's what we don't see that fires the imagination, making things way more scary than what's actually presented on screen. That's what makes Children of the Corn a solid cult classic despite its faults and some '80s cringe. There's a little gore and yes, violence (all those bloody blades and farm tools) but the real fright comes from the religious cult aspect, helped along by the deranged religious iconography splashed throughout the town. One wonders as to why the kids chose to follow that pint-sized preacher in funny clothes (clearly inspired by Marjoe Gortner and other little holy rollers like him) and turn so violently on their parents and elders. That's the part that scares me more now as a grown up, to think that other grown adults can be enraptured, brainwashed, and persuaded to do such childish, horrible deeds in real life.
Kiersch and screenwriter George Goldsmith's version wanders far from the original short story by changing the relationship between Vicky and Burt while fleshing out the roles of cult leaders Issac, Malachai, and Rachel (Julie Maddelena) as they struggle for control over the rest of the corn cult kids. Also added were the two lovable children, Job and Sarah (Robbie Kiger and Ann Marie McEvoy) who act as guides for the adults as they navigate the terror-filled corn maze to a happy ending.
King's original short story inspired by the Marjoe Gortner-type child preachers (Google his "hell is a place" sermon) focuses more on the couple's broken relationship, quick run through town, and then on to the true horror of the corn fields at the hands of those crazy kids. There is a 2009 television remake written, directed, and produced by Donald P. Borchers, who produced the 1984 movie, which sticks closer to the original story; restoring character types and the truly disturbing original 12-year timeline between the massacre and Burt and Vicky's arrival. Borchers even got King to okay being listed as co-writer. As off-putting as that version is, it's still the 1984 original film that keeps folks up at night and away from corn fields. I highly recommend reading King's short story.
The special features assembled by Arrow Video for their Blu-ray release are as fantastic as ever and I love the booklets they include with short essays about the movie. The many featurettes and two audio commentary tracks do a wonderful job in breaking down and illustrating how four small Iowa towns were edited together very well to make the town of Gatlin appear as real as possible. The interviews and short documentaries are informative and interesting as they show and tell us all about the filming locations and what it was like for the cast and crew while on set. There are excellent videos from recent years that tour and revisit iconic locations used throughout the movie. Some of the extras are carried over from the 2004 Anchor Bay DVD release and remain relevant and insightful. Also included is the gem of a short film Disciples of the Crow made a year before the feature film was released and is fun to watch how it depicts King's short story.
Special Edition Content includes
Brand new 2k restoration from the original camera negative
High definition Blu-ray (1080p) presentation
Brand new audio commentary with horror journalist Justin Beahm and Children of the Corn historian John Sullivan
Audio commentary with director Fritz Kiersch, producer Terrance Kirby, and actors John Franklin and Courtney Gains
Harvesting Horror – retrospective documentary featuring interviews with Fritz Kiersch, John Franklin and Courtney Gains
It Was the Eighties! – an interview with actress Linda Hamilton
…And a Child Shall Lead Them– a brand new interview with actors Julie Maddalena and John Philbin
Field of Nightmares- a brand new interview with writer George Goldsmith
Stephen King on a Shoestring- an interview with producer Donald P. Borchers
Welcome to Gatlin: The Sights & Sounds of Children of the Corn- interviews with production designer Craig Stearns and composer Jonathan Elias
Return to Gatlin– a look back at the iconic filming in Iowa with host John Sullivan
Cut from the Cornfield– an interview with actor Rich Kleinbergon the infamous "lost" Blue Man scene
Disciples of the Crow- 1983 short film adaptation of Stephen King's story
Storyboard gallery
Reversible sleeve featuring original and newly commissioned artwork by Gary Pullin
Children of the Corn remains both fascinating and disturbing as it spins its terrible tale of a town overcome by frenzied youth who pledge blind faith to a supernatural being hiding behind the corn rows. It added a new aspect to the Satanic Panic that gripped the 1980s and redefined the term "cult" classic.