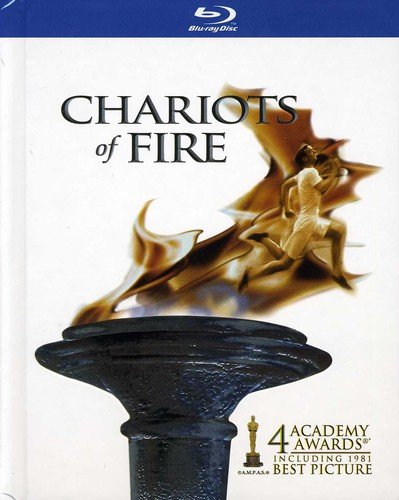 The Film
Eminently respectable but not exactly cinematically sound, Chariots of Fire is a film whose merits have been considered suspect ever since its 1981 Best Picture win. Arguments that it's a shoddily made piece of middlebrow inspirational pap aren't wholly misguided — director Hugh Hudson's pacing is stilted and his camera rarely captures a sense of kinetic physicality like it ought to — but the film isn't totally without merit.
Colin Welland's multilayered script uses an awkward framing device, but performs a capable job of developing the crosscutting stories of Eric Liddell and Harold Abrahams in distinct but thematically related ways. And though the true story is stretched into something a bit more dramatic occasionally, Welland resists the temptation to crescendo with a fictional final showdown, and it's hard to imagine a studio picture showing the same restraint today. Add to that a couple of fine lead performances from Ian Charleson and Ben Cross and a supporting turn from the always-delightful Ian Holm as trainer Sam Mussabini, and you've got a film that plays pretty well. Let's just not talk about the Vangelis soundtrack, which hasn't aged quite as gracefully.
Charleson stars as devout Scottish Christian Eric Liddell and Cross stars as Jewish Cambridge student Harold Abrahams. Both are preternaturally gifted runners — Liddell runs because he feels it's part of hid God-given purpose; Abrahams runs to establish an identity in the parochial and very WASP-y academic environment he finds himself in. As the two train for the 1924 Olympics, their paths cross in a warm-up meet, and a rivalry ensues in which each man's dedication to his skill and own personal convictions will be tested.
Chariots of Fire can feel like it's coasting on the strength of its iconic athletic scenes, with the stuff that comes in between little more than filler. More problematic is the fact that Hudson isn't much of a visual stylist — many of the running scenes, often seen multiple times from different angles, are leaden and perfunctory. As a study of the physical prowess of the human body, the film comes up short. As a reputable period piece with an inspirational kick, it's much better.
The Blu-ray Disc
Chariots of Fire is presented in 1080p high definition in its original 1.85:1 aspect ratio. Warner has given the film a very nice high-def upgrade here, allowing the film's grain structure to remain intact and a host of fine detail along with it. Images that could look kind of muddy on DVD have much improved clarity here, and the film has a consistent sharpness that rarely is afflicted by softness. The mostly muted color scheme is consistently rendered throughout.
Audio is presented in a 5.1 DTS-HD Master Audio soundtrack, which mostly benefits the Vangelis soundtrack in the surrounds. Dialogue can be a bit muffled and soft, but it's a condition of the shoot rather than the transfer, which presents it about as cleanly as it can.
Special Features
A couple new extras are included alongside all the previously available DVD features. New featurettes on the 1924 Paris Olympics and producer David Puttnam are presented in HD, along with a new interview with director Hudson. A couple deleted scenes amount to about 15 minutes. Older features include a making-of, a retrospective interview piece with a number of the cast members, screen tests and brief looks at two iconic scenes. The theatrical trailer is also included.
The set comes packaged in a 36-page digibook with trivia, biographies and production stills. A bonus CD disc features four tracks from the soundtrack.
The Bottom Line
While Chariots of Fire may not be an all-time classic, it's got some things going for it, and this new Blu-ray edition serves the film very well.