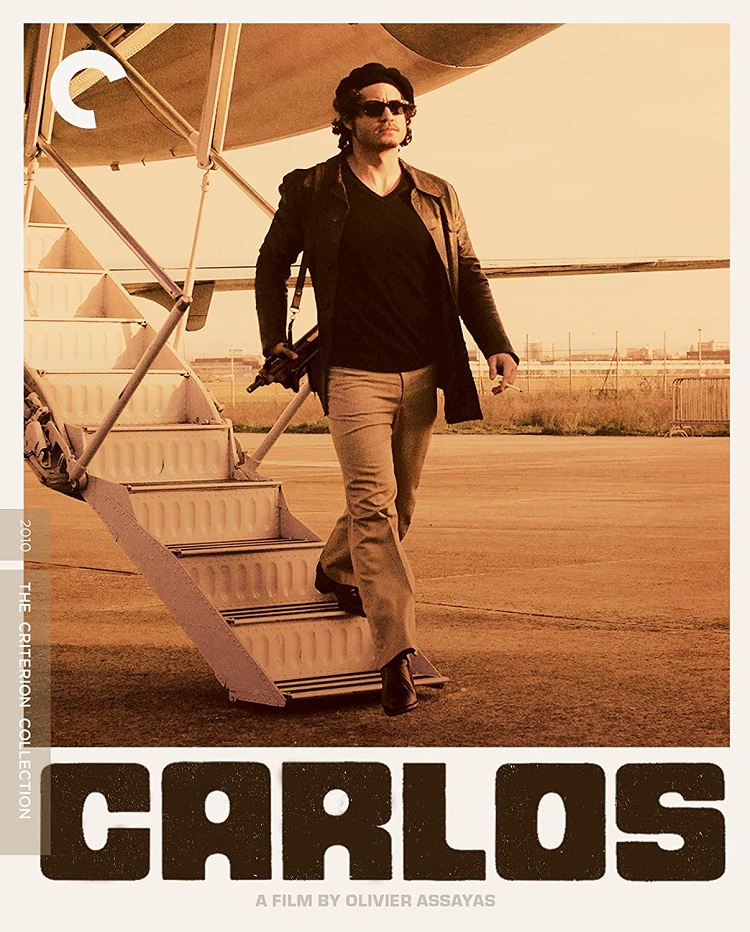 Carlos is a fascinating docudrama about the Venezuelan terrorist Ilich Ramírez Sánchez, known as Carlos the Jackal, whose most notorious act was leading an attack on the OPEC leaders while they met in Vienna on December 21, 1975. Titles indicate the film must be viewed as fiction because of the controversial gray areas in Carlos' life, yet he currently sits in jail, tried and sentenced for three murders taking place on Rue Toulier. His involvement in the 1974 bombing of the Drugstore Publicis remains under investigation. Criterion has released the captivating French TV miniseries directed by Olivier Assayas on Blu-ray in a two-disc set.
Carlos, portrayed convincingly by Edgar Ramirez, is a charismatic, notorious figure that works his way up through the ranks of international terrorism. As shown in Part 1, he joins the Popular Front for the Liberation of Palestine's cause for a homeland and fights alongside them in Jordan. Then in 1973, PFLP leader Waddie Haddad (Ahmad Kaabour) has Carlos open up new fronts in London and Paris and work with allies. One such example is supporting the Japanese Red Army when they stormed the French embassy at The Hague. Carlos' activities arouse suspicion with French intelligence agencies and the police, but he is able to elude them.
Part 2 focuses on the OPEC attack. Their plan is sound, but like everything, it's the execution that is key, which has a double meaning in this case. Carlos' need to show dominance results in his killing the Libyan representative, whose country was intended to provide their escape. When word reaches the Libya authorities, not only do they turn against Carlos and his compatriots, but other countries refuse to assist him as well. He is able to extricate his team from the situation, but in doing so, he infuriates Haddad because they look like petty criminals rather than freedom fighters. Carlos felt there was no other way out, but Haddad disagrees and refuses to work with him again.
Part 3 opens in 1979 with Carlos branching out on his own as a terrorist for hire. He's protected while working from a base in Eastern Europe, but as the world changes so does he. The fall of the Berlin Wall and the rise of democracy lead to Carlos losing a number of allies who provided protection. He ends up in the Sudan, but soon learns he's just a pawn in the hands of those more powerful than he, and always had been. Though outside pressure, he is extradited to France in 1994.
The set offers supplemental features spread across both discs. They are in HD unless stated otherwise. On Disc 1, there is a featurette created for Film En Stock by Arnaud Giocomini that looks at the "Shooting of the OPEC Sequence" (1080i , 20 min,).Cinematographer Denis Lenoir provides selected-scene commentary on six scenes(9 min), andthere's the original U.S. Trailer (3 min). On Disc 2, director "Olivier Assayas" (43 min) discusses Carlos the man and creating the film. "Edgar Ramirez" (20 min) compares and contrasts Carlos with Che Guevera and talks about working with Assayas. "Denis Lenoir" (13 min), a longtime collaborator with Assayas, reveals how they work together.
History buffswill enjoy Carlos: Terrorist Without Borders (1080i, 58 min), a 1997 documentary that first aired in France on the television series Les brulures de l'histoire. It uses news footage and interviews to detail the life of Carlos and his involvement with terrorism. Carlos co-conspirator "Hans-Joachim Klein"(1080i, 39 min), disguised with gray hair and a big beard, explains how he got involved in activism for the causes he believed in, and even confesses to committing some crimes since that the statute of limitations has passed, and later meeting and working with Carlos. Maison de France (1080i, 89 min) is a 2003 documentary that commemorates the August 25, 1983 bombing of Maison de France in West Berlin by Carlos associate Johannes Weinrich. Aside from the archival material, the most notable segments are the interviews with Carlos' former wife Magdalena Kopp, his current wife Isabelle Coutant Peyre, and family members of the victims whose pain over the loss of their loved ones is still palpable. Lastly, the 40-page booklet contains essays by critics Colin MacCabe and Greil Marcus and biographies on figures portrayed in Carlos.
Before I watched the miniseries, I was concerned that such a despicable person was having his story told, but Carlos is bigger than one man. It has historical significance as it tells of turbulent times, which seem to be a natural condition for many parts of the world. It also presents Carlos the man, warts and all, as he moves from a seductive idealist to a self-absorbed murderer. Ramirez' performance is the lynchpin to the piece and he goes through a physical metamorphosis, altering his body weight to show Carlos slovenly condition. Assayas and his team do a very good job presenting a version of Carlos' story and Criterion's features help to complete it.