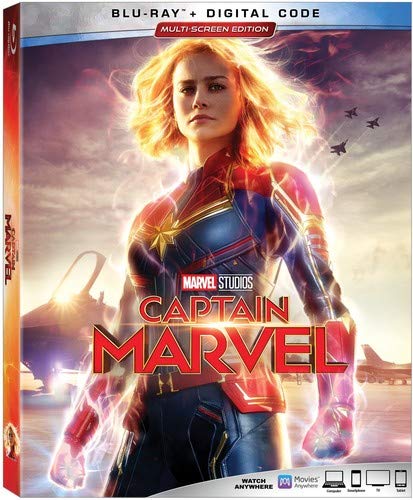 It goes without saying that Captain Marvel is a pretty big deal. It's the first film in the Marvel Cinematic Universe to have a female superhero at the center. Also, it is co-directed by a woman, Anna Boden. However, it still possesses similar storytelling beats to other origin films in the MCU. But that doesn't mean Captain Marvel is forgettable or interchangeable. In fact, it manages to surpass other origin films like Thor and Captain America: The First Avenger thanks to its supernova levels of fun. It may not go overboard with gender politics or anything like that despite depicting a female heroine trying to prove herself. Yet, it's okay because it's still a worthwhile film-watching experience.
Captain Marvel provides the typical spectacle and humor one would expect from an MCU film. Also, it hinges almost entirely on its leading performance. Brie Larson is perfectly cast as the titular heroine, providing effortless badassery and charisma. It's proven that Larson is a capable dramatic performer thanks to performances like Short Term 12 and Room which she won an Oscar for. But in Captain Marvel, she manages to tap into her movie-star capabilities and knocks her role out of the park in the process.
That being said, the supporting actors still manage to bring something to the table. For instance, Samuel L. Jackson, who reprises his role of Nick Fury, has terrific on-screen banter with Larson. Meanwhile, traditional scene-stealer Ben Mendelsohn plays a tremendously layered villain in the form of Talos, a leader of the shapeshifting Skrulls who look to invade Earth. Whether he's in his human disguise or his regular alien form, Mendelsohn leaves an impression with sly humor and enigmatic menace.
In addition, Lashana Lynch emerges as the film's breakthrough star. As pilot Maria Rambeau, the closest friend of Captain Marvel aka Carol Danvers, Lynch is incredibly naturalistic. Her compassion and strength manage to serve as a fuel for Carol's character arc. Here's hoping that after this film, her star will continue to grow. But of course, we can't talk about scene stealers without mentioning the movie's co-MVP: Goose the Cat. A purr-fect scene partner for both Brie Larson and Samuel L. Jackson.
If there's any flaw the film has, it's that it continues the tired trend of casting prestigious veteran actresses in MCU films only to give them nothing to do. Previously, Angela Bassett having little to do in Black Panther and Michelle Pfeiffer being utterly wasted in Ant-Man and the Wasp demonstrated that trend. Now, Annette Bening having a small role in Captain Marvel continues it. It certainly isn't a bad thing to have actresses like Bening or Pfeiffer in these big superhero movies. But why cast them if they aren't given anything to work with?
Other than that, there aren't much flaws to speak of. Captain Marvel may be a safe superhero origin film that provides expected action and humor. Sometimes, there are bits of humor thrown in during super serious moments which is another trend in MCU movies. But regardless, it's still a satisfying entry in the MCU carried by an effortless star turn from Brie Larson. Bring on Avengers: Endgame because hopefully, Captain Marvel will have Thanos terrified.