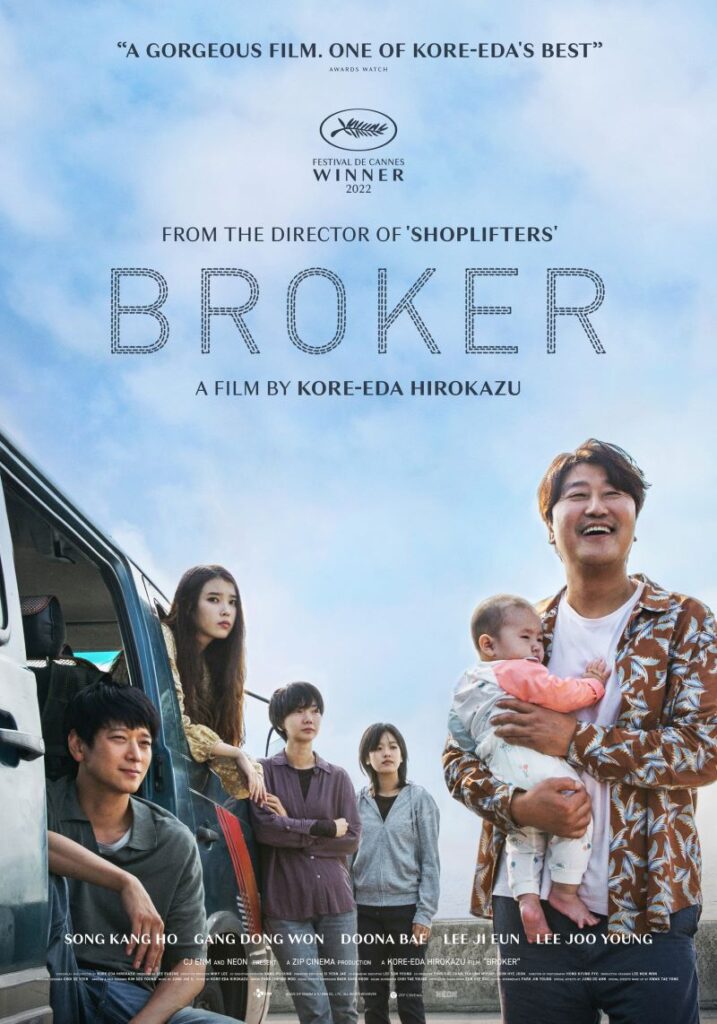 Japanese writer/director Hirokazu Kore-eda continues his cinematic explorations outside his native land and language with this dysfunctional relationship drama set in Korea. He's still most recognized for 2018's Palme d'Or-winning Shoplifters, a film that bears some striking similarities to this work about a de facto family of terrible people. In Shoplifters, a family stole together to survive on the fringes of Tokyo society, while in his new work, a group is working together to sell a stolen baby. Despite the seemingly downbeat subject matter, Kore-eda once again utilizes a deft lighthearted touch and fully formed characters to generate empathy for their plight.
Korean superstar Song Kang-ho (Parasite, The Host) leads the cast as the hapless boss of a two-man operation that steals babies from a hospital's anonymous dropbox for unwanted newborns before identifying wealthy buyers for the precious goods. When he and his sidekick encounter a young mother who has returned after dropoff with misgivings about her decision, they initiate her into their gang as they set out to find a legitimate buyer for her child. Along the way, they add a tagalong older orphan boy who looks up to the boss, rounding out their weird family dynamic.
Meanwhile, a driven detective (Doona Bae, Sense8, Cloud Atlas) is hot on their case, mercilessly tailing them as she hopes to bust them in the act of selling the baby. Kore-eda doesn't really ratchet up the suspense in their cat-and-mouse game of pursuit, as he's more interested in exploring the dynamics of the newly formed group of criminals as they bumble around from one botched opportunity to the next.
For long-time fans of Korean cinema, it's great fun to see Song and Bae on screen together again, even though they're on opposite sides with little direct interaction. Their working relationship dates back at least 20 years to Park Chan-wook's Sympathy for Mr. Vengeance, and continued in Bong Joon Ho's box office smash, The Host. Co-star Ji-eun Lee is mostly known as a singer and TV actress but has a strong showing here as the spirited young mother, going toe-to-toe with the veteran Song as their characters spar over the best interests of the baby. Dong-won Gang is just okay as the boss's clueless business partner, as is the older orphan boy, with both putting in performances that are more sweet than memorable.
As he did in Shoplifters, Kore-eda once again challenges us to embrace characters that our instincts tell us to shun. It's hard to imagine people more abhorrent than black market baby sellers, and yet here we're granted a glimpse into the lives of these complex individuals who make a case for the legitimacy of their chosen gambit. They reason away their pursuit of illicit riches with the idea that it's better to find a wealthy family for the baby than to leave it up to the vagaries of public adoption agencies or orphanages. Along the way, they come to terms with the meaning of family, finding that people you meet in life can become more important than those who gave you life. It's a sublime, understated wonder from Kore-eda that continues his strong track record, while proving once again that language and border differences are no obstacles to his ability to craft a moving story.
Broker opens in New York on 12/26 and in Los Angeles on 12/28.