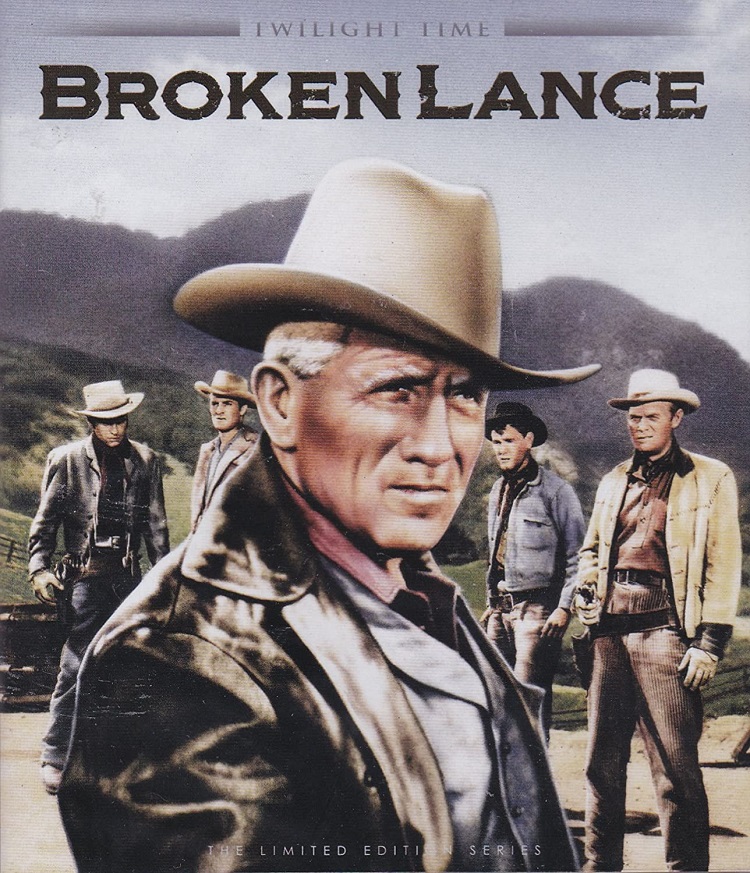 While it isn't entirely uncommon for a contemporary film to be remade into a western (it's much more common to see a western remade into something modern, or sometimes, even futuristic), it's extremely rare to see different filmed versions of the same story from the same screenwriter. The second of four adaptations (three being cinematic, the other made for TV) based on Pulitzer Prize winner Jerome Weidman's I'll Never Go Home Any More (1949), 1954's Broken Lance was the second time the original story had been transformed for the silver screen by Philip Yordan (King of Kings, El Cid) ‒ his previous version having been the 1949 film noir House of Strangers, starring Edward G. Robinson.
And by simply turning the clock back to re-present the tale in the Old West as a grandiose 20th Century Fox CinemaScope outing with Stereophonic sound to combat the mounting army of a cowboy-obsessed television youth, Mr. Yordan was able to snatch an Oscar for Best Writing (I mean, he definitely must have had the story down by then, right?). Here, Robert Wagner ‒ sporting an all-too-futuristic '50s pompadour, something Elvis would later do in Flaming Star ‒ is the half-breed son of a rancher (again, something Elvis would portray in Flaming Star) who receives equal discrimination from his nefarious half-brothers and other pure (in)bred white folk before, during, and after one of filmdom's longest flashbacks.
During said flashback, we see the always-magnificent Spencer Tracy (on loan from MGM) as Wagner's father, who had raised his other sons ‒ soulless Richard Widmark, heartless Hugh O'Brian, and brainless Earl Holliman ("Who would have been William Shatner, had there not already been one") ‒ with so much of an iron fist, they grew to resent their wealthy patriarch and much-coddled half-Indian half-brother alike. (We also see yet another weird similarity to Elvis' later starring vehicle: Wagner's Native mother is played by a Mexican actress. In this case, it's Katy Jurado ‒ who was cast when Dolores Del Rio was unable to secure a work visa. In the instance of Flaming Star, the part was played by Ms. Del Rio herself!)
Bookending our expository flashback, Wagner's story has him released from prison (for reasons we soon learn about) and asked by his elder half-brothers ‒ now in charge of the family business since their pappy had passed on ‒ to politely "join them or else." But what of the blood feud (a symbolic lance stabbed into the earth) of Robert Wagnerian vengeance (boom!) our young hero promised? Or white chick Jean Peters' her love for Bob's hairdo? Most importantly, just how bad is the 1961 version of this story, The Big Show, that it has never been released on home video? Time will tell in this well-crafted western with a still-timely message, as directed by future Hollywood Ten member, Edward Dmytryk.
Twilight Time's Blu-ray presentation of Broken Lance is a beautiful one indeed. Joseph MacDonald's CinemaScope photography looks quite fresh throughout, with the only noticeable exceptions being transition shots. Accompanying the widescreen picture are two audio options: the first, a 5.0 DTS-HD Master Audio lossless recreation of the film's original Stereophonic soundtrack; the second, a 2.0 DTS-HD MA mix that closely resembles that which audiences would have heard in cinemas that weren't equipped for such aural pleasures back in the day. This is accentuated (however subtly) in two bonus trailers (ported from the 2005 Fox DVD), which are identical except that one mentions Stereophonic sound while the other does not.
A brief clip (also from the old SD-DVD) concerning the 1954 Academy Awards ‒ as excised from a vintage Fox Movietone Newsreel ‒ is also included here, wherein our feature film is quite literally mentioned in passing by the uncredited narrator amid moving images of popular faces (Grace Kelly and Marlon Brando) snatch up their little golden statue men. In addition to Julie Kirgo's wonderful liner notes, Twilight Time's release of Broken Lance sports notable new bonus features such as a DTS-HD MA 2.0 audio option preserving Leigh Harline's lush musical score as an isolated track, and a welcomed commentary (moderated by Twilight Time's Nick Redman) with Mr. Earl Holliman himself, who is more than game to discuss his work (what a guy!).
While it's regrettable that neither the hour-long 1956 TV version of the same tale ‒ released in 1956 as part of The 20th Century-Fox Hour, and which not only featured John Cassavetes, but The Brain that Wouldn't Die's Virginia Leith (who, oddly enough, starred alongside Robert Wagner in the original version of A Kiss Before Dying), too ‒ or the ill-fated 1961 version of the same damn story are included on this Twilight Time release (just so we could compare and contrast), this is still a darn fine release of a mighty enjoyable moving picture. And the fact that the folks at Twilight Time went out of their way to contact Mr. Holliman for the purposes of recording an audio commentary makes me recommended it even more. Enjoy.