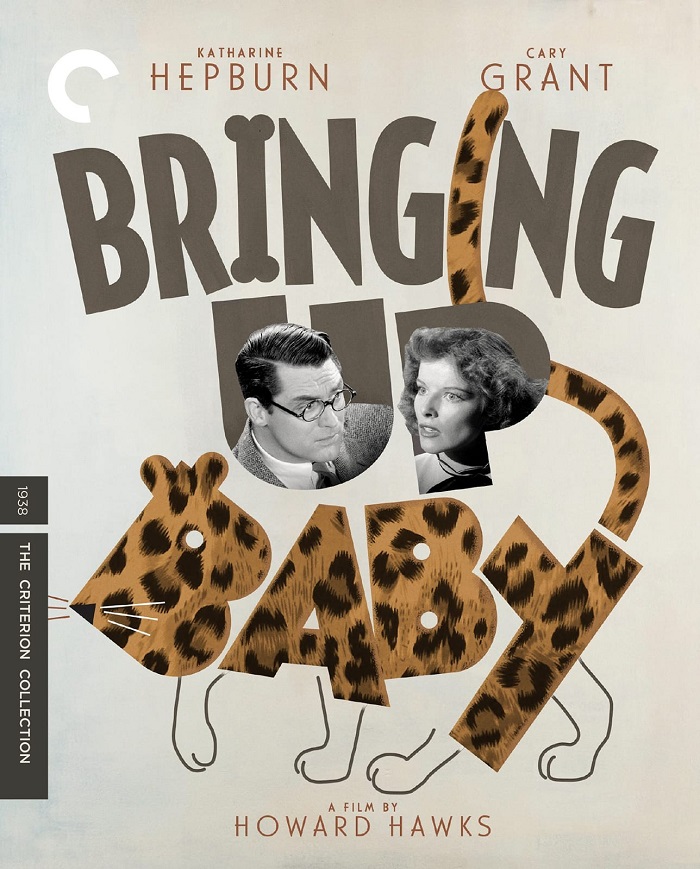 Directed by Howard Hawks and based on Hagar Wilde's short story, which Criterion includes in the booklet, Bringing Up Baby is a screwball comedy starring Katharine Hepburn and Cary Grant as two characters whose lives become intertwined after a chance meeting on a golf course. The film is a comedy classic as the attraction between these two opposites grows over the time spent together as they go from one zany incident to the next.
Dr. David Huxley (Grant) is a straight-laced paleontologist, who has spent four years putting together the skeleton of a Brontosaurus. However, he still needs the intercostal clavicle to complete it. The bone is arriving tomorrow, which is also the day of his marriage to overly serious Alice (Virginia Walker), who prefers he work over them having a honeymoon, which disappoints him.
But before his wedding day, he meets with Mrs. Random's lawyer at a golf course in an effort to obtain a million dollar grant for his museum. While there, he encounters Susan Vance (Hepburn), a woman who is so carefree she plays his ball and takes his car in the parking lot. The scenes establish her chaotic character and contrasts with orderly David; however, the latter scene goes overboard as she vandalizes every car around trying to get away, making her seem sociopathic. He later runs into her at a restaurant where they both accidentally rip each other's clothes in a very funny sequence.
The next day, David gets his bone. He also gets a call for Susan, who requests his help. She has just received a tame Brazilian leopard named Baby, which her brother sent as a gift to their aunt. David rushes to her thinking she's in trouble. The night before, after acknowledging an attraction to her, he states their "relationship has been a series of misadventures" and that continues throughout the film as they travel to the aunt's house in the country, which turns out to be Mrs. Random.
Once there, they lose the leopard, the bone, and David's clothes. The latter Susan did on purpose to keep David around longer. As they search for Baby, they mistakenly set a wild leopard from the circus loose. Before they capture any of the animals, Susan and David are jailed by Constable Slocum (Walter Catlett), and through a series of miscommunications, they aren't the only characters locked up. In the end and after plenty of laughs, the story wraps up in a silly yet plausible way.
The following text appears in the liner notes: "Its (the film) existing elements are few and problematic. Working with the Warner Bros. archive, preservationist Craig Johnson identified the best pieces of film: a 35mm nitrate duplicate negative from the British Film Institute and a 35mm safety fine-grain positive. The archive scanned both elements at Motion Picture Imaging in Burbank, California, and Criterion Collection restorers pieced them together to create the highest-quality version possible. Although the nitrate duplicate negative maintained a good underlying image, it was riddled with mold that the digital restorers were unable to remove, while the fine-grain positive was fourth-generation and didn't look nearly as good. The nitrate film was then sent to Image Protection Services in Burbank for a test on a wet-gate film scanner, which proved to virtually eliminate the mold from the image. The element was subsequently rescanned in its entirety in 16-bit 4K resolution on a wet-gate Oxberry film scanner. The film was finally digitally restored at Criterion Post using MTI Film's DRS for warps and splices and Digital Vision's Phoenix for jitter and flicker."
A good variety of grays appear. Blacks are inky, and tend to crush in some scenes. The image is pretty grainy, especially early on. The focus is soft throughout. There are signs of dirt and wear as seen when a hair appears at the bottom of frame when David leaves Susan's apartment and speckles appear on the left when David meets Major Applegate. The optical tricks with the leopard, from rear screens to plexiglass walls, are apparent in high definition.
"The original monaural soundtrack was remastered at from the 35mm optical tracks found on the same picture elements using Avid's Pro Tools and iZotope RX." Dialogue is clear and balances in the mix with the effects and limited music. There's a strong hiss on the track.
The Special Edition Features are in HD and created by Criterion in 2021 unless noted:
Commentary – Recorded by director Peter Bogdanovich in 2005, who has high praise for the film, calling it "the wildest, most outrageously funny talking picture [he] had ever seen…among [his] most favorite pictures and one of the greatest comic treasures of the American screen." The track contains sections of interviews Bogdanovich conducted with Hawks in the 1960s and '70s, allowing viewers to hear from the late director about the film.
Scott Eyman (19 min) – The author of Cary Grant: A Brilliant Disguise discusses Grant's early acting career as clips and stills show on screen.
John Bailey (11 min) – Bailey, who has been given the Lifetime Achievement Award American Society of Cinematographers, discussesdirector of photography Russell Metty and his work on Baby.
Craig Barron (13 min) – Thefilm historian discusses the career of visual-effects pioneer Linwood Dunn and his work on Baby, including some of the tricks they used incorporating the leopard.
Howard Hawks: A Hell of a Good Life (1080i, 57 min) – In November 1977, filmmaker Hans-Christoph Blumenberg shot the last interview with Hawks at the director's home in Palm Springs, California, which was incorporated into this film, which aired on West German TV.
Selected-Scene Commentary (23 min) – Costume historian Shelly Foote discusses the career of designer Howard Greer and his work on Baby with a focus on four scenes.
Cary Grant (audio, 36 min) – Recorded on October 6, 1969 after a screening of Baby as part of a "Hollywood in the Thirties" film series presented by the Academy of Motion Picture Arts and Sciences, Grant fields audience questions.
Howard Hawks and Peter Bogdanovich (audio, 15 min) – An audio excerpt from a conversation between Hawks and Bogdanovich, recorded in Palm Springs, CA, 1972, which covers Baby.
Trailer (1080i, 3 min)
Bringing Up Baby is a very funny comedy of errors brought to life by a talented cast who handle the silliness they been tasked with well. Although released in 1938, the material has a modern feel to it. The Criterion Blu-ray delivers as good a presentation under its compromised sources. Fans of the film and filmmaking will enjoy the extras which focus on those who made it.