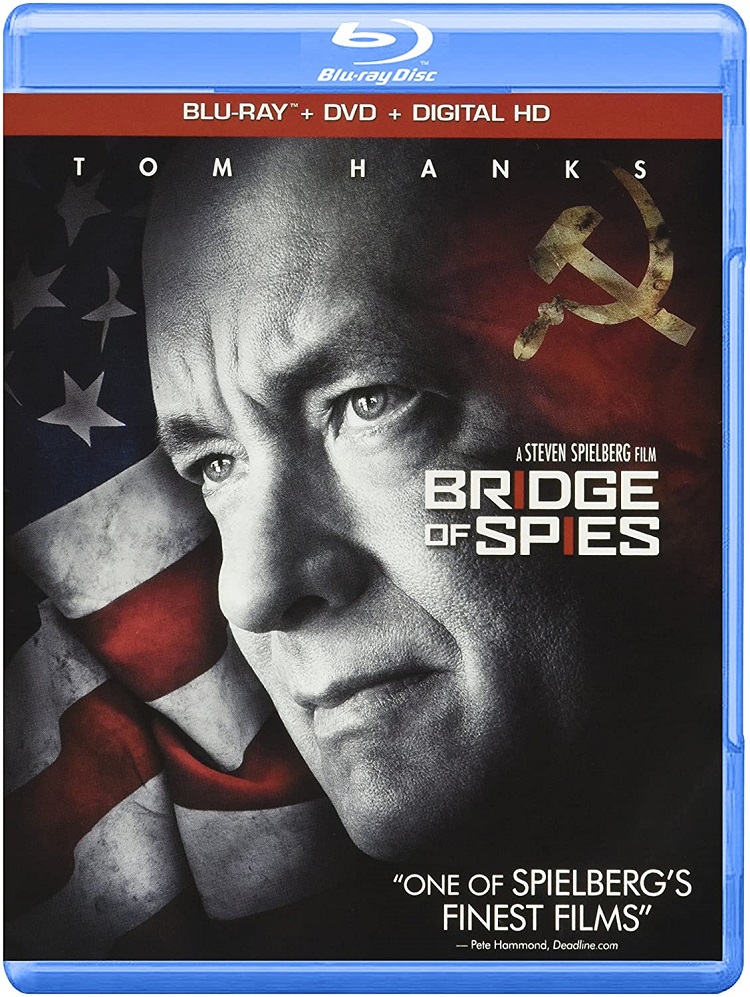 We're less than a month away from the Oscars and I've seen exactly three of the nominated films – four if you count the animated feature nominees (and five more if you add in the animated shorts). This isn't unusual for me as I rarely get to watch more than a couple of the nominees before the ceremony airs. I've noted many times before how difficult it is for me to get to the theatre to see new films and I won't rehash that here. I do appreciate that many of the films now get released to home video just before the ceremony, but even then there isn't enough time (or energy in me) to catch most of those. I typically make notes on the nominees and winners of all the award shows at the beginning of the year and try to catch them (or at least the ones that look interesting) before the next year's nominees are announced.
I'm a little bit surprised that I have yet to see Bridge of Spies as it's exactly the sort of big budget, showing locally kind of film that I can talk at least one member of my family into seeing in the theatre, but alas this didn't happen. There was some talk amongst my parental units about seeing it together but that never materialized.
Though I have not seen it, I was also surprised that it got a nomination for best picture. The critical response has been pretty good, but certainly not universally marvelous and the trailers make it look like the sort of mid-weight, overly sentimental film that Spielberg has been churning out most of his career. I really like Spielberg, but even fans know his films all too often lean towards the schmaltzy and this looks like its mired in it.
But who knows what the Academy thinks anymore? Who really cares? All I know is that when you put Spielberg and Tom Hanks together the results are usually extraordinarily entertaining even if a bit sappy.
I'm looking forward to finding out whether it's Oscar worthy or not at any rate. Read Steve Geise's review to learn his opinion.
Also out this week that looks interesting:
Rock the Kasbah: Bill Murray stars as a (very) down-on-his-luck rock manager whose latest gig has taken him to Afghanistan where he's dealing with his last client on a USO tour. There he meets a young Afghan girl with a beautiful voice and a desire to perform on Afghan Star (something akin to American Idol) but whose family refuses to let her watch (let alone perform in) the show. Also starring Zooey Deschanel, Kate Hudson, Danny McBride, and Bruce Willis, and it was directed by Barry Levinson. You'd think that would add up to a home run, but the critics mostly hated it and pretty much everybody else avoided it like the plague.
Show Me a Hero: A miniseries from David Simon and HBO. Based on a true story, it stars Oscar Isaac as a local politician out to help some low-income residents of Yonkers, New York. I've seen the first half of this and while it is every bit the slow burn one would expect about a drama over city-zoning laws, Isaac is terrific in it and Simon knows how to turn mundane civic disputes into something really interesting.
The Last Witch Hunter: Vin Diesel battles supernatural baddies alongside Elijah Wood and Michael Caine.
Suffragette: Like the title implies, this film is about a band of strong women and their struggle to win the right to vote in England in the early 1900s.
Truth: Drama about the firing of Dan Rather and producer Mary Mapes after they alleged on air that then President Bush had dodged service in Vietnam and not even shown up for duty on the Texas Air National Guard. It got mixed reviews and was pushed under by the other newspaper movie out around the same time, Spotlight, but it stars Robert Redford and Cate Blanchett so I'm totally on board.
Zombie Fight Club: The first rule about Zombie Fight Club is that you don't talk about…eating brains?