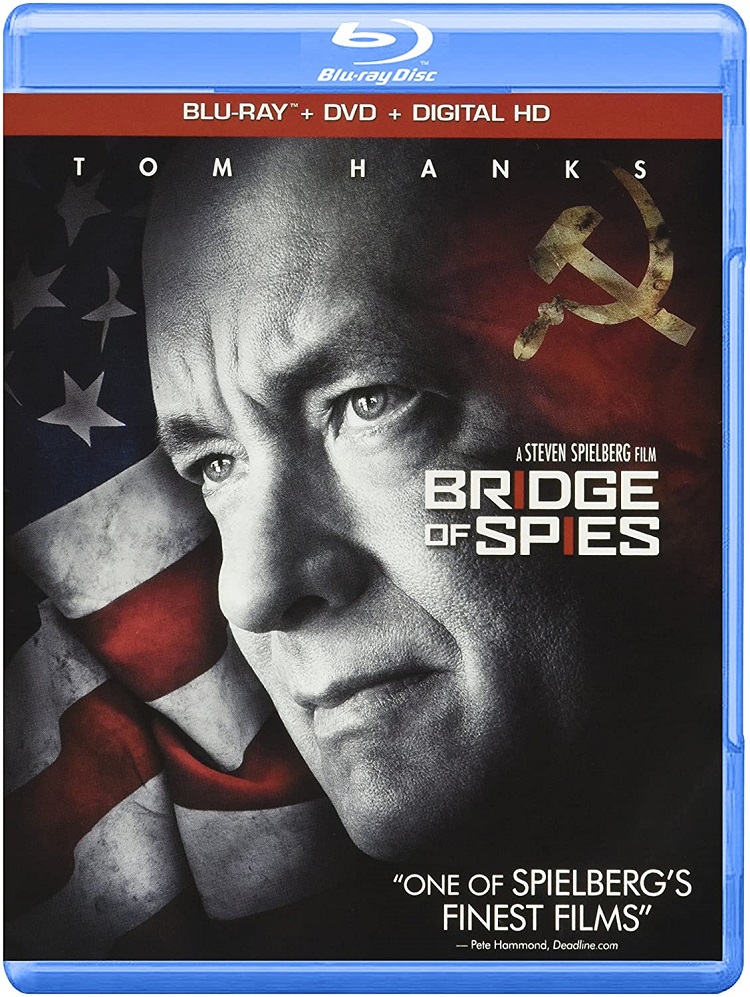 For the last decade, Steven Spielberg has been stuck in the past as a director, churning out one historical film after another. Even his only fictional films, Indiana Jones and Tintin, tread retro themes and times, making it clear that at this stage of his storied career he's looking back rather than forward. That gaze to the past has now landed on the Cold War, and finds him reteamed with frequent collaborator Tom Hanks.
When a suspected Soviet spy is captured in New York, the authorities realize that he must be offered legal representation and call in esteemed attorney James Donovan (Hanks) to take the case. He's not expected to win or even put forth much effort, just go through the motions to allow a kangaroo court to convict the spy and likely sentence him to death. Donovan isn't having it, choosing to challenge the court system and popular sentiment to ensure that due process is followed.
Meanwhile, the CIA recruits young pilots to fly top-secret missions over the Soviet Union to photograph their nuclear capabilities. When a pilot is shot down and captured, he becomes a bargaining chip between the two superpower countries in the Cold War. Elsewhere, a U.S. college student is captured in East Germany and accused of being a spy. With two U.S. citizens behind the Iron Curtain and one Russian spy in the U.S., Donovan is called in once again to broker a prisoner exchange, making for some tricky maneuvering as he attempts to deal for both U.S. prisoners.
The script was written by Matt Charman and then given another pass by Joel and Ethan Coen. Although a bonus feature interview claims the Coens really improved the Donovan character, the overall script is remarkably bland and straightforward, delivering the core story in the perfunctory manner of a history essay without building any meaningful character development or intrigue. Luckily, that core story is worthwhile, ultimately strong enough to rise above its flat retelling.
Hanks does fine work with the average screenplay, firmly portraying the wise, dedicated, and concerned attorney. Mark Rylance is an inspired choice as the incarcerated Soviet spy, offering a bemused, world-weary take on the aging character that makes him seem more like an eccentric neighbor than a dangerous threat. No other memorable performances are present, with Amy Ryan particularly underserved as Donovan's wife. Fun casting trivia: in this film that features a U-2 spy plane mission, Donovan's daughter is played by Eve Hewson, aka the real-life daughter of U2 frontman Bono.
The film is lensed by Spielberg's go-to director of photography, Janusz Kaminski, excelling at inky, sparsely lit nighttime shots but leaning toward his usual washed-out, subdued tones during the day. The muted palette could be considered an attempt to make the film look more authentic for the period, but contrary to recurring Oscar opinion, I'm not a fan of Kaminski's chilly work (aside from Schindler's List) and long for the day Spielberg makes a change to someone who can inject some vibrancy and warmth. Although the Academy begs to differ, the score is also nothing special, contributed by new Spielberg recruit Thomas Newman. For what it's worth though, the Blu-ray presentation is rock-solid, with excellent contrast during those nighttime shots and an immersive DTS-HD Master Audio 7.1 soundtrack that is put to best use in crowded exterior scenes and one thrilling aerial engagement.
The best bonus feature is a deeper look at the film's characters and the real-life people on whom they're based, including new interviews with the real student prisoner, the son of the pilot prisoner, and Spielberg's personal anecdotes. Elsewhere, Blu-ray exclusive features examine the making of the U-2 plane sequence, the production design work for recreating the Berlin Wall and Checkpoint Charlie, and more background and behind-the-scenes footage from the film's spy exchange scene on the Glienicke Bridge.