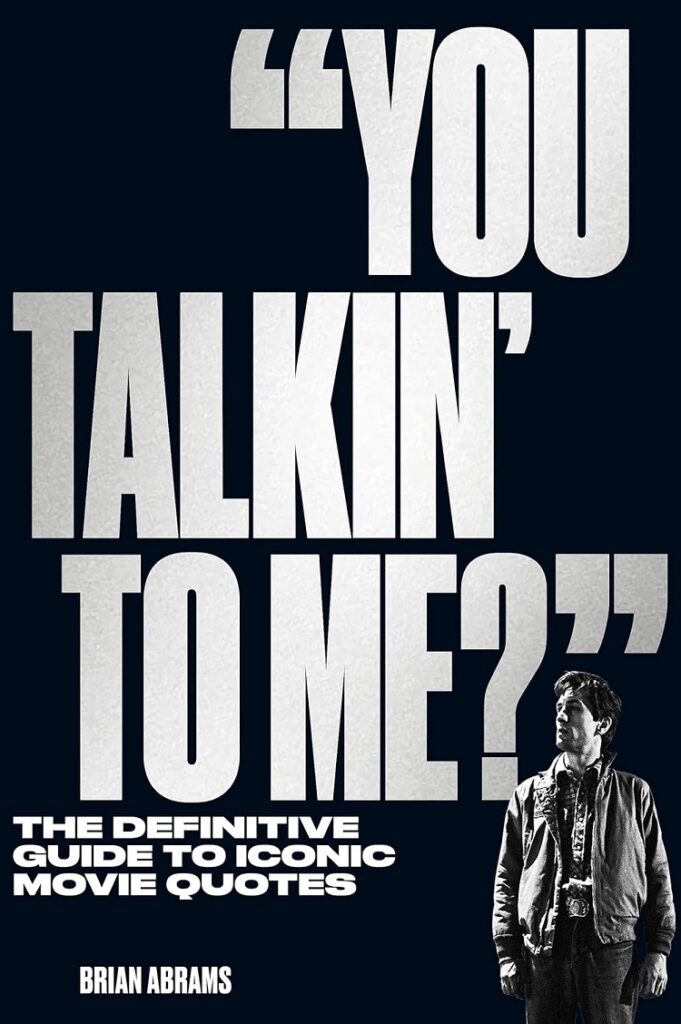 Someplace, somewhere, sometime at the appropriate moment we've all blurted out a quote lifted right from what we deem a classic scene from one of our favorite movies. Brian Abrams is no different and does it too. which led him to research and collect more than 200 or so of the most popular, most commonly spouted quotes in talking movie history. You Talkin' To Me is the delightful result of his efforts.
From The Jazz Singer ("You ain't heard nothing yet") to Black Panther ("Wakanda forever") with many stops in between, Abrams has done a fantastic job in collecting some of the greatest quotes around. Not just a simple list of lines from movies, Abrams has dug deep and brings us some background and fun facts about those beloved lines. He provides who said them, from what movie they're from, and often sets the scene presenting the dialog between characters for further context. Many times, he'll regale the readers with information straight from the writers themselves, relating what inspired a line and how it came to be. There are many good stories throughout the book that come from script writers who admit to sterling lines and gaining inspiration from family members and associates alike. Oftentimes the lines were throwaway remarks that they never thought would stick. While other times with the lines they believed in, most landed flat, far from a hit. 
What makes the book more fun is that as Abrams rolls along movie-quote history in mostly chronological order, beginning in 1927 and ending in 2018, he'll detour slightly, rounding up some quotes in themes. He's got a collection of baseball quotes from Major League to A League of Their Own, and another section dubbed "Monkey Business" where he lists those lines from movies with a primate in a prime role. Abrams has the tally on all the times Samuel L. Jackson has given a MotherF***er in its various forms on film. There's selections compiled from Star Wars movies and a "from page to screen" type collection that compares lines side by side from the source as it appears on the page to the final tweaks that made it to the screen. He's got Arnold Schwarzenegger's best quips, Mel Brooks' greatest snips, Pam Grier's top 5 snaps, and there's even Bill Lumbergh (Office Space) "by the numbers" where we're reminded of those darn "TPS reports." Abrams gathers up the most seductive sentences uttered in those great erotic thrillers like Fatal Attraction and also comes back with some of the best lines from adult parodies such as The Penetrator as well. Hilarious stuff. 
Many of these iconic quotes have become part of everyday speech, heard everywhere. Take "As if" from Clueless, "Are you not entertained?" from Gladiator or "Here's Johnny" from The Shining. Sure, many of these quotes existed before the movies that get the credit for them but it's those movies we now cite as the source of our usage. Abrams' 318-page book is jam-packed with over 200 selections spanning all genres of movies from comedy to horror and everything in between. "They're Heeere!"- Poltergeist
You Talkin' To Me is a great resource of many of Hollywood's most memorable lines. Some of those lines we love most and share with our family and friends are only funny and meaningful among ourselves but that's cool because it's all part of what makes movie magic. Abrams gets that and does a great job in shining a spotlight on what helped make those lines so magical and timeless. A fun read that I'll return to many times. Cheers to Brian Abrams and now that the review's ended I'll close it as he closes his book with: "You're still here? It's over. Go home…go." Thanks, Ferris.