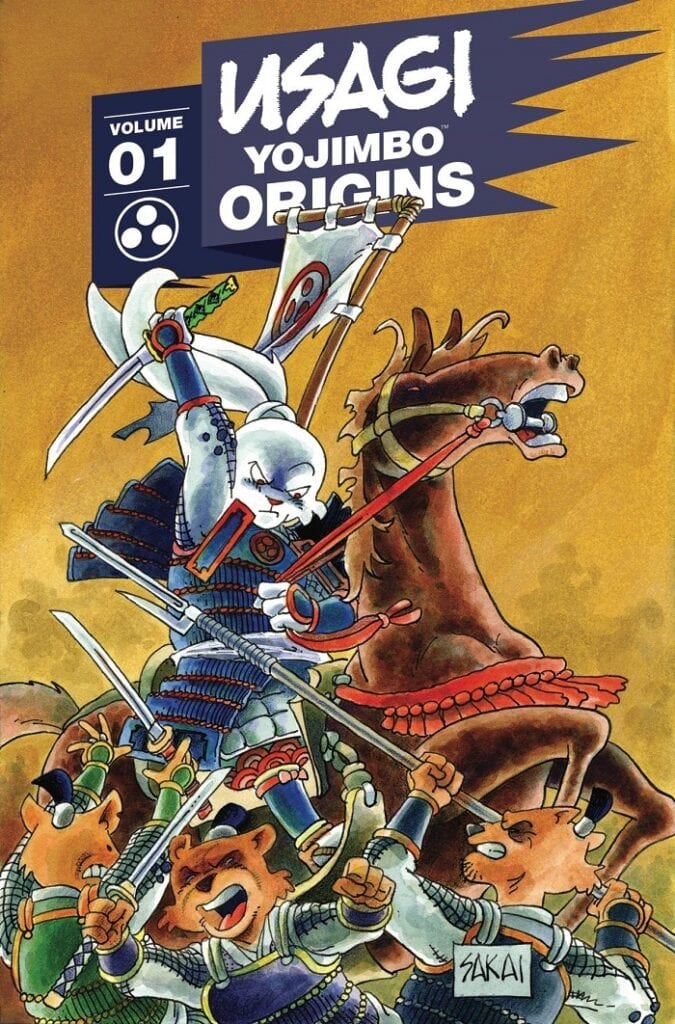 Over the course of his comic book career, Stan Sakai has become a legend in the industry, winning numerous awards and last year was inducted into the Eisner Hall of Fame. Usagi Yojimbo, his best-known creation, is set in a world of anthropomorphic animals. The series catalogs the adventures of Miyamoto Usagi, a rabbit rōnin who lives during Japan's Edo period. Usagi first appeared in Thoughts & Images's Albedo Anthropomorphics in 1984, and the series has been with multiple publishers. In February 2019, IDW Publishing announced that "new monthly Usagi Yojimbo comic books will be published in full color, and IDW will curate a fully-colored graphic novel library of the complete Usagi Yojimbo – all 35 years of its grand storytelling."
The latter appear under the banner Usagi Yojimbo Color Classics. The first seven issues have been collected inUsagi Yojimbo Origins, Volume 1: Samurai. This volume presents the stories: "Samurai!" "Kappa," "A Quiet Meal," "Blind Swords-Pig!" and "Lone Rabbit and Child!"
"Samurai!" is an eight-part story that originally appeared in Usagi Yojimbo Volume 1 (Fantagraphics) Issues #1-4. Usagi tells his origin story to his "friend," the bounty hunter, Gen (rhino). Reader learn how he trained under his sensei, Katsuichi (lion), and how he went from samurai to ronin when his master Lord Mifune (tiger) died during a war Lord Hikiji (human). "Kappa" from Issue #6 reveals that the supernatural is in play in Usagi's world.
"A Quiet Meal" from Critters (Fantagraphics) Issue #6 finds Usagi encountering a group of rowdy, drunken gamblers in a restaurant. His sword skills don't appear up to the task until the gamblers discover Usagi is as proficient in killing as the Brave Little Tailor from the story of the same name.
"Blind Swords-Pig!" from Critters Issue #7 describes the outlaw Zato-Ino, who is based on the character Zatoichi, who appeared in a 26 movies and a TV series. They meet as friends, but become enemies the next day. "Lone Rabbit and Child!" originally published in Albedo #3 and #4 introduces bodyguard Tomoe Ame (cat) and young Lord Noriyuki (panda) of the Geishu clan. His father recently died and Lord Hikiji wants Noriyuki killed before "the shogun can establish him as the new clan leader" so "the…clan will be abolished and its holdings distributed." At the first mention of "Hikiji," Usagi allegiance is secured and he joins them on their journey.
Sakai is a marvelous storyteller. The main characters have distinct personalities and their motivations are authentic. The plots are engaging as they take intriguing twists. His artwork is equally impressive. The character design, the detailed settings, the use if shading, and the way he creates a sense of action across the panels keep the eyes captivated.
The Origins series serves as a great introduction to Sakai's skills and the world of Usagi Yojimbo. While longtime fans are already aware of those aspects, even they should be impressed by the work of colorist Ronda Pattison. The panels pop off the page and every item's hue seems appropriate. Whoever came up with the idea of coloring Usagi's past stories deserves a raise because there's going to be a lot of fans double dipping.