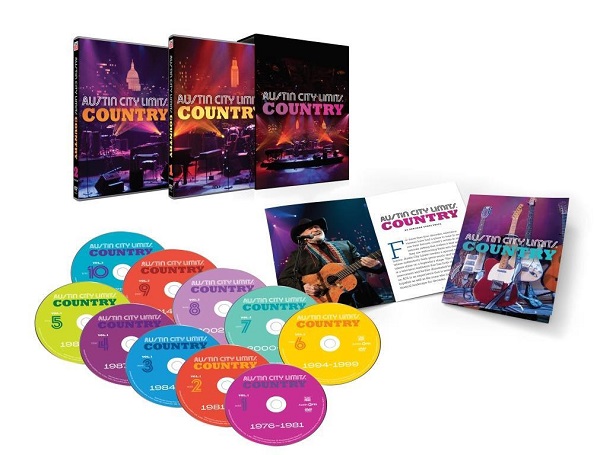 Austin City Limits: Country is a music fan's dream. This two-volume set comprised of 10 discs contains 164 live uncut performances from the PBS series, the longest-running music program in TV history. Clocking in at over 13 hours, this collection serves as a vital historical document of country music, covering the years 1974 to 2018.
I'd recommend jumping straight to Disc 10 which presents the hour-long pilot starring Willie Nelson, a frequent visitor throughout the show's run, which is why he makes so many appearances in this set. Willie and his band plays surrounded by the audience, a set-up that continues through the first few seasons and is changed by the Pure Prairie League episode from Season 4 (1978).
Skipping Season 1, Volume 1 covers 15 years, starting with two songs from a Season 2 (1976) Willie appearance, none of which were played during the pilot. Other than Season 16, viewers can see performances from every season through to Trisha Yearwood's Season 17 (1991) episode, from which viewers get three songs including "Lonesome Dove," a duet with Vince Gill. Skipping Seasons 18 and 19, Volume 2 begins with Vince Gill's Season 20 (1994) episode and concludes with Kacey Musgrave's Season 44 (2018) episode.
While Volume 2 covers 24 years, there are nine seasons that aren't represented, most from this century, but I can't imagine anyone thinking there's not enough music here. The selection of artists is well balanced between men and women, between veterans and newcomers. What they have in common is talent as singers and/or as players, a commodity more important than celebrity. Naturally being a TV show, it is important to book musicians with hits to bring in an audience, and ACL certainly did that. But it didn't solely focus on who was on top of the charts, which is why they booked Johnny Cash in Season 12 (1987), before his late-career resurgence, and Dolly Parton in Season 26 (2001). Each performing their hits from decades earlier.
The video definitely shows its age in terms of clarity, but it improves over the years as the technology did. The audio options are 5.1 Surround or 2.0 Stereo. I recommend the former.
Bonus Material from Volume 1 features interviews with production staff that their stories and that of the series: Austin City Limits Executive Producer Terry Lickona (Disc 1); ACL General Manager Tom Gimbel (Disc 2); ACL Assistant Producer Michael Toland (Disc 3); and ACL Photographer Scott Newton (Disc 4). For those that wish the interview segments with the artists were longer, Volume 2 delivers extended backstage interviews with Garth Brooks (Disc 6); Alison Krauss & Union Station, Lee Ann Womack, Brad Paisley (twice), Dolly Parton, Toby Keith, Brooks & Dunn, and Sara Evans (Disc 7); Alison Krauss & Union Station, Vince Gill, Keith Urban, Miranda Lambert, Gretchen Wilson, Brad Paisley, Kenny Chesney, Willie Nelson & Asleep at the Wheel, and Tim McGraw (Disc 8); and Eric Church, Miranda Lambert, Chris Stapleton, and Kacey Musgraves (Disc 9).
Austin City Limits: Country is currently available online exclusively from timelife.com and is highly recommended.