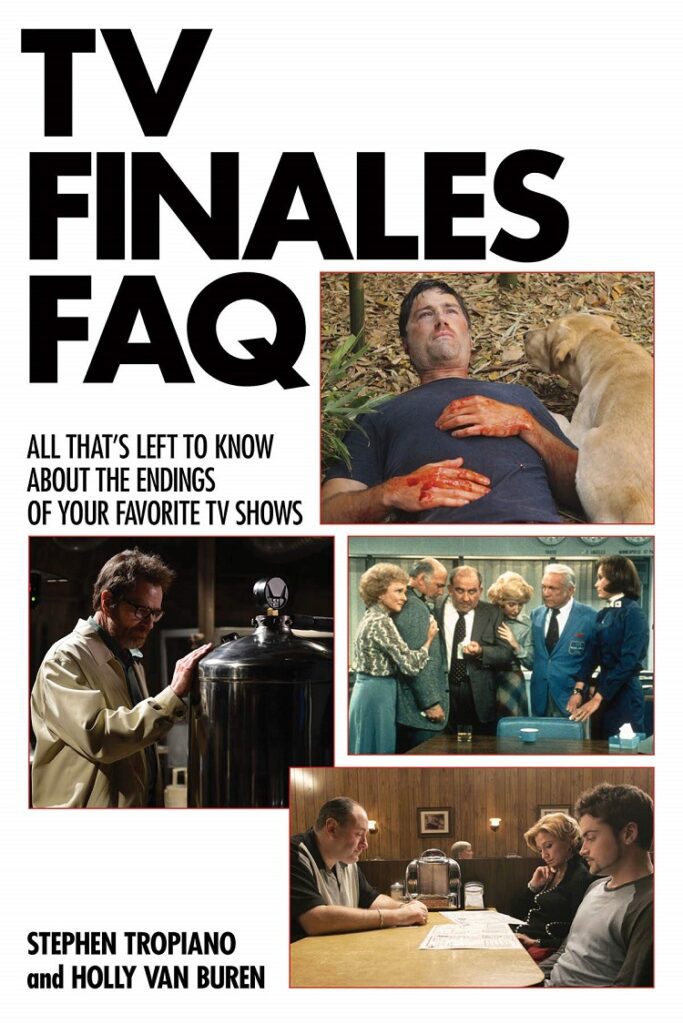 The Applause FAQ series of books typically make for good reads and resources for fans of a particular pop-culture franchise, such as Star Wars and Doctor Who, or of a musical artist, like our own Kit O'Toole's Michael Jackson FAQ. Stephen Tropiano and Holly Van Buren have created a book that appeals to fans of TV itself, a very smart idea as it widens the potential audience. I mean who doesn't love TV. (And what's wrong with them?)
In their "Introduction" to TV Finales FAQ, the authors reveal their intention to "provide insight into how a series finale came to be: from the beginning stages of the show's inception, to its success along the way, and then, lastly, to its final broadcast" for a number of series. The book is divided into Parts, starting with most-watched finales and eventually moving onto what the writers consider the greatest finale.
I immediately felt confidence in what the book would offer when I discovered that they were starting with one of my all-time favorite shows, which was "the first TV series finale to be a major television event . . . the two-part conclusion of . . . The Fugitive." Readers get a brief synopsis of the series and learn of its origin and conclusion. Archival interviews and TV critics' reactions offer additional background about the show. The section continues with other ratings-winners like M*A*S*H, Seinfeld, and (a surprise to this reader) Magnum, P.I.
WTF?" presents finales that confused audiences, like St. Elsewhere, The Sopranos, and Lost. "Flash Forward" contains series that jumped ahead in time, missing a very notable entry that appears later in the "Best" part. "All Talked Out" covers soap operas, such as All My Children and talk shows, with plenty of fodder from Johnny Carson, Jay Leno, Conan O'Brien, and Jay Leno (again) leaving The Tonight Show. "Saying Goodbye" finds the main characters moving, as seen in Fraiser, The Office (US), and Sex and the City. "The Best TV Series Finales" will make great fodder for friends who like to discuss such things as it covers six shows, which concluded between 1977 and 2013, three from broadcast television and three from cable. Any guesses?
The book concludes with an "Appendix" containing write-ups for over 50 TV finales, from Alf to The West Wing, from the non-finale of Gunsmoke's 20th season to the single-season conclusion of the obscure I Married Dora. I was surprised The X-Files and Star Trek: The Next Generation didn't get entries, but that might be because they have their own books in the FAQ series.
TV Finales FAQ is entertaining and informative, especially for those who have had a long and deep relationship with the medium. The historical overview Tropiano and Van Buren have compiled is an important addition to any TV-watcher's library, and will be a boon for purveyors of trivia.