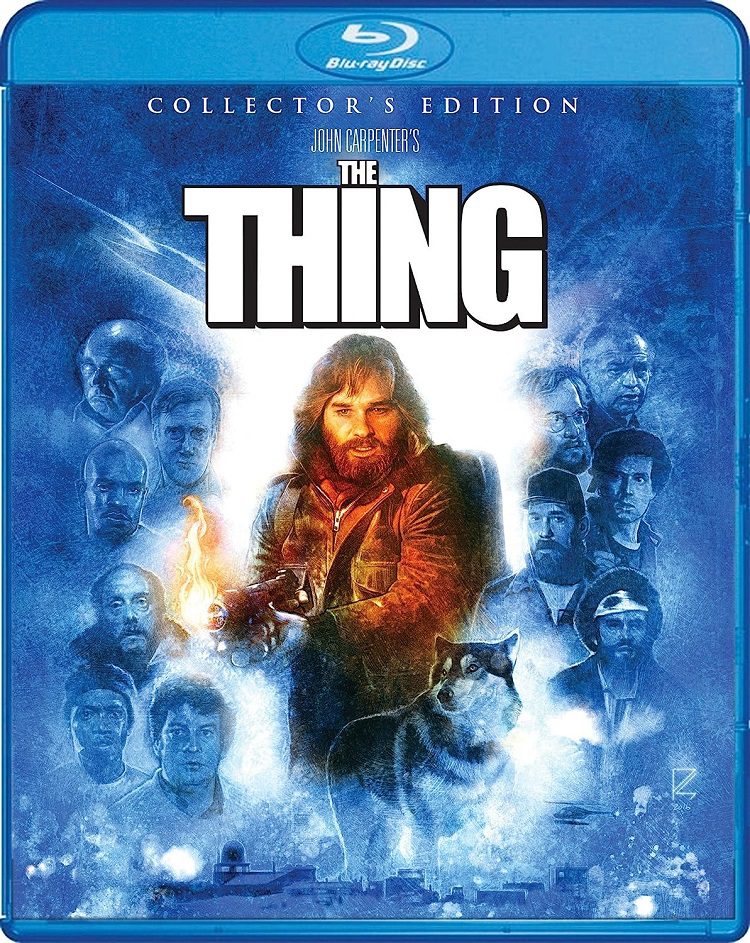 While none of the titles covered in this article are necessarily new to the world of home video by any means, it is with a certain amount of pride I announce these four offerings have received what could very well be their definitive editions. And that's not an accomplishment which is easily accomplished, given the various histories of each flick.
John Carpenter's The Thing ‒ now considered one of the finest science fiction/horror hybrids ever made ‒ was initially met with a great amount of disdain upon its debut in 1982, when timid audiences would have much rather consumed the sugar coating of Reese's Pieces which E.T. the Extra-Terrestrial helped to sell. Apart from Kurt Russell's J&B Scotch ‒ which Carpenter probably employed as an joking homage to the Italian giallo thrillers of the '60s and '70s if nothing more ‒ no such blatant product placement exists in The Thing. After all, this is an exercise in pure horror, not a kiddie film. The story, a more direct telling of John W. Campbell, Jr.'s 1938 novella Who Goes There?, updates previous on-screen incarnations of the tale as only John Carpenter could have done, along with many gruesome special effects from Rob Bottin and a terrific score from the one and only Ennio Morricone.
Shout! Factory brings us the ultimate release of The Thing (under their Scream Factory sub-label) in a fabulous 2-Disc Collector's Edition, bringing us a gorgeous new 2k scan of the film that blows all previous home video offerings out of the ice ‒ presenting us with even more screen information than before. A new DTS-HD MA 4.1 mix, sourced from the original 70MM six-track Dolby Stereo soundtrack is included here, accompanied by 5.1 and 2.0 DTS-HD MA tracks. Also joining the fun for fans is a new audio commentary with Director of Photography Dean Cundey (who supervised the new Inter-positive transfer of the film) and a heap of new interviews with various members of the cast, crew, and even Alan Dean Foster, who wrote the movie's official novelization. Many archival subjects are also included as bonus materials, including the amazing bastardized network television version of the film (which includes narration)!
Like John Carpenter's The Thing, our next feature, Tenebrae hailed from 1982, and received less-than-stellar reviews upon its release. But for entirely different reasons. The title, which is one of those aforementioned Italian giallo thrillers itself, was ‒ if you'll pardon the expression ‒ "slashed" for its American debut, wherein it received a new (dumb) title (Unsane, for those of you playing at home) and was shorn of a good ten minutes of violence (and, as such, plot) in the process. Like The Thing, Dario Argento's Tenebrae had to wait a few years in order to gain itself an audience, and has since become a horror classic. One of Argento's last really good efforts, Tenebrae finds that jetset swinger Tony Franciosa as the writer of graphic horror/mystery novels visiting Rome to promote his latest book, only to discover someone has been a bit too inspired by his most recent work.
Much like that other film I have mentioned too many times already now, Tenebrae has also suffered heavily during its many home video releases over the years. Thankfully, that black mark has been erased for good come Synapse Films' stellar new Blu-ray. Going back to the original camera negative, Synapse has created the most gorgeous transfer this film has ever received, giving the bloody good flick a chance to be preserved via a standalone single-disc edition and an exclusive multi-disc steelbook set. A DTS-HD MA 2.0 soundtrack brings out the best in both dialogue, sound effects, and, naturally, the pounding synth score (itself a must-have) by Goblin members Claudio Simonetti, Fabio Pignatelli, and Massimo Morante. Special features include an audio commentary by author/critic Maitland McDonagh, a documentary about the giallo, several trailers, and a few alternate shots (including that Kim Wilde song everybody but me hates).
Lastly here are two sequels to yet another horror film from the year 1982 (honestly, it must have been a great year at the cinema). Though, in the instance of Basket Case, we have something which is most certainly of the "underground" and "cult" persuasion. Frank Henenlotter's original NYC-made grindhouse ditty was an amazing tale of Duane Bradley (Kevin Van Hentenryck) and his deformed Siamese twin brother (whose home is a wicker basket) Belial, who go on a killing spree to avenge themselves against the doctors who (quite literally) separated them, best described to anyone who has never seen it by the words "You really have to see it to believe it." In a good way, naturally. When the '90s rolled around, Henenlotter decided it was time to build a bigger basket by expanding his gory, low-budget horror franchise with two follow-ups, both of which have received a new lease on life courtesy individual Blu-ray releases from Synapse Films.
Appearing to fall to their doom in the finale of the original, 1990's Basket Case 2 opens with Duane (once again portrayed by Kevin Van Hentenryck) and Belial landing in the arms of Granny Ruth (Annie Ross), who houses many monstrous faces (be they full, half, or multi) in her secluded country abode along with her granddaughter (Heather Rattray). Judy Grafe is the nosy tabloid reporter working for Jason (Herb) Evers, who gets a cute archival cameo with his former The Brain That Wouldn't Die co-star in this misshapen homage to Tod Browning's 1932 classic Freaks. In Basket Case 3: The Progeny ‒ which somehow manages to be even weirder (imagine chasing a lick of LSD with a shot of NyQuil) than the previous two outings ‒ our (now feuding) brothers reunite for more mayhem as Belial becomes a father (uh, ew?).
All four of these horrific titles are available to purchase now. Your Halloween and Holiday Seasons just won't be complete without 'em.