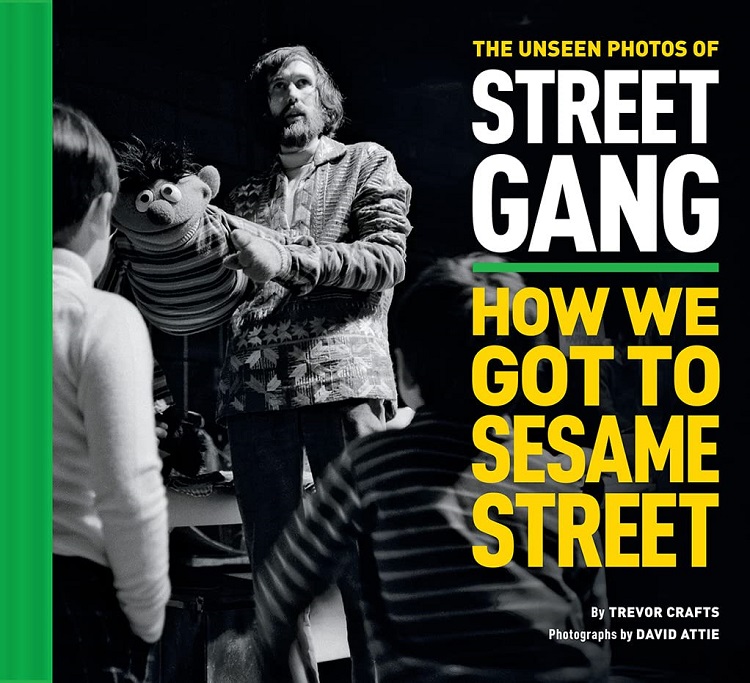 If you are the kind of person who not only enjoys magic tricks, but wants to know how they saw a lady in half, The Unseen Photos of Street Gang: How We Got to Sesame Street is the book for you as David Attie's photographs take the reader behind the scenes during the first season of Sesame Street. This is illustrated on the cover which features a black and white picture of Jim Henson seen working Ernie in front of two kids.
The book has been released in conjunction with Marilyn Agret's documentary Street Gang: How We Got to Sesame Street which is currently airing on HBO and HBO Max and was reviewed at our site. That film, based on Michael Davis's Street Gang: The Complete History of Sesame Street,tells the story of the creation of what has become a cultural institution around the world.
Street Gang's producer Trevor Crafts, who shepherded the film project into fruition, talks about that process in the book's introduction. He also reveals "the photos became one of the greatest treasures of the film." They were provided by David's son Eli Attie, an award-winning TV writer and producer, who explains in the preface that "in all likelihood, [his father] never wanted you to see the photographs in this book," which were commissioned during the show's first season by "Amerika, which was distributed in the Soviet Union by the now-defunct U.S. Information Agency."
The pictures offer access that had previously only been available to those who worked on the set. In addition to images the home viewer saw on TV, the reader sees how the Muppets were brought to life, sees how the set looked from the various angles, and sees children interacting with both the Muppets and puppeteers simultaneously, which must have been mind-blowing. Readers may experience something similar if they have never seen Caroll Spinney half-dressed as Big Bird or don't remember that in the first season, Oscar the Grouch was orange not green.
Accompanying the photographs are additional interviews from the documentary featuring those who worked on the show, such as actress/puppeteer Fran Brill (1970-2014), writer Norman Stiles (1971-1995), and actress Sonia Manzano (Maria, 1971-2015). Although some of the most important contributors have died, Crafts gets anecdotes from their children, like Brian Henson, son of Jim. The documentary shines a light on the major contributions of Jon Stone, who wrote and cast the pilot and also wrote, directed, and produced numerous episodes into the '90s. His daughters, Polly and Kate Stone, speak there and here, providing wonderful insights from him.
Fans are lucky that there are over 150 formerly unseen photos to enjoy and revisit in this book, which tells you how we got, how we got to Sesame Street.