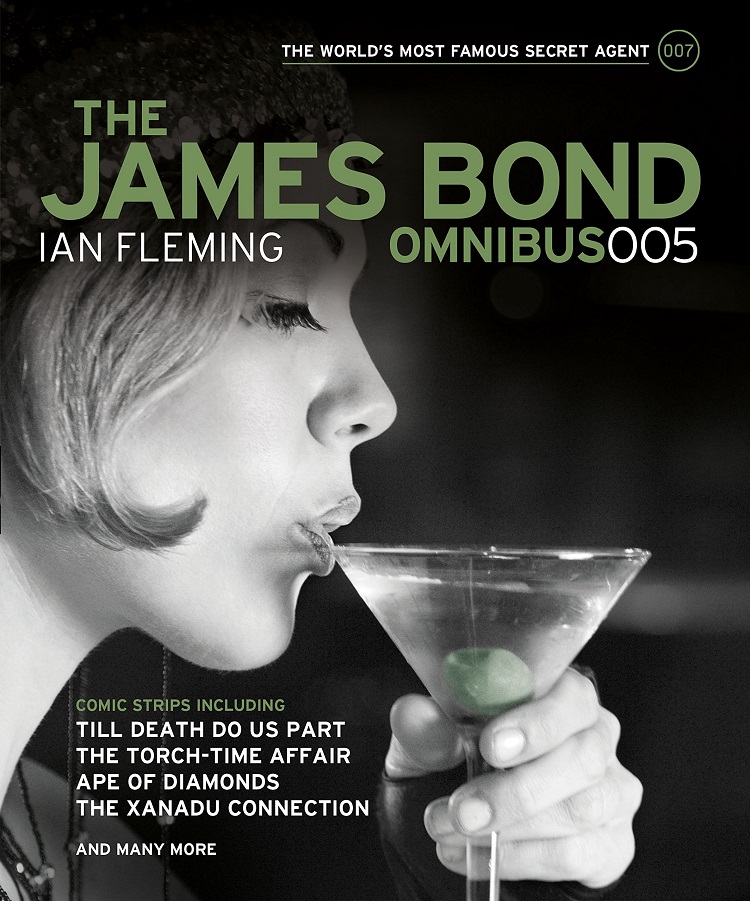 Continuing their release of the James Bond comic strips in an oversized omnibus format, Titan Books has released James Bond Omnibus 005, which features nine of the 20 original stories by Jim Lawrence with artwork by Yaroslav Horak. 
The first five stories that appear here ran from July 7, 1975 through to January 22, 1977 in the UK paper Daily Express.  Till Death Do Us Apart opens in Austria as Bond kidnaps a British woman named Adra to stop her from revealing secrets about Bakkan resistance groups to her married lover Stefan, an agent of the Bulgarian Secret Police.   They were about to have sex when Bond arrives, resulting in Adra running around in her panties with her breasts frequently exposed. 
The newspapers had looser restrictions in Europe than the U.S. during the '70s because most of the women throughout all nine stories appear in various stages of undress, and many go to bed with Bond quickly because he is so irresistible, but that makes the mindless entertainment a little too mindless for my tastes. I know it's one of the main tenets of the spy genre, especially when it comes to Bond, and some of the women are obviously using sex as weapon against Bond, but it would have been appreciated and more believable if a female character on occasion had been able to resist his charms, which are little more than good looks and corny lines.
Lawrence does a great job creating realistic villainous plots that take place around the world. As a fan of the Ian Fleming books, I was glad to see past characters referenced as The Torch-Time Affair finds Bond dealing with agents of SMERSH in Acapulco and Dr. No returns in Hot-Shot. The strips move at a quick pace, which is a combination of Lawrence's plotting and Horak's ability to convey action within and across the panels. Each day's strip usually ends with an intriguing cliffhanger, which is impressive because they are typically only two to three panels.
Horak's drawings have great line work and he uses darkness very well. My only critique of his work is the women's faces can be too similar, especially their eyes. Interestingly, while these strips ran during three years of Roger Moore's era as the film version of the character, Horak's depiction of Bond most resembles Timothy Dalton, who would take over the role from Moore in 1987.
The Daily Express dropped the series at the conclusion of Ape Of Diamonds, but the daily strip continued, syndicated throughout Europe, in the Daily Star, and even the Sunday Express, the Sunday edition of the Daily Express. Eight days later, When The Wizard Awakes began onJanuary 30, 1977.
My only complaints about Omnibus 005 are I would have appreciated an introduction that provided background about the artists, the series and the strips presented. I also would have liked the panels larger to better appreciate Horak's work, three strips to a page instead of four. But on the whole, these are quality Bond stories that every fan should appreciate.