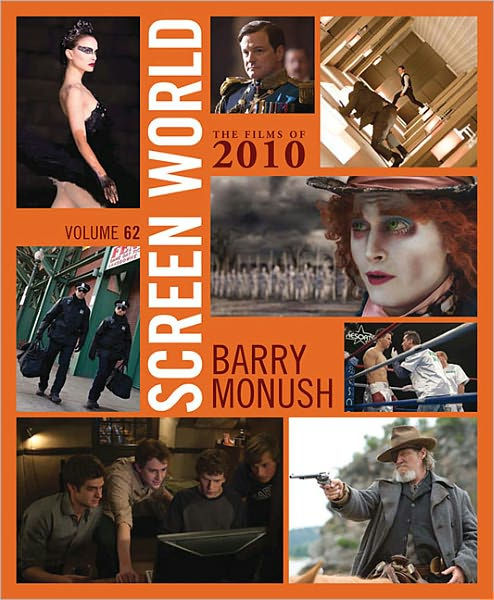 "Screen World Volume 62: The Films of 2010 is the latest installment in the long-running reference-book series. On the back cover, it claims to have a listing for "every significant American and international film released from January 1, 2010 to December 31, 2010 in the U.S." It also serves a yearbook with sections that cover "Promising New Actors," "Academy Award Winners and Nominees," "Top Box Office Stars and Films of 2010," and "Obituaries."
After a brief introduction where editor Barry Monush mentions almost every well-known movie released that year, the listings are divided into Domestic and Foreign Films, which are subdivided into A and B categories. Unfortunately, there's no mention of what the distinction is but the B Films are small productions, most of which didn't receive much attention.
The films are further organized by release date and then alphabetized. In the A sections, each entry listing offers the title, the production team, the cast, a brief synopsis, and stills from the movie. In the B sections, the listings are smaller, not all are accompanied by pictures, and only the documentaries appear to have synopses.
"Promising New Actors" presents 12 twelve photos, evenly divided between the sexes. Rather than have Academy Award-winners films for Best Picture (The King's Speech), Best Animated Feature (Toy Story 3), and Best Feature Documentary (Inside Job) mixed in with the rest of the films, they are highlighted in the Academy Award section alongside photos of the acting winners and nominees. The book also presents the top ten box office stars, the top 100 films of the year, and a number of obituaries.
While it is very nice to have all this information collected together in this manner, the book seems a bit outdated in the current age of online information and with the current direction of publishing. Rather than look up movies by year, I am much more likely to look up titles or individuals at sites like IMDb.com, and more and more people I know are turning to electronic devices to access books. Yet for someone without power or Internet access, Screen World Volume 62 makes a handy a resource book.